Rebirth!
It took 18 years to completely build my HO scale Alaska Railroad layout. Long story short, we sold our house and had to tear it all down in one evening. Yes, one evening! Unfortunately, I had to throw away the scenery, track, wiring, risers and cork road bed.
In November of 2016 my daughter Anne expressed a strong desire to have her son (my grandson) see my trains run at Christmas. I wasn't able to make it happen, but seeds were planted.
I was able to creatively acquire the 27'x27' bonus room over the garage. On October 14, 2017, thirty years after I initially started building my Alaska Railroad layout, my brother-in-law Ted and his son Rob kick started my second generation project by dragging out my train tables stored in the garage. They weren't sure the old train tables would go up the staircase so they decided to lift them up from the ground and over the balcony. After several hours of work they had reassembled the tables. And that's when things drastically changed directions.....
One evening I was telling my brother-in-law Mike about the train tables and my desire to rebuild the layout. He shared of his desire to build a train layout and thus committed to assisting me in achieving my dream. After lots of time spent measuring the room and sketching out various layout ideas we finally decided on a spiral design. As an Apple Macintosh user I only had a few choices of design software. Railmodeller Pro seemed to be a good choice and after 50+ hours of wrestling with it was able to produce a sharp looking layout. I put it out on the Facebook HO scale modelers group, received lots of great feedback and made some very good changes. Here is the finished product: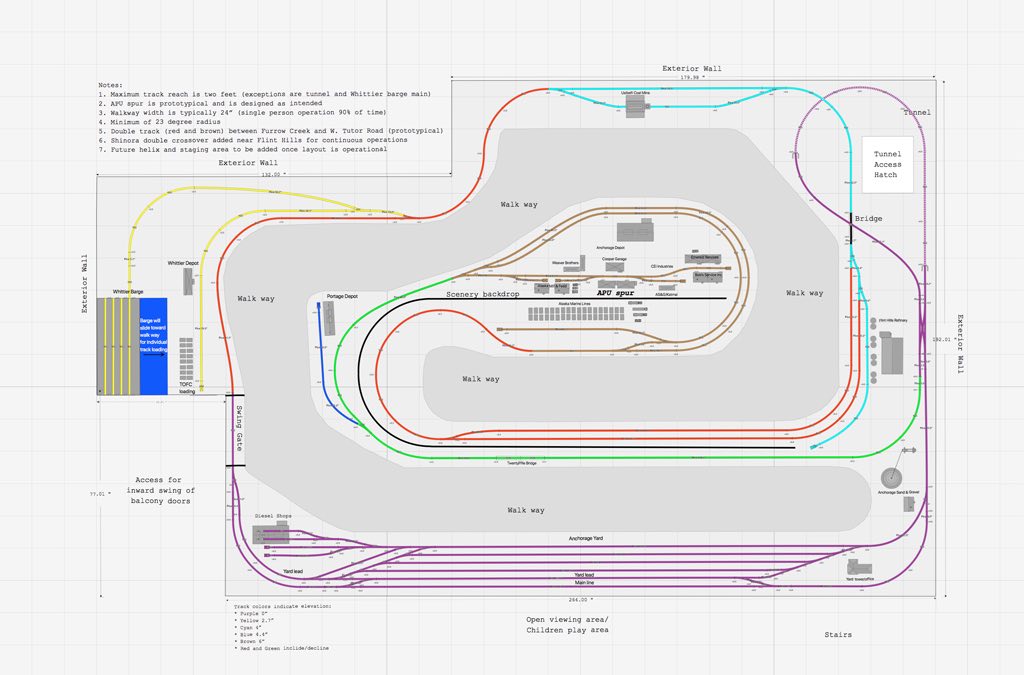 With a plan in hand the work can now begin!
Alaska Railroad Layout V2.0
November 12, 2017: Son-in-law Nick and son John (aka LJ) make the trip to Menards to dump $400 on them for some birch plywood. This will be used for the wall braces and L-girder bench work.

Nick's truck will deliver the wood to Mike's house. Mike will work on parts of the project at his home and then transport it to my home for installation. Mike dedicated one evening a week to installation. Monday was the chosen night, but was moved to Thursday to accommodate LJ's Boy Scouting schedule.
December 11, 2017: Mike and LJ are installing the first braces on the north and east walls. Real men use levels!
November 18, 2017: Mike and LJ continue to add braces to the eastern wall. They also start the track LED lighting installation which includes 21 heads for a total of 15,750 lumens. The lighting system can be controlled by wall switch or via iPhone. This will be Mike's last evening installation until after the holidays.
December 31, 2017: Nick and his family are visiting from Indiana for the holidays so he and LJ install more of the track lighting.
January 18, 2018: Bracing installation is finished on the eastern and southern walls. Track lighting installation is completed as well. Measurements confirm windows can still be opened after everything is in place.

John announces that after much research he has decided to take Mike's recommendation and use Ring Engineering's RailPro as the Digital Command Control (DCC) system for the layout. Benefits of the system are wireless handheld controllers that command locomotives and switches through handheld touchscreen throttles.

Things are getting very exciting!
February 1, 2018: Mike and John put adjustable screw glides for the L-girder bench work. legs. The bench work. for the Anchorage yard is assembled and installed. The last photo is a panoramic shot of the room.
February 8, 2018: Mike and LJ assemble the bench work for the reverse loop/mountain district. John installed the old stereo system so workers could enjoy tunes while toiling.
February 15, 2018: LJ had to work late so Mike went solo and assembled the L-girder bench work. for the TwentyMile district. Most of the old train tables are disassembled and ready to be harvested for lumber. LJ would return later on in the week to finish disassembling of the old train tables. John also used the shop vac and vacuum cleaner to pick up all those pesky wood shavings.

John shared he had purchased three Alaska Railroad covered hoppers and an Alaska Railroad Suburban from former Alaska resident Steve Katkus.
February 22, 2018: A very exciting evening indeed! LJ and Mike begin assembling the L-girder bench work for the Alaska Pacific University (APU) district. LJ's dog Zeus provides some much needed additional supervision.

John shared John Booth from Sol dot a, Alaska sent a scenery care package consisting of Woodland Scenics products such as turf, grass, ballast, water, plaster cloth, rock molds and six bears. Thanks so much Steve!
March 1, 2018: Mike and LJ continue assembling the bench work for the APU district. Alaska Marine Lines in Seattle donated an HO scale Hydro-Train barge which they had on display for many decades. The model (shown in photo 4) was brought into the train room for measurement and determined to be too long for the designed space for the Whittier barge. Many thanks to N scale Alaska Railroad modeler Tom Koole in Springboro, Ohio who volunteered to shorten the barge plus undertake the necessary restoration work.

My dog Max suffers from anxiety. Although he longs to be by my side the drills, circular saw and hammer prove to be too much. He will visit for a few minutes until the noise gets to him. Tonight he actually feel asleep behind the CEO's chair. Maybe he is getting used to the noise?

In the final photo Mike and LJ assemble and mount the bench work for the Whittier depot and barge area.
March 8, 2018: Mike and LJ took a 4'x8' sheet of plywood from my old layout and ripped it right down the middle. The two boards will be laid end-to-end to create the base of the Anchorage yard.

Switching gears the construction team fastened the top boards of the L-girder bench work for the future port of Whittier.

The final three photos show the attachment of the second section of bench work for the Anchorage yard. Bottom cross braces were attached for future shelving.

John shared Ring Engineering had taken our design and marked it according to placement of their RailPro products. Additionally, they will program each of the six control blocks so they work with the reverse loop control.
March 12, 2018: I dug out all the snap switches from my former layout and found I still needed to buy a few more. We are exploring with the RailPro folks on whether to use switch machines made by Tortoise or Walthers.

Mike finished the L-girder work on the section of the diesel shops/swing gate. This completed all L-girder bench work. Mike took the plywood from my old layout (which was cut in half on March 8) and laid the pieces end-to-end for the Anchorage yard. He also put facia on the sides of the plywood.

A roll of 1/4"x48"x25' piece of cork and a 1 quart can of Weldwood contact cement was ordered from Amazon and should be delivered by March 16. This will be placed on top of the plywood for sound deadening.
Page created 10/15/17 and last updated 3/14/18