Engine 557 Restoration Awarded $10,000 grant by MEA Charitable Foundation - 2/15/16
The Matanuska Electric Association Charitable Foundation has awarded a $10,000 grant from their "Operation Round-Up" program to be used for the restoration of ARR 557. MEA, with a service area covering the Matanuska-Susitna Borough and Eagle River area of Anchorage asks its members to round up their electric bills to the next higher dollar and disburses the member contributions through the Foundation to charities in their service area. This is the second grant from the Foundation for the restoration of 557. Thank you to MEA, the Foundation, and to MEA members who participate in "Operation round-Up."

557's tender painting session - 6/16/15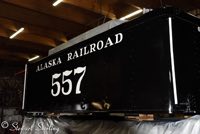 If you weren't excited about 557's restoration then you will be now! The tender has been painted! Check out Stewart Sterling's photos and then translate your excitement into a donation to keep the restoration program at full steam.

Sponsor a tube/flue for 557's restoration - 2/15/15
Only ten flues and 34 tubes are still available to sponsor. They make an excellent birthday gift for the person who has everything and a nice memorial for a former railroad employee or rail fan. Donors are provided with a certification of their sponsorship. For details, or to see who has supported 557 by sponsoring one or several tubes or flues, go to the Engine 557 page under "donate."