Jeffrey "Jeff" L. Childs, 41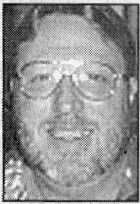 Jeffrey "Jeff" L. Childs, 41, died May 18, 2000, at Alaska Regional Hospital. A celebration of life will be from 6 to 8 p.m. Tuesday at Kehl's Forest Lawn Chapel with the Rev. Robert A. Young of St. Mary's Episcopal Church starting the celebration.
Mr. Childs was born Feb. 24, 1959, in Van Nuys, Calif., and came to Alaska in 1973. He was a 1977 graduate of West High School.
Mr. Childs had worked for the Alaska Court System since 1989.
He was a member of the Military Society of Model Railroad Engineers. He loved model railroading and photography. His family said: "Jeff was a loving husband and father and made friends wherever he went. He will be sorely missed."
Mr. Childs is survived by his wife, Carol Childs of Anchorage; daughter, Kristina Childs of Anchorage; mother and father-in-law, Pat and Ue Schlosstein of Spokane, Wash.; father and stepmother, Bill and Joyce Childs,' of Anchorage; sister, Sue Ziemer of Spokane; and nephews and niece, Dillon, Jordan and Renee, all of Spokane.
In lieu of flowers, the family requests that memorial contributions be directed to the American Lung Association of Alaska, Asthma Endowment Fund, 500 West International Airport Road, Suite A, Anchorage 99518.