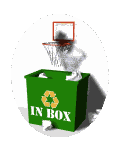 Maybe you are doing the model railroading thing and need a form for realistic operations. Or maybe you just want to learn more about railroading operations. Need forms? Well here they are! I have put them in two common formats (the PDF is the best quality). They look fantastic on a 300 dpi laser printer.

Click here to get the Adobe Acrobat Reader to view files in Portable Document Format (PDF)
---

Track Bulletin

The track bulletin is the document the MOW foreman turns in to the Dispatcher. The Dispatcher in turn will issue active bulletins in addition to a track warrant when giving a train track authority. The track bulletin gives the train crews information about track conditions (like a frost heave or an an area where re-ballasting is occurring) and the foreman's suggested speed for trains passing through that area (usually a reduction to at least 1/2 the posted track speed, but maybe as low as 5 or 10 mph). Track bulletins can also indicate speed increases due to improved track.

A track bulletin is numbered by the dispatcher and is issued just like a track warrant with the crew having to correctly read back the information to the dispatcher before he OK's it. If enough track bulletins become permanent, then an updated Timetable will be issued to all employees required to have one by rule.
---

Track Warrant
---
Locomotive Daily Inspection and Trip Report

This report is used to perform inspections on locomotives each day or after each trip. A pad of these are found in every locomotive cab along with Track Warrants and the hand written Track Bulletin forms.
---
Situation Report

The situation report is printed every morning and given to almost everyone in the Transportation Department. The form tells the projected train movements, the number of locomotives needed for the day, all barge news, and anything unusual that took place the previous day.
---
Yard Check Form

The Yard Check Form is used to check on cars for inventory/usage/destination in tracks or remote yard trackage or line side stations.
---
Safety Concern/Issue/Question Form

The Safety Concern/Issue/Question Form is used to give employees an opportunity to express any safety issues or questions they may have. The ARRC Safety folks then have one week in which to respond.
---
Heavy Equipment Shop Power Car Trip Inspection Report

This form is used by shop mechanics to ensure a power car is ready for usage.
---
Heavy Equipment Shop Vehicle Service and Inspection Report

This form is used by shop mechanics when servicing personnel vehicles.
---
Class 1 Brake Test

This form is used by train service personnel to test the air brakes of the train.
---
Thanks to Ed Timko for the GIF outputs!

Page created 3/9/99 and last updated 11/28/13
© 1997-2013 John Combs unless otherwise noted