Where's it at??? Search me!
John's Alaska Railroad Web Page has grown into a 2.88GB megasite containing a large amount of information. To help you locate items, I have provided three different engines plus a site index. I hope these tools gets you back on track!

1. Free Find
This is a free search service that does a fairly decent job.
2. Google
Search this site using Google. First, go to Google and then type in your search term(s) in the form followed by "site:www.alaskarails.org". Below is an example of searching for the term "wreck":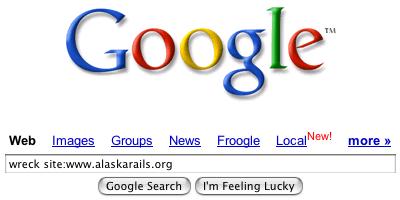 3. Simple Search
Search this site using iPowerWeb's simple search.
4. Site Index
Or check out John's site index
Page last updated 2/20/15