COMBS NAMED AS
ARRC PRESIDENT/CEO
The ARRC Board of Directors is pleased to announce the appointment of John Patrick Combs as the new president and CEO for the Alaska Railroad Corporation. John, an electrical engineer with no past experience of managing a railroad, was appointed at the urging of numerous railfans and several prominent political leaders.
"John Combs has an exceptional record of success as an unofficial Alaska Railroad webmaster and his business savvy and dedication to Alaska will be an asset on the state-owned railroad," Governor Tony Knowles said. "John will be a tremendous addition to the new management team at the railroad and will provide it a strong new direction."
Combs is replacing Patrick Gamble who retires from the railroad Tuesday
EMD USES WINDSHIELD TESTING DEVICE
The Federal Aviation Association use a special device for testing the strength of windshields on their airplanes. Test engineers point this device at the wind shield of an aircraft and shoot a dead chicken at approximately the same speed the aircraft normally travels. If the windshield doesn't break, it's likely to survive a real collision with a bird during flight.
General Motors EMD recently built a new locomotive that theoretically could pull a train faster than any of its previous models. However, they were unsure if its windshield was strong enough for an impact with birds. Through a new intra industry exchange program the Alaska Railroad Corporation borrowed the testing device from the FAA, reset it to approximate the maximum speed of the locomotive, loaded in the dead chicken, and fired. The bird went crashing through the windshield, broke the engineer's chair, and made a major dent in the back wall of the engine cab.
GM EMD was quite surprised with this result, so they asked the FAA to check the test to see if everything was done correctly. The FAA checked everything and suggested that EMD might want to repeat the test using a thawed chicken.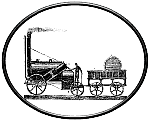 MYSTERIOUS PAPER MAN
FOUND IN NEWS ARCHIVES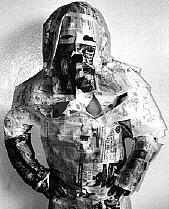 While digging through mountains of old Alaska Railroad newspapers, veteran researcher John Combs discovered a man completely covered in newspaper.
Paramedics were summoned and its was discovered the papers were actually the man's skin. One paramedic asked the man various questions to determine if he was injured. Suddenly, the newspaper man gave a horrified look and fled the scene when a nearby spectator pulled out a cigarette lighter to light his cigar.
.
Please see Great Balls of Fire/15A