Friday, August 19, 2005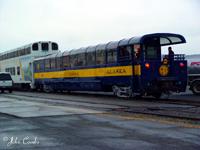 If I am really on vacation, why am I getting up at 4:30 am??? We were out the door and to the Anchorage depot by 5:40 am. Pat Durand had given us an invite to see him present his passenger car diorama to the senator's delegate and we were only too happy to accept. We help Pat carry in his diorama and set it up for display. Before long the delegate, his family and friends are enjoying Pat's handiwork. True to his nature, Pat tells everyone the stories of all the miniature people in the display. The crowd loves it and Pat gets a lot of compliments and warm handshakes. We help Pat load everything back into his van and then watch the delegate and his entourage get onboard the Aurora party car at the end of the Glacier Express train. Randy's friend Maggie (Alaska director of Royal Celebrity's Wilderness Express railcar) shows up and gives us our two complimentary passes for our future Wilderness Express trip.
In true foamer style, we chase the southbound Glacier Express all the way to Seward. The day is rainy, but we still get some good photos. Fortunately, the closer we get to Seward, the better the weather gets. I call railfan Robert Krol and discover he will be in Seward around the same time so I set up an impromptu meeting. We get some good video and photos at Moose Pass and Snow River Bridge as well as the train coming into Seward. Once the train reaches Seward, the sun came streaming through and we take tons of photos of the consist.
| | | |
| --- | --- | --- |
| | | |
| Southbound Glacier Express | Twenty Mile Bridge | Moose Pass |
| | | |
| Snow River Bridge | The consist in Seward | Bi-level GoldStar #352 |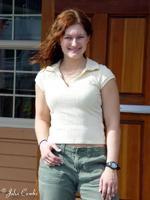 Being the scavengers we are, we stop at the Seward depot to see what freebies are laying. Just then a young lady walks behind the counter. Randy asks her if she knows Virginia Gray. The reason Randy is asking this is Virginia has written three excellent tour guide stories for my web page and will be our on board supervisor when we ride Alaska Railroad's GoldStar service tomorrow. As coincidence would have it, this lady is Virginia Gray and once she discovers who we are she gets pretty excited. Inquiring further, we discover she was working the train we were chasing. Now she has a little free time in Seward and then will be working on the train as it heads back north. After a little chit-chat, Randy and I head through Seward for a few photo ops. Railfan Robert Krol meets us in front of the cruise ships and presents me with an HO scale model of ARR switcher MP15 #1551. Robert always does a fantastic job on his models so I am honored to be able to add another one of his fine creations to my (currently non-existent) rail yard.
| | | |
| --- | --- | --- |
| | | |
| Three cruise ships in port | Old Seward railcar serves as the Chamber of Commerce | Conveyor system to load coal into Korean bound ships |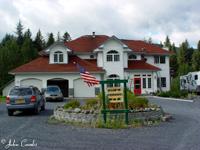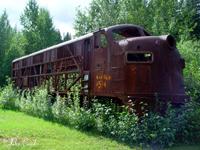 As we leave Seward, we act on a tip from a railroad employee and begin looking for the remnants of F7 #1514. We take Bear Lake Road and begin wandering around a maze of heavily forested roads until we finally find it in the back yard of a bed and breakfast. Randy and I head to the front door and are greeted by Kim, the owner of Kim's Forest Bed and Breakfast. She invites us in and gives us a tour of her jaw dropping home. The place is beautiful beyond description and I put it on my future "must do" list. When I ask about her F7 in the back yard, she said she bought it intending to refurbish it in an Orient Express motif. Later, she decided she no longer wanted it, but her friends talked her out of selling it saying it is the last remaining F7 in the state of Alaska.
We return to Anchorage to pick up developed film, postcards, and gas. Experiencing foamer withdrawal, we go on a train chasing excursion to photograph the southbound Denali Star at the Knik River Bridge, Birchwood curve [click here to view the 1.6MB video] and finally the Anchorage Depot. The first crew member off the locomotive was engineer Daryl Kollander, a former neighbor of Randy's and a friend to both of us. We talk for a few minutes and then he catches a ride back to the operations center. Randy and I spend some time photographing the whole consist plus the entire interior (including kitchen) of the Alaska Railroad's bi-level GoldStar railcar. We return to Don's to snack, do laundry, pack our bags and look through my digital photos.
| | | |
| --- | --- | --- |
| | | |
| Knik River Bridge | Curve at Birchwood | Daryl Kollander on #4319 |