Thursday, August 18, 2005
Sometimes smaller is better. This is true in the case of Raini Risch, ARR customer service representative, who had her stomach sized reduced with gastric bypass surgery thus resulting in a weight loss of 118 pounds. As Randy and I eat breakfast with her at the downtown Hilton restaurant, she put half her meal into a doggie bag. Actually, it isn't a doggie bag, but a fox bag. She too knows about the fox in the Anchorage yard. Actually, she and her fellow employees have been feeding an entire fox family for quite some time. This explains the mystery of the friendly fox. Our conversation turns to Raini's 27 year career with the Alaska Railroad. Her previous position caused a great deal of stress which resulted in blinding migraine headaches. Her switch to customer service on the night shift has been a blessing and she loves it. Before we depart she showers us with a bag full of Alaska Railroad gifts.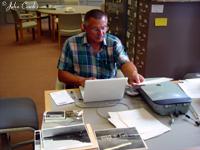 Randy and I meet Pat Durand at the Anchorage Museum of History and Art and then head to the archives room. Kathleen Hertel is there and she gives us instructions on finding and using the Alaska Railroad photo collection. I set up the laptop and scanner while Randy and Pat begin pulling photographs to scan. It is an amazing collection of thousands of items that date back to the early 1900s. With the exception of a 15 minute break for lunch, I spend 8 straight hours scanning the 130 photos, negatives and slides they bring. During my lunch break, Pat Durand (shown at left) took the helm and kept the scanner humming. Sadly, there is much more to scan then we have time allotted. "I'll be back," I decree in my best Arnold Schwarzenegger voice.
Next, we make our mandatory stop at the Anchorage yard. Today, there are lots of interesting things to see including an entire siding full of older locomotives. We hear seven of these will go "outside" to be rebuilt by National Railway Equipment in Chicago. They will then be leased out to various companies which in turns funds the rebuild costs.
| | | |
| --- | --- | --- |
| | | |
| Red trucks on trailer and flatcar | Allied Van Lines TOFC | Locomotives in the dead siding |
| | | |
| F40 #32 cooling her heels | GP40-2s #3009 and #3011 | Ain't she beautiful! |
Returning to Don's condo, we again stuff our faces with shrimp cocktails and deep fried halibut. Heavy duty mechanic Jeff DeBroeck calls and offers us a chance to spend a 12-hour day watching the laying of concrete ties and continuous rail at Chase. Unfortunately, our calendar is full and we have to turn him down. We spend the rest of the evening looking through my trip photos and watching a little bit of Monty Python on the television. Randy and I turn in early in anticipation of a 4:30 am wake up call.