Wednesday, August 17, 2005
Since Don was in bed upon our return last night, we spend some time sharing our exciting stories of yesterday's events. Don responds by telling us a few exciting stories from his days as an Alaska Railroad employee. The most exciting story, of course, is the 1971 freight train wreck at Houston where the ditcher saves his life.
We spend the next few hours running an assortment of errands. First, we stop at the Anchorage Museum of History and Art and talk with Kathleen Hertel, Director of Museum Library and Archives. We discuss how to get copies of Alaska Railroad photographs and she gives us permission to bring in our own laptop computer and scanner. Bulls-eye!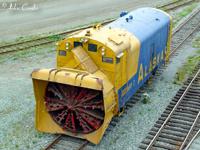 And we can't resist just one short visit to the Anchorage yard to see what might be laying around! Before leaving on the trip, I had promised Illinois railfan Bob Garner to get some detailed photographs of Rotary #3 (as well as Rotary #2) since he wants to build an HO scale version. So we pull up beside her and start clicking away. We later get a good overhead shot of it from the C Street bridge while dodging 45 mile per hour traffic. As a side note, Randy and I also learned that the Alaska Railroad has offered Rotary #3 to the Museum of Alaska Transportation and Industry in Wasilla. Let's hope they can find the manpower and pull this one off!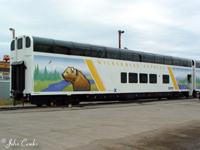 Stopping by the Royal Celebrity building, we snap a few pix of one of the Wilderness Express cars. A man in the office eyes us suspiciously and comes outside to investigate. Even after we tell him who we are and what we are doing, he is still fairly rigid. However, once we start discussing the railcar's sound system he seems to loosen up. Originally, these ultradomes had $100,000 sound systems that let listeners choose between five styles of music. Airborn dust and rail vibrations soon turned them into maintenance nightmares. Royal Celebrity also discovered that most people don't even use the sound system. So they replaced them with Apple iPod systems which can be downloaded with MP3s of the company's choosing.
Next, we stop by the Alaska Railroad Corporation's Headquarters to hunt for Tim Thompson who we think can get us some 2005 poster pins. While looking for Tim Thompson we run into our friend Jim Blasingame, Vice President of Corporate Affairs. Jim is talking with Wendy Lindskoog, Director of External Affairs, and promptly gives us an introduction. He then turns to me and says, "You owe me one!" With that he walks into his office, retrieves a thick envelope and hands it to me. (When I open it later that evening I find it contains a photocopy of the original script from the movie Runaway Train that was submitted to the railroad before filming began. Awesome!) At that moment, Tim Thompson arrives and hunts up a bonanza of poster pins. Our final HQ stop is at the office of webmaster Willow Peyton. We find her office dark. A coworker explains Willow is on maternity leave and won't return for several more weeks.
We return to the Anchorage Operations Center to see Dale Greth for some old freight car roster information. While Randy photocopies the information, Dale says he wants to give me all his Alaska Railroad memorabilia. In a flash, I am the new owner of an ARR watch, T-shirts, pins and dozens of posters. Although extremely delighted, I must now figure a way to get all these items home!
One of Randy's missions in life is to convince model railroad companies to build various Alaska Railroad items. He was the primary force behind the creation of the HO scale Nenana depot Laserkit. On this trip, he has his sights set on the railroad's rotary dump hoppers. So where does one find these hoppers? At Anchorage Sand and Gravel, of course! As we pull into the company's siding, we see a whole slew on them. As an added bonus, a pair of SD70MACs are on another tracking pushing another set of hoppers in place to unload gravel. Donning our hardhats and safety goggles, we walk up to the end hopper. Randy takes a bazillion photographs and then uses a tape measure to record all the measurements. This process draws the concern of the train crew on the neighboring SD70MACs. Crewman Ken Smith walks over to see who we are and what we are doing. Once he calls our names in over his radio and confirms we are sanctioned foamers, he reminds us to stay safe. As our talk draws to a close, it begins to rain.
| | | |
| --- | --- | --- |
| | | |
| Blue paint identifies rotary coupler end | Hopper car infinity! | Two SD70MACs push the first cut of 22 cars into place |
Randy drives us to the other end of the siding where the gravel unloading process takes place. It is pretty cool watching this rhythmic process. While the train rolls along at a half mile an hour, a worker busts the hopper's bottom doors open and the material pours through a concrete trestle. [click here to view the 1.4MB video] Here it is scooped onto a conveyor belt and is transported upward to become a towering 75 foot high mountain of gravel. Randy and I use the open overhead tailgate to stay dry while photographing and filming the process.
| | | |
| --- | --- | --- |
| | | |
| The concrete trestle | Worker busting doors | Look at the rain coming down! |
| | | |
| From the trestle... | to the conveyor... | to the top! |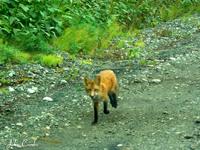 Our final errands of the day is to get Pat Durand's film scanner while he makes a stop at the Anchorage post office and to drop off Randy's film for processing. We make one more stop to the Anchorage yard, but didn't find much of interest...until we saw the fox. No kidding, he is three feet from our car! Gingerly, we open our car doors, trying not to spook this interesting little creature. Surprizingly, he comes closer. It is now obvious this fox has had lots of human contact already. All we have to offer is cheese crackers and the fox seems very content to gobble these down. We take lots of photos and video [click here to view the 2.2MB video] of this young guy and then watch him trot off contently into the woods. Wow!
We return to the Prince Imperial Hotel where chef Don has prepared a sumptuous dinner of shrimp cocktails, tossed salads, deep fried halibut and baked potatoes. Good food, conversation and friendship rule the evening before turning in for bed at 11:30 pm.