Saturday, August 20, 2005
Chef Don fixes us a magnificent breakfast of scrambled eggs, ham and toast and then drops us at the Anchorage train depot for our GoldStar ride. I am full of excitement in anticipation of riding the railroad's new bi-level car. I am also anxious to compare my June experience of the Rocky Mountaineer's Gold Leaf service with the Alaska Railroad's GoldStar service.
We arrive an hour before departure as per the railroad's recommendation. We stand in line for less than 10 minutes to get our boarding passes. Next, we sit and wait 30 minutes for boarding. Once on board, we find our seats and wait another 20 minutes for the train to depart. I still don't understand why we need to be there an hour prior, but the Rocky Mountaineer is the very same way.
We are underway at 8:15 am sharp and regally toast our departure with an orange juice champagne Mimosa. The Rocky Mountaineer did a similar toast too. An interesting side note is soft drinks are free on the Rocky Mountaineer while on the GoldStar they are not. Coffee and tea are free on the GoldStar.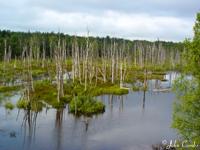 The tour guide begins an excellent commentary as the train moves out of the urban sprawl and into rural vegetation. Soon on board supervisor Virginia Gray is moving through the car checking on each and every passenger. When she stops by our seats, we ask her about her Alaska Railroad career. For the past two years she was a tour guide and now serves as on board supervisor. She hopes to apply for a brakeman job in January. She is a very sharp young lady and I think she stands a good chance of getting it. If she does get the brakeman job then it will mean her husband in Texas will need to relocate to the Great Land once his stint in the Air Force is over. She then hopes he will be able to get a job with the railroad too.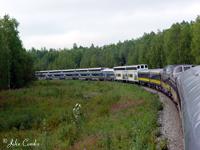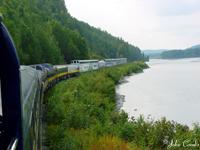 Randy and I then head for the second floor viewing platform. Three words describe this phenomena: drop dead awesome! With a spacious viewing area and a second level view, the platform is a railfan's Mecca and unequalled by what is offered by the other tour companies. Furthermore, due to the colder temperatures, no one else is foolish enough to stay out for very long thus leaving Randy and I with tons of room for taking photos. Randy quickly blazes through two rolls of film before we even get into Talkeetna. Once we arrive at the Talkeetna depot, we are able to detrain and stretch our legs for 20 minutes or so.
As the excursion resumes, the scenery grows more dramatic with taiga, tundra, silt laden streams and mountains. Passengers squeal with delight as they see a moose wading in a nearby stream. At one point, we pull into a siding and wait for an oncoming train. As it slowly passes us I notice it only contains five Princess railcars. This is probably both a plus and a minus to the railroad. A plus in that it will mean increased business, but a minus due to increased rail traffic, additional locomotive power demands and the possibility that other cruise ship companies will ask for the same treatment.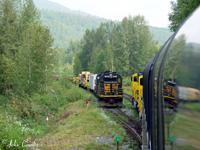 In a few days, Randy and I will have the honor of joining a Maintenance of Way (MOW) train out of Hurricane. Knowing we will soon be passing them, I prepare a note for the crew members (my friends) to read. It basically lets these mosquito bitten, hard working, sweaty workers know that I am enjoying my time on the GoldStar with the exception of the car steward spilling champagne all over me. Although the champagne spilling incident is untrue, I know it will serve its purpose of needling my hard working friends. Just beyond Curry we meet the MOW train. I see Duane Frank, yell out his name and throw the note. It lands exactly on the front of their locomotive!
Eventually we arrive at Hurricane Gulch and the bridge towers 296 feet above the river below. Even the most hypothermic passenger emerges onto the viewing platform for photographs. As the platform bursts with people, Randy and I retreat to our seats. At 2:02 pm we arrive at Honolulu, the half way point between Anchorage and Fairbanks. Soon thereafter we stop and do some tour guide swapping. I return to the viewing platform and see a woman with a look of panic on her face. Several minutes later her husband comes out the door and asks her what is wrong. She tells him that when she removed her camera from its case the wind blew it from her hands. Inside the case was a compartment that held all their cash! The woman appologies and says she should have known better. Upon inquiring how long ago she lost it, she says about ten minutes. The husband tells her he will inform the conductor who will definitely be able to help. In the meantime, they will just use their credit card. Both disappear into the car seeking the conductor.
As we pull into Denali depot, the air grows heavy with smoke from the forest fires up north. Even the sun cannot penetrate the thick haze. Resuming our journey, the air grows colder and I go inside for a cup of tea.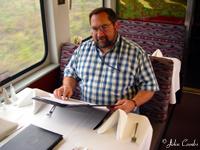 Eventually, the waiter sets out a good meat and cheese tray. After snacking a little from this, we decide it is time to check out the dining service. The dining area is beautiful and fresh flowers grace the table. Our waiter recommends the prime rib so I give that a try. The meal ends well with some truly scrumptious desserts. We arrive at Fairbanks at 6:05 pm. I will say the second floor viewing platform made for a truly awesome experience.
We hail a cab outside the depot. As we get in, our ears are pelted with loud backwoods country music. Cab driver Clive is a musician who eventually traded playing the guitar for driving a cab. During our ride, he entertains us with his stories of wildly sliding on winter roads without spilling his coffee or hauling dangerous people around who grab his steering wheel and want to beat up bouncers at bars.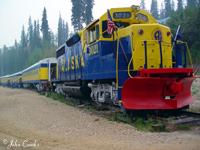 A $30 fare puts us on the doorstep of Mike and Sue Wilson's Aurora Express. Although this bed and breakfast is not included in the book, 1,000 Places to See Before You Die, it really should be. It is absolutely a railfan's dream. In the beginning, Mike and Sue purchased caboose 1086 and a tank car. In 1994, the Wilson's purchased two Alaska Railroad passenger cars for $1.00 each from the National Park Service and then spent a small fortune moving them to their property. In 1997 they purchased the shell of GP40 #3021 for $3,021 and used a semi at each end to deliver it. Eventually, they added two more passenger cars to complete their train. Three of the passenger cars and the caboose were renovated to accommodate bedrooms reflecting specific historical periods while one railcar was rebuilt as a dining room. The entire train sits high on a hillside and boasts a breathtaking view of the surrounding countryside.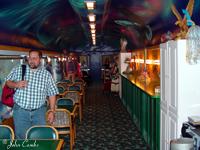 Sue Wilson greets us as we emerge from the cab. While talking with her she discovers the last time we were here was when they were just starting on the interior of the dining car. This generates an impromptu tour. Although the entire dining car is striking, it is the ceiling that causes my jaw to drop. First, there is an area of hand painted shimmering northern lights that almost seems to come alive. However, the real eye popper is a painted eagle whose head and eyes follow you as you move through the car!
Sue lets us pick our bedrooms and Randy chooses the Cancan room. I tell Sue I'd like to stay in her favorite room. She replies, "You'll be staying in the Bordello!" And an amazing room it is! The ceiling looks like real marble, but is actually a sponge painting done by a local artist. The walls hold crystal chandeliers, a huge gold antique mirror and several risqué, yet tastefully done paintings. There is also a private bathroom with full shower. The queen size bed beckons my name and I crawl between the covers. As I begin to doze off my cell phone rings. It's Rich Holzapfel and he just wants to finalized our plans for joining him on his work train. Lights out finally comes at 9:45 am.
| | | |
| --- | --- | --- |
| | | |
| What a fabulous place to sleep! | Sorry, I had to censor the image. | I wish I could have stayed longer. |