Talkeetna
M.P. 226.7

Talkeetna, AK Time & Temp.

Current Population: 876 (as of 2010)
Incorporation Type: Unincorporated
Borough Located In: Matanuska-Susitna Borough
Taxes: Sales: None; Property: 16.6 mills (Borough); 5% Accommodations Tax (Borough)
City: Talkeetna Chamber of Commerce, P.O. Box 334, Talkeetna, AK 99676, Phone 907-733-2330 , Fax
907-733-5051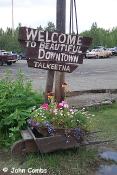 Located at the junction of the Talkeetna and Susitna Rivers, Talkeetna lies 120 miles north of Anchorage at mile 226.7 of the Alaska Railroad. The Talkeetna Spur Road runs 14 miles east off of the George Parks Highway.
The Talkeetna and Chulitna Rivers join the Susitna River at Talkeetna, an Indian word meaning "where the rivers join." Originally the site of a Tanaina Indian village, Talkeetna was established as a mining town and trading post in 1896, before either Wasilla or Anchorage existed. A gold rush to the Susitna River brought prospectors to the area, and by 1910, Talkeetna became a riverboat steamer station. In 1915, Talkeetna was chosen as the site for the Alaska Engineering Commission, who would build the Alaska Railroad, and the community peaked near 1,000. World War I and completion of the railroad in 1919 dramatically decreased the population. Several of its old log buildings are historical landmarks, and Talkeetna was placed on the National Register of Historic Places in April 1993.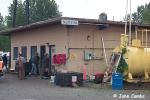 Talkeetna is a staging area for Mount McKinley climbing expeditions. In July, the Moose Dropping Festival gives contestants a chance to see how far they can throw a moose "chip".
Talkeetna has a section house (pictured at left) which supports track maintenance in the area. A new Alaska Railroad depot was completed in August 1997. Talkeetna has a large State-owned airstrip and is accessible by a road off the George Parks Highway. The taxiway was repaved during 1997.
The majority of residents have individual wells, septic tanks, and complete plumbing. The high school operates its own water system. Over 30% of homes are used only seasonally.
Click here for a railroad yard map for Talkeetna.




Page created 12/1/05 and last updated 12/2/11