Seward
M.P. 0
(Click photos for a larger view)


Seward, AK Time & Temp.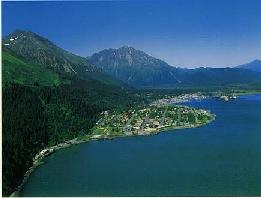 Photo provided by Ravensong Alaska Photography
Current Population: 2,693 (as of 2010)
Incorporation Type: Home Rule City
Borough Located In: Kenai Peninsula Borough
Taxes: Sales: 3% (City); 2% (Borough); Property: 3.12 mills (City); 8.08 mills (Borough); 4% Accommodations Tax
City: City of Seward, P.O. Box 167, Seward, AK 99664, Phone 907-224-3331 , Fax 907-224-4038

Seward is situated on Resurrection Bay on the southeast coast of the Kenai Peninsula, 125 highway miles south of Anchorage. It lies at the foot of Mount Marathon, and is the gateway to the Kenai Fjords National Park. The area encompasses 15 sq. miles of land and 7 sq. miles of water. Seward experiences a maritime climate. Winter temperatures average from 17 to 38; summer temperatures average 49 to 63. Annual precipitation includes 66 inches of rain and 80 inches of snowfall.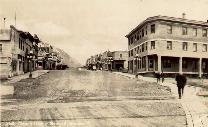 Resurrection Bay was named in 1792 by Russian fur trader and explorer Alexander Baranof. While sailing from Kodiak to Yakutat, he found unexpected shelter in this bay for a storm. He named the Bay Resurrection because it was the Russian Sunday of the Resurrection. The City of Seward was named for U.S. Secretary of State William Seward, 1861-69, who negotiated the purchase of Alaska from Russia during the Lincoln administration. In the 1890s, Capt. Frank Lowell arrived with his family. In 1903, John and Frank Ballaine and a group of settlers arrived to begin construction of a railroad. Seward became an incorporated City in 1912. The Alaska Railroad was constructed between 1915 and 1923, and Seward developed as the ocean terminus and supply center. By 1960, Seward was the largest community on the Peninsula. Tsunamis generated after the 1964 earthquake 90% of its waterfront industry, destroyed the railroad terminal, and killed several residents. As an ice-free harbor, Seward has become an important supply center for Interior Alaska.
---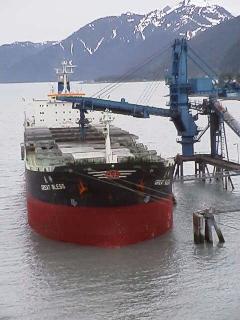 During the 2000 U.S. Census, there were 1,058 total housing units, and 141 of these were vacant. 1,167 jobs were estimated to be in the community. The median household income was $44,306.
As the southern terminus for the Alaska Railroad and road link to Anchorage and the Interior, Seward has long been a transportation center. The economy has diversified with tourism, commercial fishing, ship services and repairs, oil and gas development, a coal export facility for Usibelli Mine (pictured at right is a ship being loaded with coal), a State Prison, and the University of Alaska's Institute of Marine Sciences. An annual salmon derby is held, and a race up nearby Mt. Marathon every July 4th attracts athletes from a wide area. The new $52 million Alaska SeaLife Center opened in May of 1998. Seward hosted tourists from over 110 cruise ship dockings in 1997. Over 200,000 travelers toured the Kenai Fjords National Park visitors center in Seward in 1996.
The Alaska Railroad provides over 1.4 billion pounds of cargo transit each year, importing cargo for the Interior and exporting coal to the Pacific Rim. A new railroad depot was completed in the fall of 1997.
Click here to view the Seward railroad yard diagram or here for an aerial view of Seward.
The Alaska Railroad sold several old passenger cars and they were converted for other uses. First is a set of four troop sleeper cars which are used as rooms and a gift shop. At one time, a coach served as Seward's visitor information center.
Also check out the Picture of the Week entry for May 30.
---
Seward Depot

| | | | |
| --- | --- | --- | --- |
| | | | |
| Circa 1930s | Circa 1950s | Circa 1999 | New Seward Depot circa 2000 |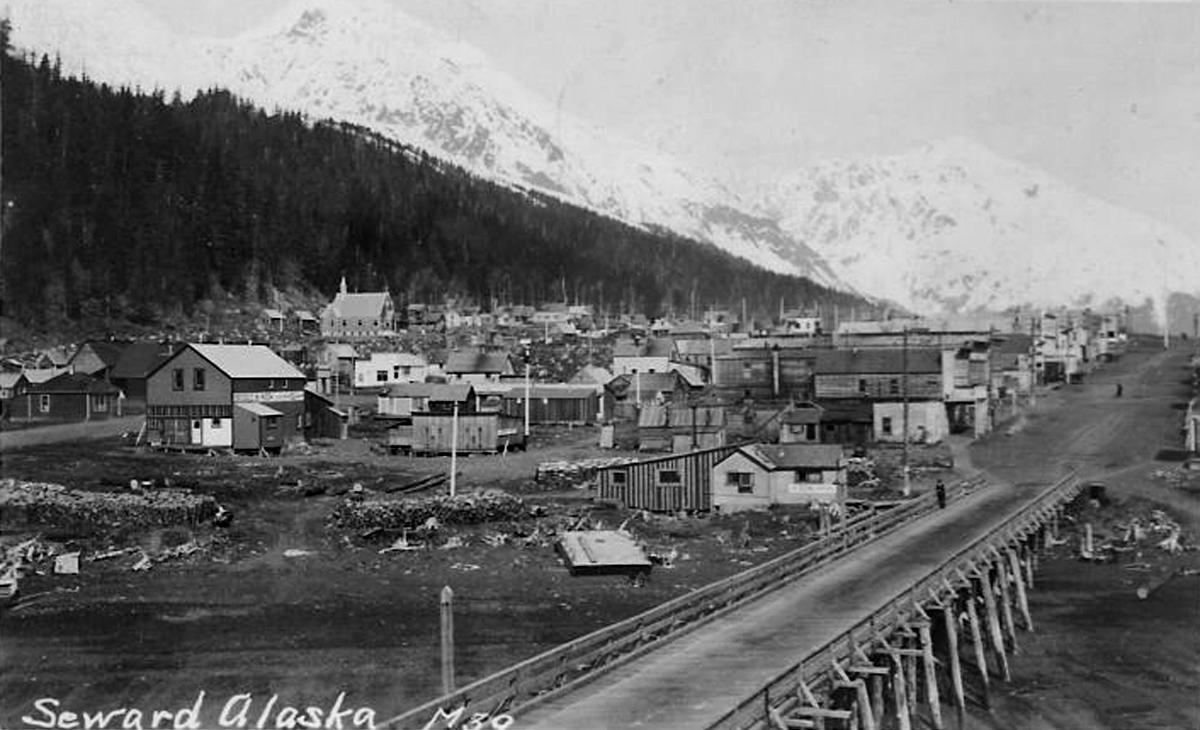 Seward, 1916
---
Jonathan Fischer says of his photos, "Here's a couple shots from that really great day trip to Seward." August 18, 2015
Page created 12/1/99 and last updated 5/5/116