Unofficial John Combs Biographical Information Page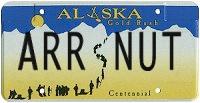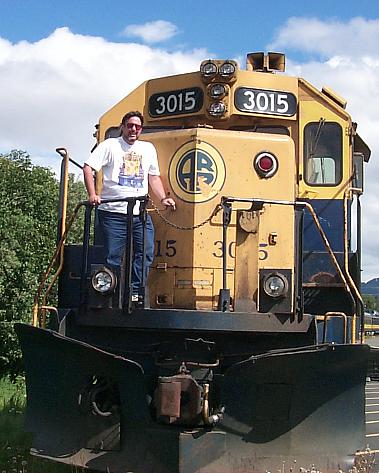 Welcome! So you wanna know something about me, huh? Just hop aboard my private rail car, take a seat in the VIP chair and let's get better acquainted.
Hmmm. Where should I start? Well, I was born naked, as was most of my family...
Name: John Combs
Ethnicity: Alaskan wanna be/American
Age: 58 (One foot in the grave and the other on a banana peel). By the way, do you know how to tell when you're getting old? It's when the candles cost more than the cake!
Marital status: Married to Terry (my soul mate) with three children (Laura, Annie and John M.) and four grandsons. Family portrait circa 2000
Pets: Max (rescue Shetland Sheepdog), Indy (rescue mix) and stray cats Geo and Mater
Computer: 3.4 GHz Intel Core i5 iMac with 27" flat screen monitor, 3TB disk, 16GB memory, NVIDIA GeForce GTX video board. I also have a Macintosh iBook. They are connected to broadband Internet via an Airport Extreme wireless network. I also have a 48 bit Epson 3200 Photo color scanner (with transparency adapters!), Hewlett-Packard all-in-one 8180 printer and Canon Digital Rebel XTi 10 megapixel digital camera.
Favorite foods: CHOCOLATE, Pizza Hut stuffed crust pepperoni lovers pizza, Five Guys Burgers and Fries, fillet mignon, Cheez-its, shrimp, swordfish, Italian, Reese Cups, Penn Station Italian subs, Mexican, Chalupas.......... we better change the subject! I'm drooling down the front of my train T-shirt!
Favorite color: Blue (and over the last eighteen years I've developed an obsession for Scalecoat D&H yellow)
Hobbies/Interests: God, family, Boy Scouting (49 year veteran, Eagle Scout, retired Scoutmaster (35 years and 53 Eagle Scouts), commendation from the State of Ohio, Silver Beaver recipient), geocaching, computers, model railroading, tornado chasing (I wish!), traveling (from Maine to California to Florida to Alaska to Europe to Haiti), guitar playing (making obnoxious noise since 1971), freeing the world from the evil clutches of disco and rap, travel, yadda, yadda, yadda and of course, Alaska!
Goals: Creating a "Minimize button" that works on obnoxious people, turning off the computer and getting to bed in good time, moving to Alaska, becoming a conductor on the Alaska Railroad
And remember: One out of every three people are ugly. Look to your left, then look to your right. If you don't see it, guess what! It's you!

| | |
| --- | --- |
| | |
| A young and spry John Combs takes his pet grasshopper for a daily walk in the woods. | |
| | |
| "Johnny C" during his long haired days playing his Gibson 6/12 string double neck guitar. | John's wife Terry gets her equipment ready for another exciting day of tornado chasing. |
Frequently Asked Questions
Why is a guy from Dayton, Ohio doing a web site on the Alaska Railroad? Pretty strange, huh. My wife and I visited Alaska in 1986 and loved it! Several years later I built an HO scale layout and my wife suggested I model the Alaska Railroad. At that time there was very little ARR stuff available so I decided to build a web site to help track more down. What happened next defies explanation. People came out of the woodwork supplying me with all sorts of Alaska Railroad information. What started out as a small, crude web site grew into an Alaska Railroad web site mecca. In November 2002 I bought the domain name www.alaskarails.org and moved in for good!
Wow! This website looks pretty extensive. Just how big is it? As of March 20, 2018 it is 5.6 gigabytes of data comprised of over 40,000 files, over 20,000 internal links and over 12,000 photographs. The bottom line is it would take you months to read it all. I've had visitors from all 50 states and dozens and dozens of countries around the world.
Who writes the code and maintains the site? Just little ol' me.
How much money do you make from this web site? Not only don't I get a penny for doing this, but I spend a lot of my own time and money ($$$$$) to make it happen. I refuse to accept paid sponsors, advertising, royalties, etc.
How can I get train schedules, informational brochures, tickets, etc. via your web site? You'd be surprised how many people think I'm the official Alaska Railroad web site! I've had several people asking me for an employment application. I even had several companies inquire about shipping some items for them! Recently, I had an Alaska Railroad Information Services employee tell me the railroad received a call from someone wanting to make a reservation after viewing my site. The caller wanted to talk to someone at www.alaskarails.org about making this reservation. Ha, ha, ha! Sorry folks, but you need to go here.
Do you have any information on ______? Yes, I receive as many as 10-12 inquiries a day about locomotives, freight cars, deceased employees, historic events, routes, models, building drawings, etc. With a little help from my friends, I am able to answer most of them.
I am going to visit Alaska soon. Can you give me advise on railfanning the Alaska Railroad? Yes. However, to make the best of the time you have, you should hire me as your private guide/camera Sherpa. All you have to do is pay for my first class plane ticket. (lol) Also check out my guide to riding and photographing the Alaska Railroad.
I am just beginning to learn how to do my own custom painting and decals. Can you help me? Me personally? Are you kidding?!? No way! What I know about creating models would fit in a thimble. However, on my "Modeling" and "Email Addresses" web pages you will find a list of people who can. Feel free to contact them for assistance. Good luck!
What does the Alaska Railroad think of your web site? I always get kind of choked up when I answer this question. There is the conductor who gives out my web address to his passengers, the company VP who tells me to "keep up the good work", the locomotive engineer who says my URL is book marked on many of the computers at the company headquarters building, the senior employee who refers to me as "the guy who wears the white hat", the conductor who says "He knows more about the Alaska Railroad then most Alaskans", the retired employees who uses my site to stay abreast of what the company is doing, the many employees who used my news section to find out the latest on the SD70MAC deliveries, the MOW crew that adopted me as one of their own and let me go to work with them, the terminal superintendant who refers to me as "The Ambassador of the Alaska Railroad", the employee who every time he sees me says "Welcome Home!" and the red carpet treatment I got from them during my 2000, 2002, 2004, 2005, 2006, 2008, 200, 2010 and 2012 visits. On my 2014 visit the ARRC help a meet and greet for me at their headquarters building. They even had a cake declaring me as their number one fan! In May of 2017 a special ceremony was held for me at the Anchorage depot with the Vice President presenting me with a gold nugget encrusted switch key (normally reserved for ARRC employees with extended service) and a letter of congratulations from the President/CEO in celebration of my 20 years maintaining this website (see below). Needless to say I am deeply moved as well as grateful for all the attention and compliments.
Since you know a great deal about the Alaska Railroad and have a lot of photographs of it, will you ever author a book? My friends and I already have. The only difference in my book is it's online and totally free! You're reading it right now.
Your business card says, "Alaska Railroad Addict." What exactly does that mean? It means staying up until 3:00 a.m. so I can get a new ARR related web page online. It means walking four miles through moose and bear infested wilderness just to get one ARR photograph. It means spending a ton of money on ARR books, collectibles, photographs and trips. Yes, I've been through rehab several times. The only problem is the addiction only grows stronger. But as Manny in the movie Runaway Train says, "What doesn't kill me makes me grow strong."
Will you sell me your HO scale "North to the future" boxcar? I'm sorry, but I can't quite make out what you are saying. It is really breaking up on this end. What? Hello? Are you still there? <click>
What are some of your notable Alaska Railroad related achievements? I have helped with the following endeavors:
provided Jordan Spreader drawings, photos and information to the Discovery Channel for its "Extreme Trains" series
provided a photo to Alaska State Parks for their Parks Highway State Scenic Byway Corridor Partnership Plan
provided historical information and photographs for historical displays at the Whittier Chamber of Commerce inside caboose 1076 and the Whittier Army Museum
assisted the Anchorage Museum of History and Art with an Alaska Railroad display
provided prototype information to model companies such as Micro-trains Line, Walthers, Athearn, Kato Precision Railroad Models, Microscale Industries, Model Railroad News
provided photos and/or video to GoodTimes Entertainment, Royal Gorge Route, TopSpin Creative Corporation, Siemens, Coastline Rail, Alaska Mint, Holland America, ECI/Hyer, Inc.
assisted publications such as Hooked on the Outdoors, Swiat kolei (Polish "Rail World" magazine)
contacted for information by MSNBC, Anchorage Daily News and the Alaska Journal of Commerce
provided photos and historical information to Alaska Pacific University for Potter Museum story boards
provided historic to Porcaro Communications photos for the 2008 Alaska Railroad calendar
provided a photo of rail iron with sun kinks to Pearson Science for "College Physics" 2e, by Knight, Jones, Field
provided information to the Anchorage Daily News for an article on ARR RDCs
provided photos and information to Heritage Design/USDA Forest Service for the Whistle Stop at Spencer Glacier
provided Alaska Garden & Pet Supply, Inc. with a photo for a business brochure for the company
provided photos and information to the 196th Regimental Combat Team for articles in their July 2010 issue of The Foxhole
provided a photo to Weston Solutions for use on the cover of a proposal document
assisted in provided information on the Caribou Creek railcar to the Mt. Rainier Scenic Railroad
provided historical information to a Japanese train magazine
provided cultural resource documentation for caboose 1084 to the Seward Ranger District Chugach National Forest
provided earthquake photos to the Ministry of Education, Singapore
provided information to NHNZ, Los Angeles
assisted Silver Derby Campground in finding a solution to broken window replacements in their double-decker car
website and personal photos used for ARRC #557 Homeward Bound document
website and personal photos used by KTUU TV for a video clip on the return of #557
provided photos for Hungarian transportation magazine IHO
provided a Usibelli Coal Mine photo to ABR, Inc.-Environmental Research & Services
provided a photo to be used in a briefing by the Alaska Department of Law
provided photos to M.T.H. Electric Trains
worked with Windfall Films in creating Railroad Alaska which was picked up by the Discovery Channel. Series Producer Craig Blackhurst sent me a personal note stating, "The Windfall Films crew would like to thank you for your contribution, support and kindness in the making of the Railroad Alaska TV Series. Without your dedication and patience we would not have been able to make the show,"
provided the Alaska Railroad with photos of #557 to use in several of their publications
provided a photo to the Historical Iditarod Trail Committee
provided a photo to Huget Marketing and Advertising
providing a photo to Alaska Design Works
assisted Walthers in obtaining photos of F7 unit to use to promo HO scale units
provided information to the Gamma project TV Documentary Series, London
provided image contact information to the Gold Coast Railroad Museum, Miami
provided assistance with possible Harding Christmas ornament for the White House Historical Association, Design Master Associates, Inc.
provided maintenance of way (MoW) and operational information to Belgian television company, Sputnik Media, in research for one of their programs 'Jobs Without Frontiers"
assisted the Anchorage Museum with getting photos of the golden spike for their Centennial exhibition
assisting a company in obtaining wiring diagrams for the refurbishment of two ex-Alaska Railroad GP49s
serving as one of the board of directors for the Engine 557 Restoration Company and as the webmaster for their website
provided SD70MAC photographs to J&O Railroad Productions for their book titled "SD70 Series Volume 1."
provided a photo for a publication on Walter L. Goodwin being published by the Iditarod Historic Trail Alliance
provided a photo of a passenger train crossing Hurricane Gulch to Holland America-Princess (HAP) Alaska-Yukon
helped Intrinsic Landscapes obtain permission for use of a Walter Strong photo on a display board for steam locomotive #556 in Delaney Park
Nenana town and bridge photo used in Legacy of Our Elders via Doreen Deaton, Executive Director of Communications for the Tanana Chiefs Conference based in Fairbanks
Provided Mary Krull, owner of Brew@602, with photos and historical information for ex-SP gallery car #602
I am a single woman and I think you're the greatest. Will you marry me? You'd have to dress exclusively in blue and yellow, wear cologne that smells like diesel fuel and have a face that resembles number 3015.
Why are you so obsessed with locomotive number 3015? Actually, I now think that she is infatuated with me! To begin with, she was the locomotive that took my wife and I from Anchorage to Denali National Park and back in June of 1986. She was my first Alaska Railroad locomotive and will always be my favorite. However, when I rode the Alaska Railroad with my Boy Scout troop in 2000, number 3015 took us from Anchorage to Seward. Coincidence? No way! She popped up again on my 2002 trip, wearing a brand spanking new paint job and pulling the Grandview (with me in the Aurora) from Anchorage to Seward. In 2004, she played hard to get. When I didn't even try to hunt her down, she appeared out of nowhere on the last day of my trip to say good-bye. In 2005 she met me behind the Fairbanks diesel shop and out front of it in 2006. In 2008 she was constantly passing me by at the Anchorage depot. In 2010 she followed me all the way to Portage. In 2014 she was on the first train I saw on the trip. Honestly folks, I think she is stalking me! I just wish she'd stalk me all the way home to Dayton, Ohio.
During my 2017 Alaskan cruise trip I failed to spot #3015. Sniff, sniff.
How many conductors does it take to change a light bulb? Only one, but to no avail. He first punches a hole in the new bulb.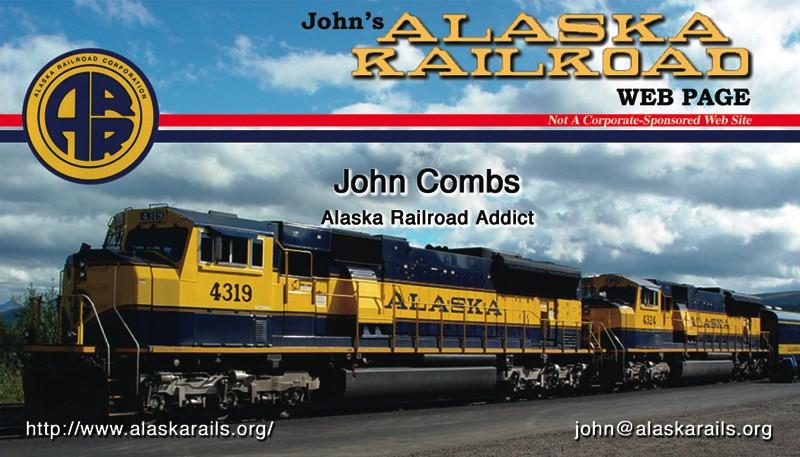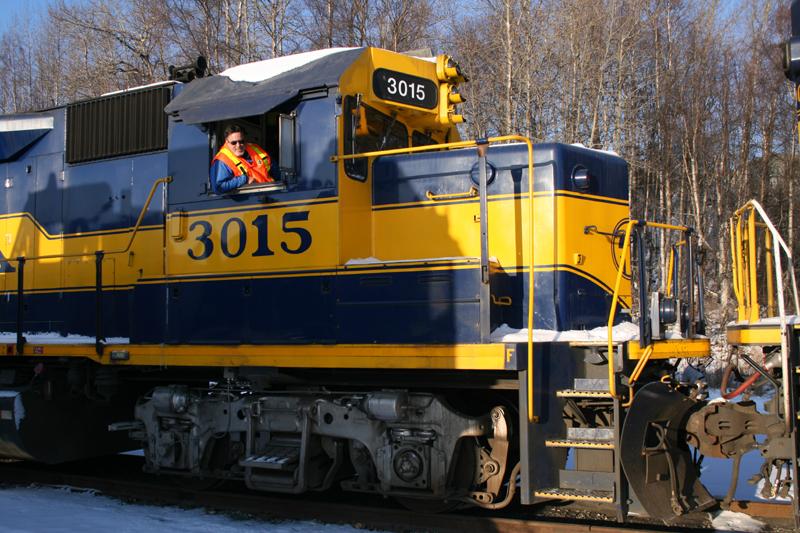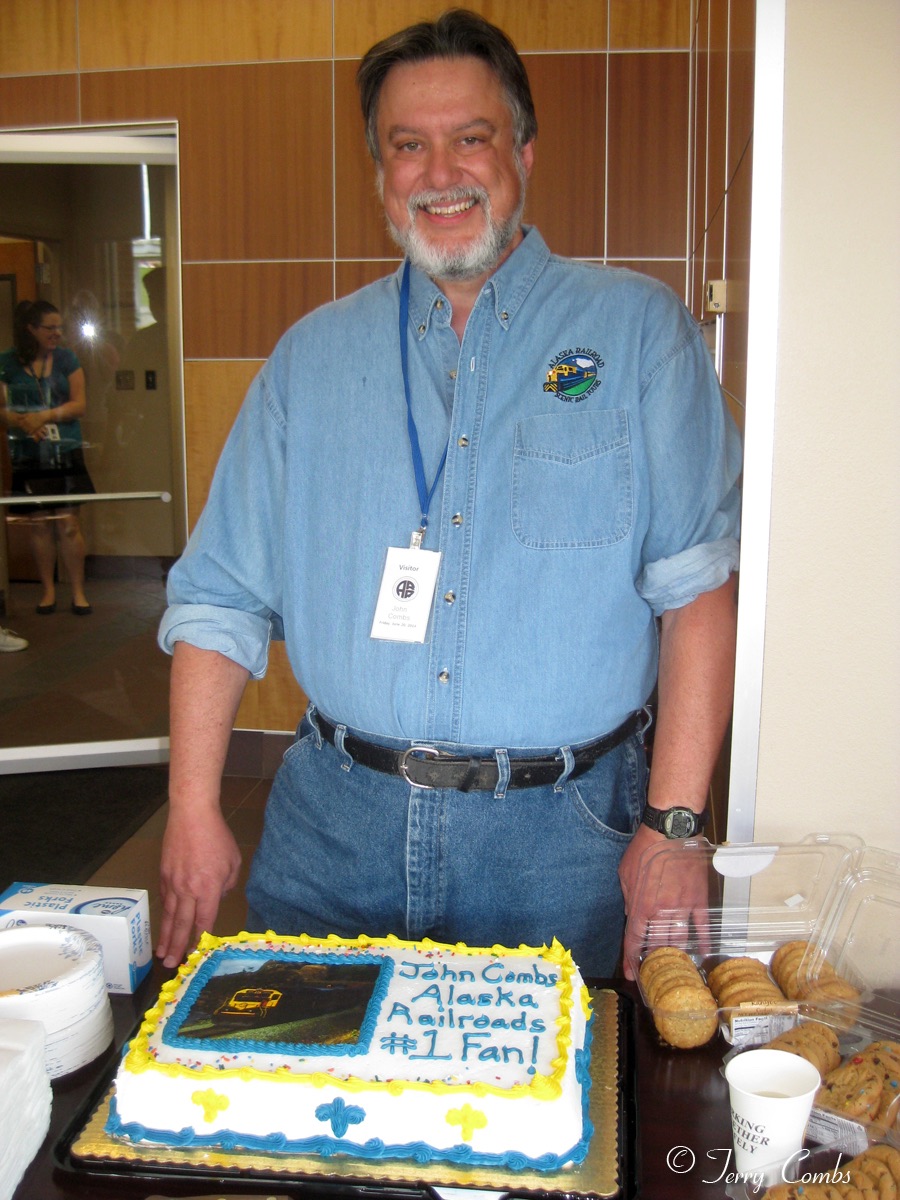 From the June 2014 open house the Alaska Railroad Corporation had for me.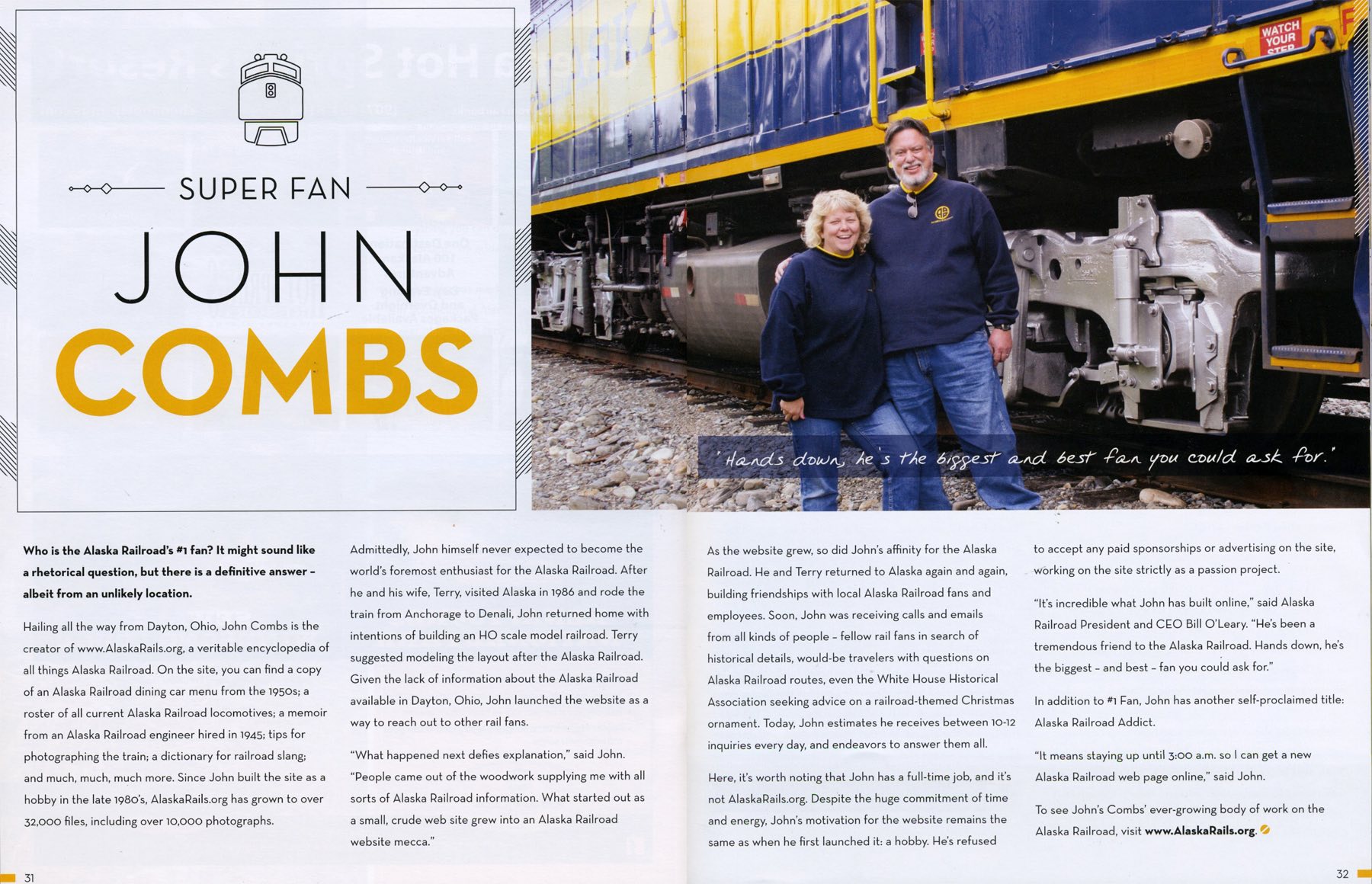 From the 2016 edition of Panoramas magazine a free publication distributed year-round to all passengers who ride the Alaska Railroad).
---
"On May 27, 2017 an informal meeting of the Engine 557 Board of Directors was convened at the Historic Anchorage Depot. Only one item was on the agenda, to welcome and honor John Combs the creator and web master of alaskarails.org. John is a member of the Engine 557 Restoration Company board of directors and hosts our No. 557 Info page at alaskarails.org. He is celebrating the 20th year of alaskarails.org. Without challenge, alaskarails.org provides a depth of coverage of the Alaska Railroad, history, rosters, personalities, and current operations that is not enjoyed by any other railroad. I do believe that John was overwhelmed when Doug Engebretson, ARRC Vice President for Operations, and a 557 board member, stepped forward and read a letter of congratulations from ARRC President, Bill O'Leary. Doug then presented a gold nugget encrusted switch key to John Combs. This is usually reserved for employees with extended service to the Alaska Railroad. In John's case it is certainly appropriate. While unofficial, alaskarails.org is the touch stone for rail fans, the general public and employees in search of information on their favorite railroad. Board members, Patrick Durand, Maria Keffer, Dick Morris, Jim Posey, then joined Doug in an enjoyable exchange with other attendees and John Combs, the official #1 Alaska Railroad fan." - Patrick Durand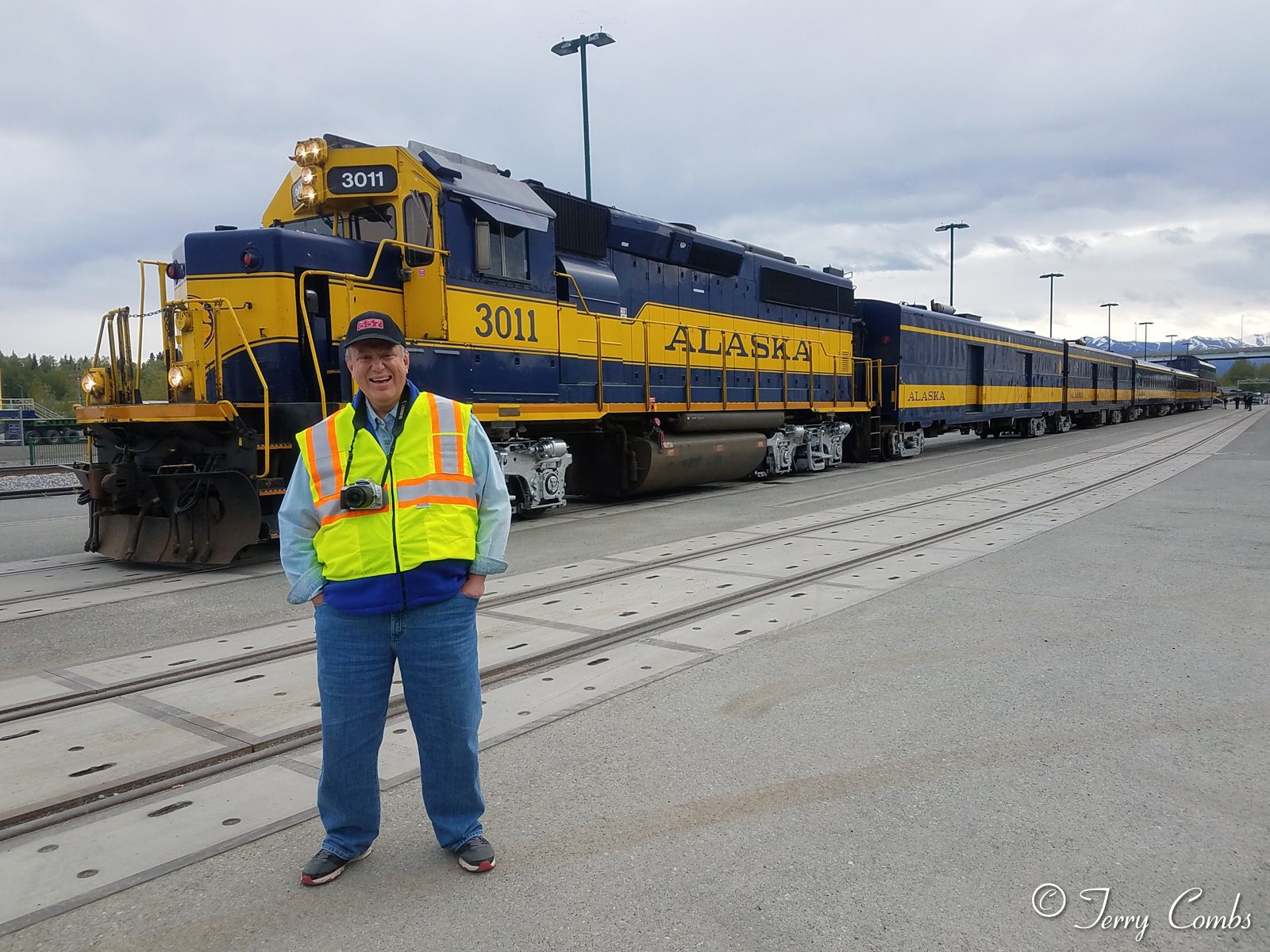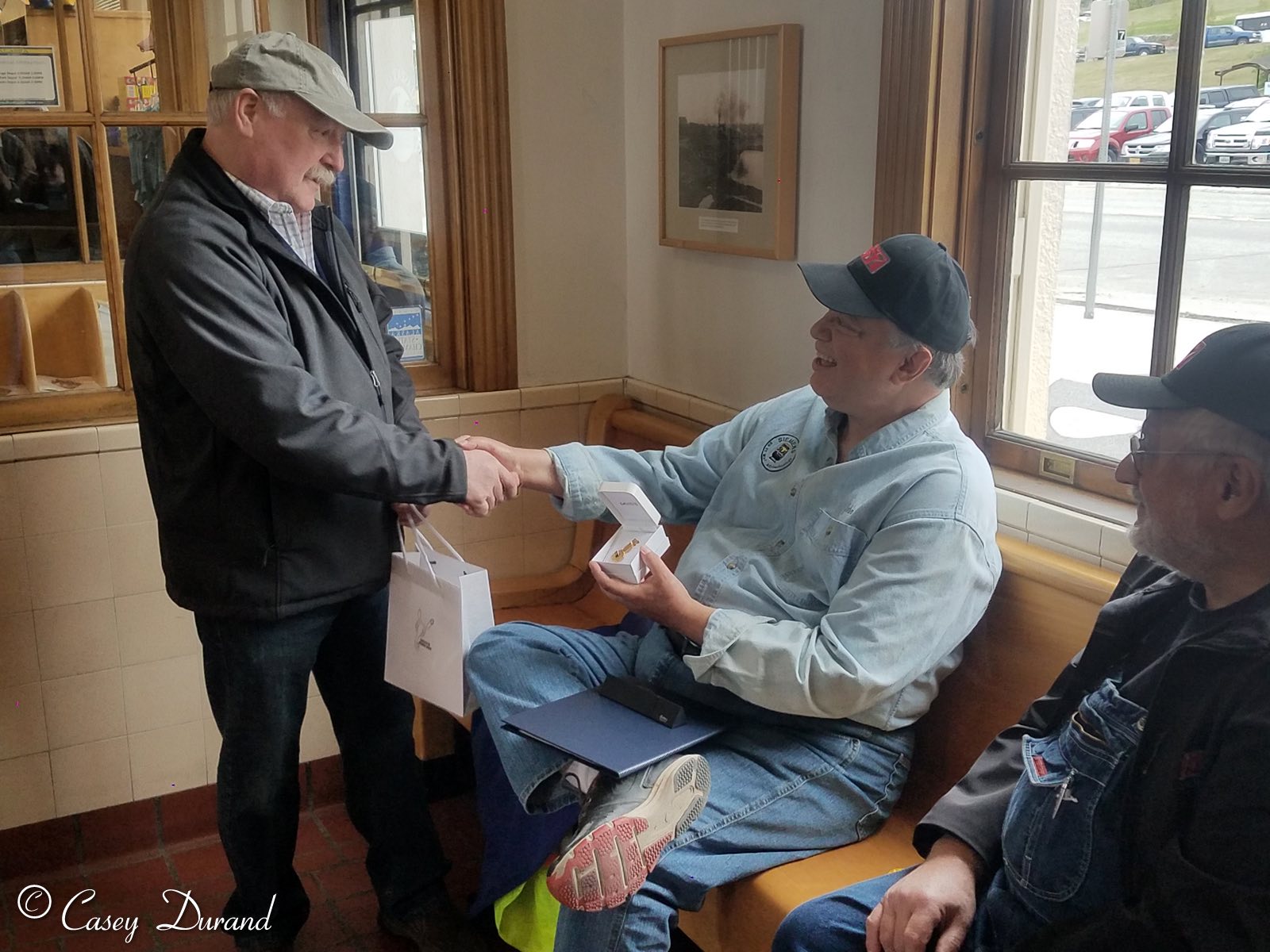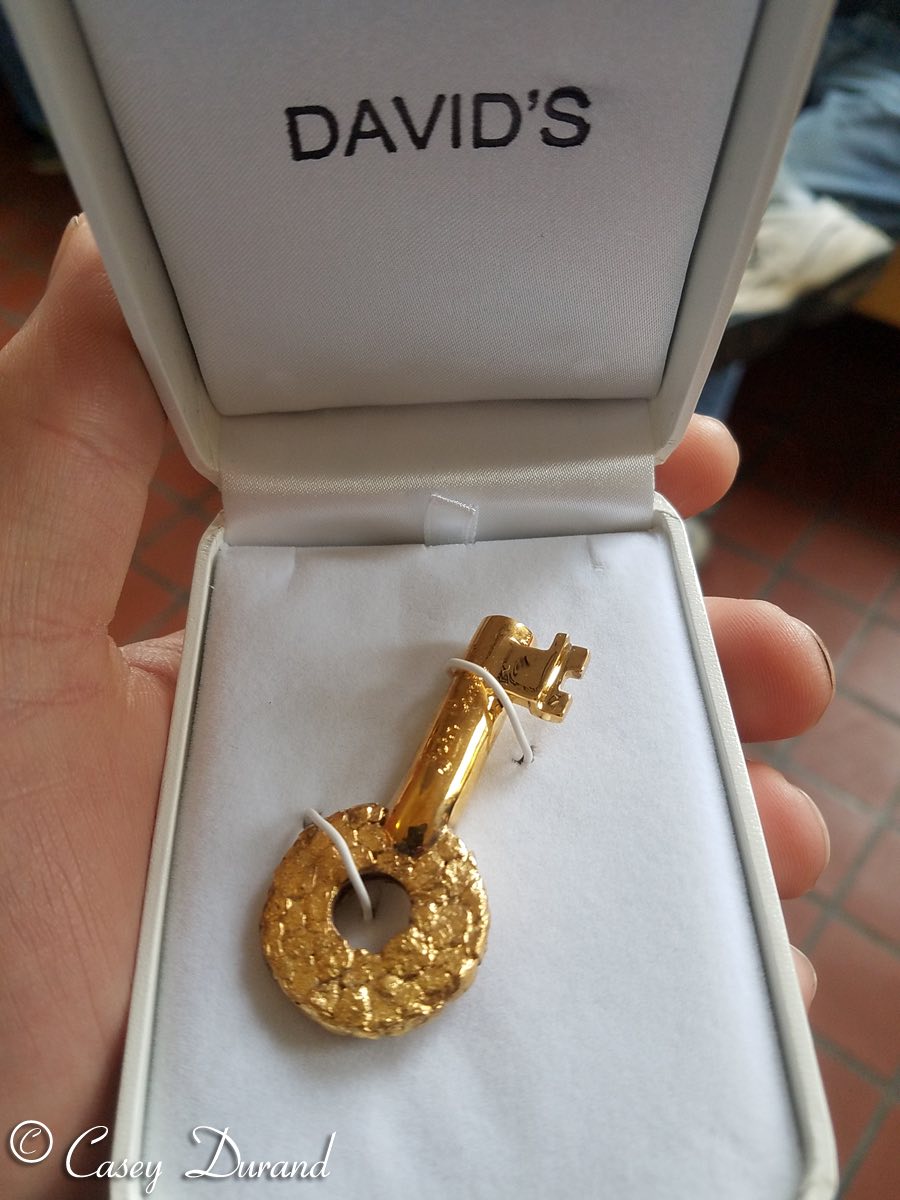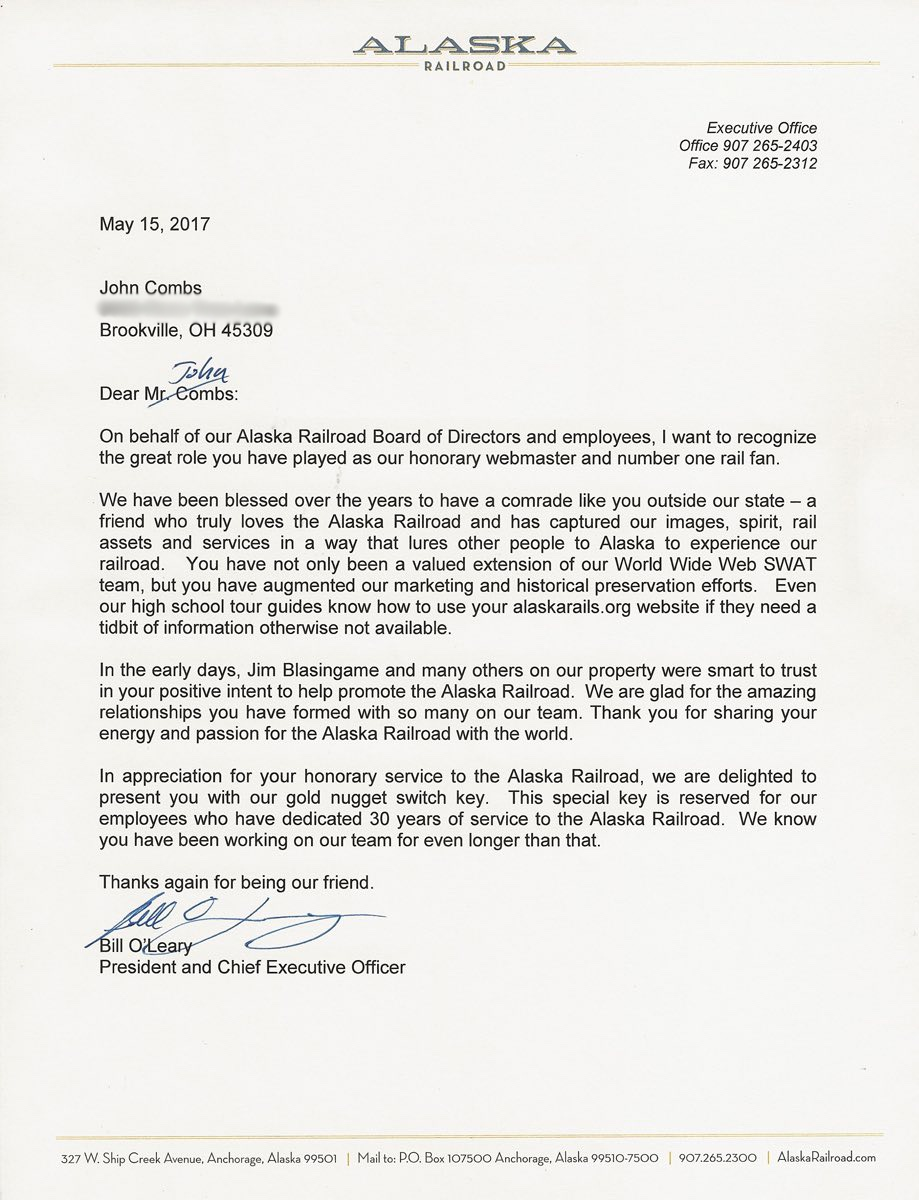 Last time I bothered to update this was 3/20/18