Our Alaska Trip Report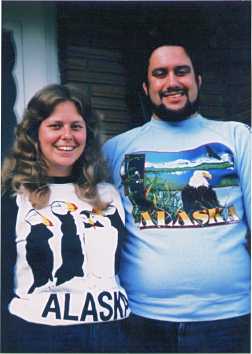 On June 15 we (John and Terry) flew from Dayton to Anchorage via Chicago and San Fransico airports. Unfortunately, our sleeping bags didn't show up at the baggage claim area. So much for the friendly skies! The first night we stayed with Terry's cousin, Scott Powell, who is a ranger at Camp Gorsuch Boy Scout camp. We found sleep to be pretty difficult when the sun was blazing brightly. We spent June 16 touring the Boy Scout camp, eating in their dining hall and packing our backpacks in anticipation of our trip to Denali National Park. The camp staff is gearing up for their summer camp program and Scott is keeping himself pretty busy. The mosquitos here are everything we heard them to be. They are everywhere and can make a mess of your face and arms pretty quickly!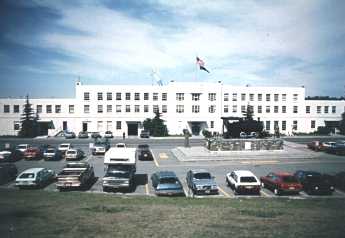 We were up early on June 17 to catch the Alaska Railroad out of the Anchorage depot. Scott was kind enough to take time out of his busy day to give us a ride there. The train was crowded! We gave up our seats to another couple so they could sit with their children. The steward eventually found us a seat in the baggage car - no just kidding - in the dome car.



We loved the beautiful train ride and spent a lot of time in the open vestibules between the cars taking pictures. Unfortunately, there is no good place to take pictures aboard the train. The dome car's windows were pretty dirty. Taking pictures from in between cars is better, but the car's edge still blocks part of the picture. Leaning out makes for a slightly better picture, but a more nervous conductor.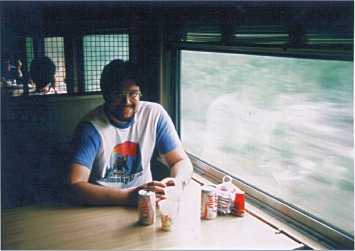 It's lunch time so let's head to the dining car and see what's cooking. We found lunch to be pretty expensive and it was tough paying $1.00 for a can of soda. John's hamburger and potato chips was $3.50 while Terry's tuna sandwich and chips set us back $2.25. However, the service was good and the scenery was absolutely outstanding. This is living, this is style, this is elegance by the mile!

We arrived at Denali National Park at 4:00 p.m. Number 3015, a GM EMD GP40, was the locomotive that brought us in. They unloaded our baggage and then everyone disappeared. It was kinda like an episode from the Twilight Zone. There was no sign showing where Denali National park campground was located. So we went over to the train depot to get some assistance.

No one was working in the train depot and we found all the doors to be locked. Not a very friendly welcome! We spent over two hours getting oriented and searching around for a person to ask or a sign to read. After walking down one of the trails for quite a ways, we found the park office. It was like a scene from Land of the Lost! The train depot has since been torn down and a new one constructed.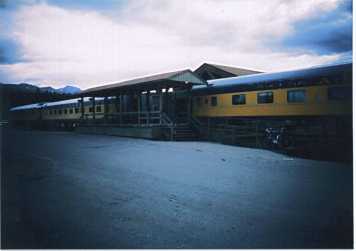 We chose to spend our first night in railcars outside the lodge. The accomodations were cramped, but suitable for $33.00 a night. The next morning (June 18) we made our backpacking reservations and then took the shuttle bus into the park. It took 5 hours to get to Wonder Lake and back, a journey of 83.6 miles. Unfortunately, there was not much wildlife to see. We again spent the night in the railcars. Today, these cars are no longer in the park. They were sold for $1.00 each.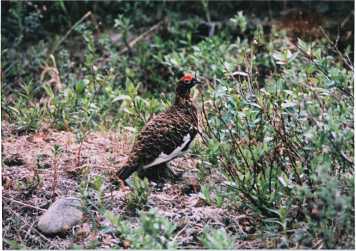 June 19 was the start of our backpacking execursion. We took the bus to Savage River bridge and said good-bye to civilization of the next couple of days. The park service doesn't have trails so as to reduce the impact on the environment. Basically, you are given an entire quad to hike in and can roam as you please. Walking on the tundra is similar to walking on marshmellows. It is very spongy with lots of scrubby plants and some very beautiful flowers. We were lucky enough to see a Ptarmigan, Alaska's state bird.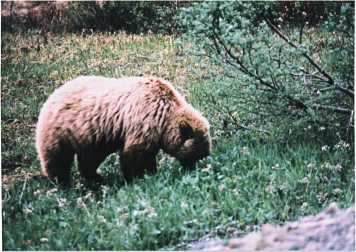 We were lucky enough to see a Toklat grizzly too! However, the real threat was the mosquitos. There were a bazillion of them and they seemed to love the smell of Deet! If it weren't for our head nets, we won't have been able to set up camp. We set up camp, ate dinner, washed our dishes in the river (which the park service told us to do) and went to bed. The next day we spent roaming the countryside and taking in the beautiful Alaska landscape. We caught a bus back to the lodge and spent the night in Marino campground. The next day (June 21) we went to a park service demonstration on dog sleds. We then went to the train station and waited for over three hours. As it turns out, six people were killed in a car the day before so all trains were moving pretty slow. We didn't make it into Anchorage until 11:00 p.m.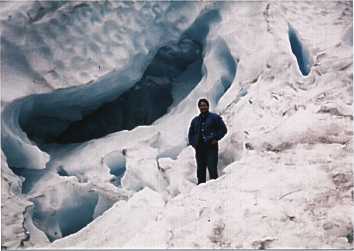 On June 22 we went to Independence Mine and Hatcher Pass, two very beautiful trips. June 23 was Anchorage, Kenai Peninsula, Portage Glacier and an overnight stop at Land's End motel in Homer. On June 24 we headed to Seward and stayed in Mrs. Simpson's Bed and Breakfast. We took a side trip to Exit Glacier (shown here) and had a blast. We spent three hours climbing all over the glacier. On June 25 we took the Kenai Fjords ferry tour which took us to islands where we saw bald eagles, puffins, oyster catchers and sea lions. We then returned to Anchorage.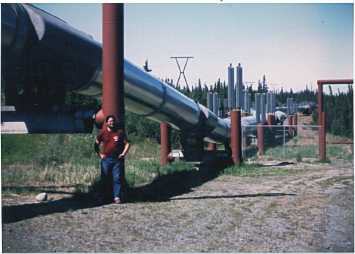 On June 26 we headed to Valdez, the Switzerland of Alaska. John got a speeding ticket ($14 total), but was able to get to the visitor's center in Valdez before it closed. We took in the sights of the city (including the Alyeska Pipeline and Marine terminal) and returned to Camp Gorsuch by 5:05 a.m. On this return journey we almost hit a moose! On June 27 we did some more sightseeing in Anchorage including the earthquake park. On June 28 (our anniversary) we tried our luck at gold panning at Crow Creek Mine. We had fun, but no luck. We returned our rental car to the airport (we put 1767 miles on it - thank goodness for unlimited mileage!) and only paid $169.95! We caught a 6:30 p.m. flight and returned to Dayton by 9:10 a.m.




Return to Combs Family Trips Page
Page created 12/10/97 and last updated 12/10/97