Sunday, November 5, 2006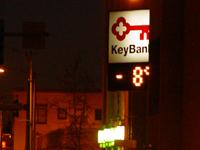 There are few things more exciting than an excursion on the Alaska Railroad. I felt like a kid at Christmas, getting up at 6:00 a.m. anticipating the days events. After a quick shower, we stopped in the hotel's dining room for the complimentary breakfast buffet of waffles, sausage, eggs, oatmeal. As we watched the news on the overhead television, we heard Saddam Hussein had been convicted of crimes against humanity and sentenced to death. As I looked around the room, all eyes were glued to the screen.
Once Terry finished breakfast, she headed across the street to get a photo of the bronze statue of the 'Unknown First Family' in Golden Heart Park. This statue is "dedicated to all families past, present and future, and to the indomitable spirit of the people of Alaska's interior."
Dwight picked us up in the company truck and we headed off to catch the southbound Aurora Winter Train. As we passed Key Bank, the marquee boldly declared a frosty minus eight degrees. It'll be a chilly day in the train vestibules today! Before arriving at the Fairbanks depot, we passed through the rail yard and took a few photos in the dim morning light.
| | |
| --- | --- |
| | |
| SD70MACs chillin' out | Fairbanks depot |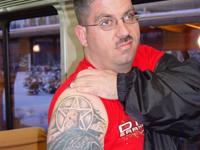 As we entered the depot, we met Raymond Hamm, Alaska Railroad railfan, member of the Tanana Valley Model Railroad Club and M-K-T Railroad virtuoso. He was heading down to the Wasilla homestead of Marty Quass to run his custom-made HO scale M-K-T on the Consolidated South Western Railroad. While waiting for the train, Raymond cracked open his cases and showed us several of his high-quality creations. Very impressive indeed! Once onboard the train, Raymond and I swapped various ARR trivia and tidbits while waiting to get underway. Although I don't remember how we got onto the topic of tattoos, Raymond promptly rolled up his shirtsleeve and showed us a beauty that must have set him back a paycheck or two. It kind of makes me think I should get a tattoo also......maybe of locomotive 3015!
Mother nature blessed our rail-riding day with sunshine and this combined with the low yet intense sunshine made for some very striking photographs. It was as cold as a witch's elbow out in the vestibule, but I had come prepared with some heavy duty winter gear. Unfortunately, my camcorder did not fare as well. As we crossed the Mears Memorial Bridge, it gave a condensation warning and refused to record. My first inclination was to see how many times I could get it to skip across the Nenana River, but since the river was frozen I decided to try to fix the problem. Dwight took it to the baggage car and held it up to a heat blower for quite some time, but failed to revive it. Forlorn, I resigned myself to accept the loss of videotaped memories and settle for only snapshots. In the meantime, Terry had a wildlife field day spotting nine moose before we even reached milepost 434.
The train stopped in Healy to drop off a mother and her child. Warren Redfearn, our conductor, allowed us to disembark and grab a few photos of the consist. As I was getting back onboard, I spotted ARR Roadmaster Steve Love. I spoke to him briefly, reminding him to record some of his favorite stories on a handheld tape recorder I had given him in 2004. He promised to do this soon.
| | |
| --- | --- |
| | |
| The Aurora in Healy | Passing through Garner |
Braving hypothermic consequences, I haunted the vestibule and snapped dozens of photos. Unsurprisingly, no one competed for my spot. One striking memory I will never forget is the bright white ice chunks floating along the top of the greenish river water. At one point a woman flagged our train using a homemade white flag. Our 20 or so passengers were enthralled with this and peppered her with questions once she came onboard. She soon became passé when the passengers spotted a wolf a mere 100 feet of the rails. We grabbed a quick bite in the dining car and found the found to be good and the service very friendly.
| | | |
| --- | --- | --- |
| | | |
| Nenana canyon | Windy Bridge | Bridge from Million Dollar Curve |
| | | |
| Passenger flagging down a train | Awesome Alaska scenery | Hurricane Gulch |
And then came the deluge of dogs. It started with CD jumping onboard in Chulitna and Huckleberry at Sherman. A steady stream of passengers came back to the baggage car for a brief visit and friendly lick. Next, it was Lucy and then eventually Kaya both of which decided to socialize with us in the passenger car. It was a true dogarama, much to the delight of those onboard. As an interesting side note, the Alaska Railroad does not charge to bring leashed dogs (i.e. not in a kennel) onto the train. If reincarnation were to exist, I'd like to come back as an Alaskan cabin dog so I could ride the Alaska Railroad for free!
| | | |
| --- | --- | --- |
| | | |
| PETA would not like this! | "CD" in the baggage car | "Huckleberry" at Sherman |
| | | |
| "Huckleberry" in the baggage car | "Lucy" (I also saw her in 2004) | "Kaya" charming the passengers |
Dwight pointed out a new gravel pit taking shape at Curry. This will be a great source of rip-rap, ballast, etc. for the railroad in the future.
| | |
| --- | --- |
| | |
| Returning home from their cabin | Moonlight winterscape |
The engineer stopped the train at our final view of Mount McKinley. The alpineglow had illuminated the landscape with hues of purple and blue and everyone clambered to the vestibules or open baggage car to capture the moment on film (or electrons). The ice had formed intricate patterns that mesmerized the eye as they passed. This was truly a moment to remember.
Just north of Wasilla Dwight pointed out a 100-foot tower that was built by a homeowner. From what I understand it was to be part of his residence. However, it eventually started leaning and was condemned. If you have any knowledge of this unusual project, make sure and pass it on to me. I spent the rest of the train trip catching up on my journal.
We arrived at the Anchorage depot not long after 8:00 p.m. Frank was there to pick up Terry who would retrieve our rental car and then head back to Don's condo. My ride came from Stewart Sterling who took me to his house to view the massive slide collection he had recently procured from eBay. He has promised to eventually scan these for my website.
I returned to Don's condo just before midnight and found Terry asleep on the couch. She had tried to stay awake until I returned, but the day had gotten the best of her.