Saturday, November 4, 2006
Frank Dewey is indeed a good friend. He rolled out of bed at 6:30 a.m. to drive us to the airport thus preventing us from paying two days parking. We again stopped at fast food nirvana and picked up another artery clogging breakfast. The drive to the airport was quick and Frank dutifully dropped us at the door.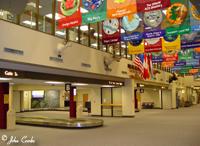 We skipped the first flight to Fairbanks so we could be on the same flight as Dwight and his wife. The flight itself was beautiful and Terry got some awesome photos of Mount McKinley. Once Terry and I disembarked from the plane, we caught up with Dwight and his wife and discussed the plan de jour. We agreed to meet in front of the airport and Dwight headed off to the parking lot to retrieve a company vehicle. Terry and I retrieved our luggage and got the keys for our rental.
Nothing quite prepares an "outsider" for that first blast of frigid Fairbanks oxygen. The moment I exited the airport, a bolt of arctic air raced down into my lungs and sucked out every bit of moisture which in turn left me coughing uncontrollably. Man, is it ever cold! Think the planet Hoth from the Star Wars film "The Empire Strikes Back." We located our rental car and threw our bags in the trunk. At this time we were supposed to check the vehicle for any signs of unreported damage so as not to be charged for it later. I am here to tell you that this is virtually impossible to do when your fingers are turning into flesh popsicles. We drove the car to the front of the airport only to discovered Dwight's company car would not start. I guess the arctic air had sucked the life out of it too. [Additional note: Fairbanks has a climate that is unparalleled in the world. As a city, it has the largest low-high temperature range of any place on the planet. The lowest recorded there is -65F, and the highest is 99F.]
After getting another truck, Dwight led us to the old power plant at the Fairbanks yard. The railroad had shut this steam plant down and began using it as a maintenance building instead. Ed Riveria and another employee were waiting there to give us a tour of the building.
Next, we drove over to the (relatively new) Fairbanks depot. Although it was closed, Ed Riveria produced the keys and gave us a brief tour. At one end of the depot is an entire room set aside for the construction of an HO scale layout by the Tanana Valley Model Railroad Club. was working on the club's model layout which is housed inside the depot. Walking over to the door, Ed tapped on the glass window and a gentleman let us in to take a look. Much to my surprise, it was Nicholas Deely, author of "Alaska Railroad" and "Tanana Valley Railroad: The Gold Dust Line." I must admit I was pretty excited to finally meet this gentleman since it was his book "Alaska Railroad" that fueled my initial interests. Dr. Deely even gave us a tour of the club's modeling efforts and a few tips on modeling trees.
Just as hunger drives the wolf out of the wood, our group was driven from the rail yard to Big Daddy's BarB-Q and Banquet Hall. Ed Riveria brought us to this house of gluttony saying they had good food and large portions. Works for me! As we entered the large hall, I noticed it was mostly deserted and I began to wonder if this would live up to its fame. However, I am happy to report my pulled pork sandwich was fantastic and I had a tough time finishing off the mountain of French fries and huge scoops of potato salad. Everybody raved about their food and gawked at the monster quantities. I plan on making a repeat visit here the next time I am in the Fairbanks area. Ed entertained us with various stories of his past including his membership with a well known motorcycle club.
Our hunger slaked and the sun sinking low, we returned to the rail yard for a frigid photo safari. GP40 number 3015 was one of the first sights to fall upon my excited eyes. Is it coincidence that during my last trip, she was also lurking in the Fairbanks yard? Maybe she has been demoted to yard goat status? Anyway, Dwight drove us wherever our hearts desired. Terry also got out to take a photo or two. One of the more interesting sights was a cylindrical hopper with striking bright red "Death Tower" graffiti on the side. We also noticed a lot of pipe laying around in heaps. Dwight explained these were being staged here for delivery to the North Slope for pipeline replacement.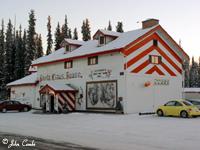 With my railfan desires partially satisfied, we parted company with Dwight and his wife and headed for North Pole. This town was on Terry's "to do" list and we definitely wanted to make a stop at the famous Santa Claus House. We spent over two hours shopping and buying Christmas gifts. However, my highlight came when I spotted Santa Claus in the rear of the shop. As I approached him, he asked me what I wanted for Christmas. "I want Alaska Railroad GP40-H number 3015 in my backyard. If you get it for me I will never ask for anything else as long as I live." Santa gave me a knowing glance and said, "I've heard that before." As I exited the shop I called the railroad museum at Pioneer Park to see if I could stop by and visit locomotive number 1. Unfortunately, no one answered the phone.
When we arrived at our hotel, we were immediately overrun by hundreds of children. They had already gobbled up all the complimentary popcorn and chocolate chip cookies. As we got into the safety of an elevator, one of their moms informed us that three different competitions were being held in town, gymnastics, skiing and hockey. I turned to Terry and said we better get to the complimentary breakfast bar as soon as it opens in the morning!
We met Art Chase at the Fairbanks depot around 7:30 p.m. Art was all aglow from having his "Reflections" painting selected for the 2007 ARRC poster. He's experiencing his 15 minutes of fame and he richly deserves it. The northbound passenger train arrived at 8:05 p.m. and Art took photos while I took some video. The three of us then went to the Food Factory for dinner. Even though the service was painfully slow, it gave Terry and I a chance to delve into Art's artistic history as well as his more recent projects. After leaving the restaurant we stopped by Pioneer Park and looked in the darkened windows to try to get a peek of locomotive #1...all to no avail.
We returned our rental car and were back to the Springhill Suites by 11:00 p.m. As I looked out of the window at the nighttime skyline, I spotted a bar called Mecca. Now there's a clever name for a bar! The dictionary defines Mecca as, "any place that many people visit or hope to visit."