Friday, November 3, 2006
We exited Frank's house by 7:15 a.m. and spent a good deal of time removing layer after layer of ice from our windshield. After a quick breakfast stop at fast food nirvana (McDonald's), we headed out of town. It was dark as we left the bright lights of Anchorage, but with each mile, the sun rose and lit the scenic land around us. Views along Turnagain Arm were majestic, but too dark for photos.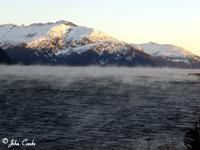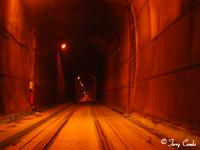 We met Dwight West, our railroad guide, at 8:30 a.m. at a scenic overlook just before the Anton Anderson Memorial Tunnel. We then traveled 2.5 miles through the longest highway tunnel in North America. Popping out on the other side, we were greeted by sunshine and fierce winds. Exiting the car for pictures, we watched as the wind screamed down the side of the mountain, creating waves as it hit the water which in turn gave rise to fog. Unfortunately, the photo shown here cannot begin to capture the awesome majesty of the moment. Having survived the hypothermic winds as long as we could, we jumped back into the car and blasted the heater.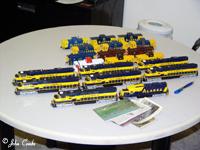 At the Begich Towers, we met Mark Earnest, Whittier's city manager as well as a railfan who John had met via his website. We chatted a bit with Mark in his office, checked out his enviable collection of HO scale brass SD70MACs and cabooses, heard a few details of the town and then headed out for adventure.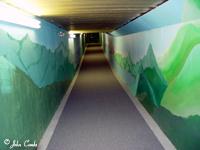 One area where Whittier seems to excel is its school. Mark was dropping off his young son Matthew for class so we got to tag along and experience it for ourselves. The school is connected to the Begich Towers via an underground tunnel which enables students to reach their destination without freezing their little tootsies off, unlike I did when I was their age. The school itself is super clean, brightly painted and friendly. Approximately 50 students attend the pre-K through 12th grade and the teacher to pupil ratio is fairly high. Our final stop was an enormous modern gymnasium and Mark commented that the basketball team travels all over the state.
We parted company with Dwight and then took a white knuckle four wheel drive tour of future town development with Mark. Whittier has some pretty big plans to develop a scenic area for recreational use. I must admit I was very taken with the ice laden mountain views and water so crystal clear that you could see the stones at the bottom. During part of the drive, we passed an unusual sight of a school bus being used for housing.
| | |
| --- | --- |
| | |
To satisfy my "land of the lost" urge, we paid a visit to the abandon Buckner building. I had done this excursion in 2002, but this time I had two guides, Mark (who had flashlights!) and Harbormaster Mike who had played in the building as a kid. We entered the building through a back entrance and began to explore the various rooms and passage ways. Although we hadn't paid our admission, we did sneak into the movie theatre to see what was showing (it was "Alone in the Dark" with Christian Slater and Tara Reid - LOL). We roamed through rooms of rust and rubbish. Eventually, we headed up to the snow-laden roof for an awesome view of the Whittier and the Alaska Railroad yard. We then descended a tetanus-infested metal stairway to return to the first floor for some final exploring.
Mark invited us to his condo for lunch and we readily accepted. Thankfully his wife Carla had prepared a hot meal which quickly warmed our frozen bodies. While we ate, their four-year-old son Matthew, astonished me with his recall of the Alaska Railroad roster. When Mark said, "711" Matthew would reply "RDC." Mark retorted, "3015" and Matthew quickly responded, "GP40-H." On and on the two went until I finally offered Matthew a future job working on my website.
Refueled and refreshed, we headed out to the docks to watch the barge unloading with Dwight. Gondola after gondola of pipe was retrieved from the barge in anticipation of repairing a 16 mile stretch of the Trans-Alaska pipeline. Some of the pipe had shifted during transit and a forklift was used to force it back into place. [click here for 3.2MB video] We did a final drive through the yard, capturing photos of the Halliburton railcars, an enormous shed made from containers, trucks on flatcars and many others.
We parted company with Dwight and stopped by the Begich Towers to meet Robert Krol at his parent's condo. Every trip he presents me a custom-made HO scale item and this time he did not disappoint; I was the recipient of an Alaska Railroad centerbeam flatcar! Robert had used the photos from my website to guide his skilled hands in creating a show quality masterpiece. Note to self: make four trips a year to Alaska to increase HO scale roster with more quality masterpieces. Robert's mom then gave Terry a tour of the stunning hand-made beadwork she has created over the years. What a talented family!
We caught the 4:00 p.m. tunnel opening out of town and then began the hour long trip back to Anchorage. Stopping in Bear Valley, we grabbed several quick photos of the bridge replacement effort and an eagle fighting off several other birds for a fish it had captured. As we got off the exit ramp in Anchorage, we got a darkly lit photo of a pair of moose grabbing a quick vegetarian snack.

We met back up with Frank and his girlfriend Camille for some bottomless French fries at Red Robin. Frank then stopped at Best Buy to purchase me a DVD of his favorite Sci-Fi comedy, The Fifth Element. While waiting in the parking lot, I met up with an eBay seller to get a print I had purchased several weeks before. Returning to Frank's house, we showered, packed and watched Mission Impossible III.