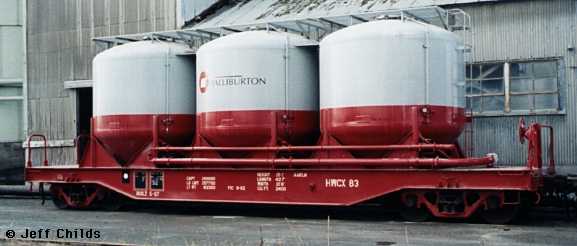 In 1961, the Halliburton Company introduced a railcar designed to carry dry products such as cement, pozolin (an additive) and fly ash in bulk, basic dry products for mixing drilling mud to control hydraulic conditions while drilling oil wells. The basic car was built by Pullman-Standard with the tanks, tank supports, piping, running boards and ladders being fabricated and installed by Halliburton at the Duncan, Oklahoma shops. The cars are numbered HWCX-50 through HWCX-124.
The Alaska Railroad has moved these railcars from Whittier and Anchorage to Fairbanks where the product is transfered to trucks for final delivery in the oil fields.
The cars are a common sight arriving on the barges in Whittier. You can create a team track for these on any siding as there is no infrastructure required for unloading into a properly equipped bulk trailer.
In October 2008, Shane Durand photographed 6 of these cars parked on the north bound departure track in Anchorage.

Casey Durand took two photos of the same car, HWCX 86, some 12 years apart in the Anchorage Yard, the first in 1988 and the second in 2001. These provide the details for each side of the car.

Click here for modeling information.
Thanks to Jeff Childs and Pat Durand for providing this information!
© 1998-2008 John Combs unless otherwise noted
Page created 9/20/98 and last updated 11/24/08