Thursday, November 2, 2006
I awoke at 7:45 am and realized I couldn't feel my right arm. I quickly sat up and the force of this caused my right arm to snap off at the elbow. The arm dropped to the floor and shattered into a million frozen pieces. It was then that I discovered that upon arriving to our room a little less than six hours ago, I had inadvertently turned up the air conditioning instead of the heat. I skated across the icy floor, turned off the A/C and cranked the heat up past 11.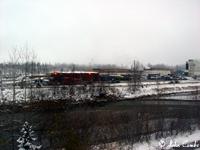 As I emerged from a hot shower, Terry alerted me that a tank train was passing outside our window. I grabbed the camcorder and shot some video, but was a little disappointed that our view wasn't what I had hoped. Next time I will follow Vickie Miller's idea and stay at the top of the Hilton Hotel for a much better view. However, I must admit the continental breakfast was fairly decent and I loved the "make-them-yourself" waffles that are the popular rage at most hotels.
At 10:00 am sharp we set foot into the Alaska Railroad headquarters building. After being issued badges, we gained access to the offices and rode the elevator up to the executive suite. There we met the ever charming Wendy Lindskoog, Assistant Vice President of Corporate Affairs, who showered us with various railroad gifts and brochures. She also gave me a CD with Alaska Railroad graphic images which meet their identity guidelines. She informed me that being a third party affiliate, I'll need to update the logos on my website so as to adhere to these guidelines. She then introduced us to Dwight West, Safety Coordinator, who would facilitate our visit whenever we are on railroad property.
Next, we stopped by Don Prince's condo. Don had fallen and broke his femur bone in his right leg in July. This was the same leg that had the artificial hip. Surgeons operated to repair the break and also replace the hip. Don has recovered quite well and is in great spirits. It was good to see our friend again and swap the latest stories. Just then Dwight called on my cell phone and invited us to a company barbeque celebrating their one year safety record. Who says there is no such thing as a free lunch!
We returned to HQ and piled our plates high with food. Dwight then took us up to the yard tower office so as to get some elevated photos of the various railcars hanging around the yard. Issuing us hard hats, safety vests and ice walkers, he drove us through the yards so we could get even more photos.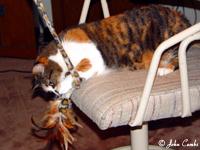 Terry and I then headed into downtown Anchorage. She went into various stores in search of gifts while I made a bizillion phone calls to line up our upcoming activities. We returned to Don's for an awesome dinner of caribou roast, salmon, salads and, of course, chocolate. Terry inquired about Don's railroad history. Don told her numerous stories about his career which began in 1950 and ended in retirement in 1980 as a General Yard Master. We spent the rest of the evening playing with Don's cat, Missy (she loves to be spun around on a bar stool), telling stories and watching "Deal or No Deal." This show pits a contestant against an in-house adversary (the Banker) via a series of briefcases. Although I found the show a little too staged for my liking, Terry did not want to leave until the contestant finally made her final "deal."
Our last stop of the day was at Frank Dewey's house. Frank started with the Alaska Railroad in 1975 and is currently a locomotive engineer. He was one of the first big supporters of my web page and contributed lots of operational information and stories. Although Frank had suffered a minor stroke recently, he appeared to be doing very well. He showed us our bedroom and we then spent the rest of the evening swapping stories and watching "The Fifth Element."