Wednesday, November 1, 2006
The airlines love to give you a little golden nugget and then when your spirits are up, they squash you like a grape. This year's golden nugget was the ability to print your boarding passes from your home computer. So I was actually (stupidly) looking forward to going to the airport and seeing how this worked. What a sucker I am!
My in-laws picked my wife Terry and I up at our house and then drove us to Delta Airlines sign at the Dayton International Airport. They let us off at the door, we said our good-byes and then we rolled our luggage into the airport. Sure enough, we were able to scan our own computer-printed boarding passes and do our own check-in. The attendant checked out IDs, tagged our bags and we passed them off to the TSA folks.
I am still amazed that the airline actually lets you print your own boarding pass, especially after Chris Soghoian, an Indiana University PhD student, created an online Northwest Airlines boarding pass generator earlier this year. He did this to highlight security holes. After approximately 35,000 people viewed and possibly used the boarding pass generator during the less than 72 hours that it was live on his site, he was shutdown. On October 28, 2006 his home was raided by agents of the FBI to seize computers and other materials related to Federal charges for conspiracy to commit fraud and forgery. Note that violations can carry fines of up to $11,000 per violation so this could have been a real wallet buster. However, the Justice Department eventually cleared him of any wrongdoing although he was placed on the government's 'no-fly' list.
Anyway, now it is time to catch our puddle jumper to Boston. Yes, I realize that flying from Dayton to Boston is going the wrong way, but remember this is the airlines. We gotta fly you to a central hub and then make you sit for over three hours so we can play the game of sardines. During our layover, Terry and I spent our time checking out the plethora of bizarre looking folk that always seem to wander around airports. Terry got the prize for first place when she spotted a woman who had a large tattoo that matched the embroidery on her pants leg cuff.
You know what's coming next, don't you? The dreaded airline seat! Remember my horrific March 2004 experience where I was mercilessly crushed by the gargantuan man? This time I came prepared. Terry had volunteered to sit in the middle seat and thus protect me squashdom. Moreover, Terry proved to be a good luck charm as no one sat in the isle seat of our row. Once the plane was airborne, up went our arm rests and over she slid into the isle seat . Nirvana! However, no good deed goes unpunished. The airline then retaliated with a somewhat nasty tasting snack and headphones that made it impossible at times to hear the movie, "Pirates of the Caribbean, Dead Man's Chest." After five hours of flying we arrived in Salt Lake City. Curiously, our flight from SLC to Anchorage went exactly the same way, open isle seat, identical nasty snack and poor headphones.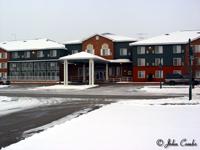 Our plane touched down in Anchorage at 12:06 a.m.(4:06 a.m. Dayton time) and we soon realized we were not at the main part of the airport, but in the north international terminal. Heck, I didn't even know there were two terminals! So we caught a shuttle bus to the main concourse to retrieve bags and the Chevy HHR rental car.
It felt very exciting to be back in Alaska again! The stress of airline flights melted away as the Anchorage skyline came into view. Terry navigated us expertly and soon our hotel was in sight. I have always wanted to spend the night at the Comfort Inn at Ship Creek. I've heard you can get a good view of the railroad yard from the top floor. However, since it was 1:45 a.m. when we finally got to our room, we decided to view the inside of our eyelids instead.