Sunday, March 7, 2004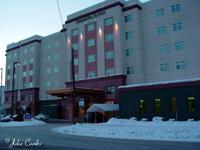 Now when I am at home, I don't roll out of bed until a modest 7:30 am. Therefore, you know that something special is about to happen when I am up bright eyed and bushy tailed at 6:00 am! Yes, today would be "ride like the arctic wind" day. After I crammed (and I mean crammed!) my stuff into my midget-sized suit case, I went down to the breakfast buffet. They had just tons of food, but I settled on the "make your own" waffles. A hotel employee brought out the cups of batter and set them by the waffle iron. A middle aged man walked up, dumped a cup of mix in the waffle iron and closed the lid. Just as I grabbed a cup of mix to dump into the other waffle iron, he grabbed another cup and dumped it in ahead of me. He told me he had been waiting here an hour for breakfast (although he had only set foot in the dining room ten minutes before), was in a big hurry and that I'd just have to wait. I have heard people say the younger generation is rude and impatient, but I now know it is more a matter of an individual's personality then of their age. After gobbling down my waffles, I grabbed a couple of pieces of fruit for the trip south and stopped by the computer room to check my e-mail.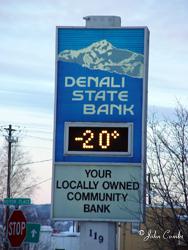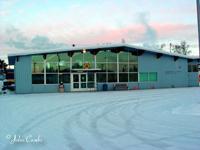 As I told you earlier, the reason I picked the SpringHill Suites is it's the closest lodging to the Alaska Railroad depot (well that and it served a free breakfast). This turned out to be even more critical than I initially thought. If the hike had been much longer than the seven minutes it took me to get to the depot then the minus 20 degree temperatures might have turned me into a human popsicle. After getting my ticket, I killed some time talking to Steven the baggage handler. When I told him about my web site and offered to give him the address, he said he didn't need it since he had the Alaska Railroad was right here.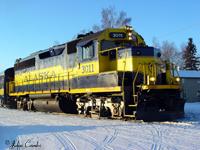 A total of 12 people got on the train and I took the seat closest to the viewing vestibule. The train consisted of GP40 3011, cafe 301, coach 207 and baggage 100. As the train rolled out of the depot, Conductor Leon Butler came around to collect the tickets. Some of the passengers slept while others headed to the dining car, thus leaving the coach totally quite (bonus!). The industrial sprawl scenery eventually gave way to small spruce and birch trees. Before long we were rolling into the vicinity of Nenana. Out of the blue, I decided to video tape our train as it passed through the Mears Memorial Bridge [click here to view the 1.6MB video]. When I flung open the vestibule window, icy wind hit me like a sledgehammer. Even though I was dressed in expedition weight thermal underwear, heavy weight gloves and a forty below fur coat, the air quickly conjured up near frostbite.
| | | | |
| --- | --- | --- | --- |
| | | | |
| Healy Clean Coal Project | Healy Canyon | Garner Tunnel | Million Dollar Curve |
Familiar places came and went: Nenana depot, Usibelli coal tipple and the Healy Clean Coal project. Then suddenly the scenery exploded; Healy Canyon [click here to view the 3.5MB video], Garner tunnel [click here to view the 616KB video], Million Dollar Curve and Windy all had the people out of their seat and fighting for space in the vestibule. I continued to valiantly brave the cold, but had to stop video taping for a while once I lost total feeling in my digits.
As we crossed Riley Creek trestle tragedy struck - the rechargeable battery in my digital camera went dead. Conductor Butler came to my rescue when he pointed out an outlet behind my seat and flipped the circuit breaker to make it work. By the time we got to Hurricane Gulch, my battery had replenished enough to get a few critical pix.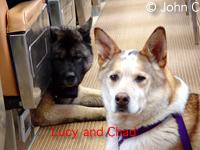 As the train continued its frigid journey, we added and subtracted passengers. About an hour before we got to Talkeetna, we picked up a group of six passengers. Two of these passengers, Lucy and Chad, were especially friendly and they spent a great deal of time socializing with the other passengers on board. The train stopped again 30 minutes later and picked up several families complete with dogs, backpacks and toddlers. The coach took on a turbulent carnival atmosphere and passengers heading for the restrooms had to run a continuously moving obstacle course of legs, paws and tots. The pressure valve finally blew at Talkeetna where the train spilled its contents of free spirits. Once underway, the train returned to its calm, quite, delectable atmosphere.
| | |
| --- | --- |
| | |
| Hurricane Gulch | Beauty! |
The stretch from Talkeetna to Anchorage is perhaps the most bland of all Alaska Railroad stretches. However, this is akin to eating a Hershey's chocolate bar after gorging on Godiva chocolates; it may not be the best, but it is still pretty darned good. Friendly little pine trees frosted with snow, a lofty hunter's food cache, sugar fine snowfalls blanketing sleepy meadows, cozy little cabins groaning under the weight of snow heaped roofs and even an occasional moose browsing its way through a barren buffet provide hours of entertainment for all. At 5:34 pm we passed three SD70MACs pulling a seemingly string of hoppers.
We arrived at the train depot at 8:15 pm. As I stepped off the train, a voice shouted, "John Combs! John Combs!" It was Art Chase, an Alaska Railroad railfan and gifted artist. This surprise visit was the first time I had ever met Art in person.
Don Prince picked me up at the train depot, took me back to the condo and fixed dinner. We ended the day with our regular trip debriefing and eBay check.