Monday, March 8, 2004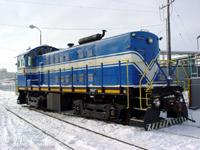 The International House of Pancakes has graced Americana for over 45 years and has amassed a total of 1100 restaurants. However, there is only one of these restaurants in Alaska and that is where I met Alaska Railroad locomotive engineer and longtime friend Frank Dewey for breakfast. Over crepes and sausage, we discussed ARR policies and politics, gossip and rumors, stories and stupidity. The meal grew even more festive as Frank presented me with a heavy bag of Alaska Railroad goodies.
Hopping into Frank's Range Rover, we headed toward the Anchorage rail yard. Our first stop provided my first views of the Williams Alaska Petroleum's Alco S-4 number 2113. Although it is capable of remote control operation, there was an engineer onboard calling the shots today. The plant's security guard let us take some photos and video as long as we stayed about ten feet from the tracks.
| | | |
| --- | --- | --- |
| | | |
| Mobile Command Center | Guts of #2007 | A very naked #2007 |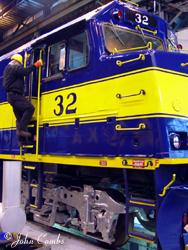 You can never visit the Alaska Railroad's yard and shops too many times. Although I had already breezed through a couple of times previously on this trip, this visit did not disappoint! Frank pointed out the railroad's mobile command center, joking that this is where all the executives would go to when the railroad goes to war. Entering the diesel shops, we popped inside P31 and P32 and got some photos of the cab and engine room. We were looking for the frame numbers so as to determine the origin of this units, but were unable to find them. GP38 number 2007 was in the shop for an overhaul and Frank gave me a crash course in the procedures for doing it. We then went into an electronics repair room where a half dozen "dead FREDs" were awaiting some attention. We also tracked down one of the MP15s. Frank was able to get some great "top down" photos for use on a modeling project by Bob Garner. Our last stop was a drive through the yard. Here we spotted the new ARR/BCRail flats, some McKinley Explorer and Princess cars, three apparently unused (though relatively new) cabooses, a Wonder Bread tank truck with an Alaska Railroad cab and various freight cars. As we left the yard, we spotted some inattentive soul who had rammed his brand new pickup truck into the back of an unsuspecting delivery truck.
For beginners only: Today the end of the train is monitored not by a conductor in a caboose but by a FRED. A flashing rear end device (FRED) is a blinking red light on the last car of the train used as an end of train telemetry device. It radios brake pressure, end car speed, blinking light status etc. to the engineer. A FRED also lets the engineer to set the air brakes from the rear of the train.
| | | |
| --- | --- | --- |
| | | |
| Alaska Railroad Wonder Bread | Unused cabooses | Watch where you're going! |
Frank dropped me at Snow Goose Restaurant at 12:30 pm for my lunch appointment with Andy Tejral and his wife. Andy is the producer and mastermind behind the latest ARR video offering entitled, "A Railfan's View of the Alaska Railroad." I had expected to receive the DVD version of this from Andy today, but was surprised and pleased to discover he had video tapped a segment of my ride on the Aurora to add to it. He promised to mail it to me soon. We ordered burritos and root beer (I wimped out and ordered my root beer with ice) and swapped stories. After an hour of eating and gabbing, Andy and his wife apologetically made their departure to return to work. With a few minutes to spare before my next connection, I strolled down G street to Charlie's Alaska Trains. I was surprised to see the business barren and closed leaving no forwarding information.
I returned to the Snow Goose and met ARR railfan, historian and master modeler Pat Durand at 2:00 pm. Lately, Pat has been helping me with the industries section of my web site. With this in mind, we drove around the rails in search of future candidates.
"Have you ever run DCC?" asked Pat. Now it is important to explain to any novice readers that he is not talking about the rap music group Run DMC. What he is referring to is Digital Command Control (DCC) that enables you to control both power and signals to locomotives individually through the rails via a handheld throttle. When I admitted that I haven't, we sped off to the Northern Lights Model Railroad Club. This club has been in business since 1959 and currently rents (for $1.00 per year) a converted military housing unit in Russian Jack Springs Park. As I entered the building, I gawked and drooled at the fine craftsmanship that is evident in every stretch and corner of the layout. Pat put a DCC throttle in my hand and before I knew it, I had mastered running ARR #1 under DCC while Pat ran his bicentennial locomotive. Pat says the club usually doesn't have more than seven or eight people working on the track and scenery, but people are always encouraged to join and participate.
| | |
| --- | --- |
| | |
It took dozens of modelers to create the Northern Lights layout. On the other hand, the Consolidated South Western Railroad (CSWRR) was built by one set of hands. Marty Quass built this 30 by 40 foot layout in the basement of his home as a post retirement project. The entire layout is operated via DCC and features a 350-foot double track, helix to the second level and dispatcher operations. Pat ran his new motor baggage passenger car #214 and Marty showed me the guts of his latest rewiring project.
| | |
| --- | --- |
| | |
By the time we got to Pat's house, his wife Nancy had supper cooking on the stove. After a great homemade meal of spaghetti and salad, Pat brought out his latest project of converting the John Van Cleve Collection to digital form. Okay, okay, I know you are wondering who the heck is John Van Cleve. He was a big cog in the construction of railroads. Back in 1898 he was the Vice President of the Escanaba and Lake Superior Railway. Later he came to Alaska where he served on the Copper River and Northwestern Railway and Alaska Railroad. Pat Durand was fortunate enough to hook up with John Van Cleve's grandson and offered to convert the family keepsakes (most specifically photographs) to digital form for long term preservation. A good number of these photographs had never been seen by anyone outside the family. Other goodies included personal family letters, business correspondence and a 1923 Alaska Railroad brochure.
We finished off the evening watching the 2003 Train Mountain Triennial video. Train Mountain Railroad Museum is a 2000 acre complex in Chiloquin, Oregon which currently has 69,900 feet of 7 1/2" gauge mainline track. The Guinness Book of World Records claims it is the longest miniature hobby railroad in the world. It sounds like a future road trip to me!
Pat drove me back to the condo through a blinding snowstorm and my evening ended with the nightly Don Prince debriefing.