Tuesday, March 9, 2004
At 9:00 am I was shaking hands with Bob Stout, the Chief Mechanical Officer for the Alaska Railroad. Bob had graciously offered to give me a tour of the shops and fill me in on the latest railroad agenda. The most insightful part of the shop tour was the work Bob had done in the wheel shop. Basically, he has pulled together all the spaghetti strands of operation into a virtual assembly line that saved both time and money. As we entered another building, I saw a passenger car up on lifts so workers could remove and work on the trucks. Bob explained that most of the passenger car maintenance was performed in the winter when the tourist season was at its low.
| | |
| --- | --- |
| | |
| The starting materials and..... | .....the finished product |
As we walked through the various passenger cars, I asked Bob what he thought of the new double decker coaches the railroad had out for bids. He expressed a lot of enthusiasm for the concept, saying the railroad sees a great demand for this type of accommodations. Apparently, there are a large number of customers who would pay double fare for a seat with a 360-degree view, dedicated car steward and a formal dining room on the lower level. These coaches would be very large (89 feet long, 18 feet high) and would be placed at the very front of the train. It was about this time that my cell phone rang. On the other end was Rich Holzapfel who told me he had been asked to run a snow fleet crew tomorrow and that I was invited. All I needed to do was meet them in Talkeetna by 9:00 am. Yowza!
| | |
| --- | --- |
| | |
| Lifting up car to remove trucks | Passenger car infinity |
Our last stop was the diesel shop. Although I had already been in there several times before, I took the opportunity to do a little fact finding. As we walked by an RDC, I asked Bob if the railroad was planning on getting rid of them. He answered emphatically that the railroad intended to keep them and cited a 90% up time. As we passed the four leased units, Bob mentioned that these were about to be sent back. With eight new SD70MACs coming in May, he hoped that the railroad would eliminate the need to lease units. With a smidgen of hope in my heart, I asked Bob if the railroad would ever consider buying a steam locomotive to run for special occasions or periodic passenger trips. Bob said he really liked the idea, but the cost for doing it was just too high. Darn!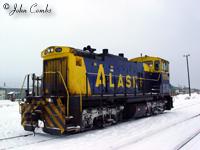 After thanking Bob for a great tour, I headed to the yard to hunt for interesting things. As luck would have it, two MP15s sat in the yard, their engines idling. [click here for 69KB sound only file] Bob Garner had asked me to get some photos for him for modeling purposes so I strolled up and got 25-30 detailed shots. Seeing a third MP15 pushing freight down the tracks, I got into the car and drove to the C Street Bridge. I parked the car in a striped median on the bridge, jumped out, dodged high-speed traffic, got to the edge and took a top down photo just before the MP15 passed under the bridge. If you're not a big time railfan, you'd probably think I am a half bubble off plumb.
The final stop of the day was a trip Fred Wing's home. Fred had contacted me via e-mail just before I left for Alaska promising a remarkable collection of photos and historical information. And Fred did not disappoint. He had six volumes of photos he had taken during the late 1980s. My eyes nearly popped out of my head when I saw photos from the inside of the command cars! I promised Fred that when I returned next summer, I would bring a scanner to get a bunch of his photos for my website. Fred brought out several boxes and we began sifting through a plethora of historical items from the late 80's and early to mid 90's. We finished our session with Fred bringing out all the N scale models he had built or bought. His pride and joy was a Jordan spreader he had worked off and on for over six years. A friend entered it into an NMRA competition where it won an award. Fred is truly a remarkable man and my five-hour visit was over in what seemed the blink of an eye.
| | |
| --- | --- |
| | |
| N scale Jordan spreader | N scale piggy packer |
As I entered the condo, Don informed me the TV had just broadcast blizzard warnings for south of Anchorage and high winds north. I bleakly whined that I hoped this wouldn't interfere with my plans to go north tomorrow for my snow fleet assigned. We discussed the possibility of my leaving now before things got really nasty. Don suggested I contact the highway patrol for their recommendation. They empathically said to stay put. I went to bed that night feeling very unsettled.