Saturday, March 6, 2004
After stuffing me with a huge breakfast, Don drove me to the Alaska Railroad depot gift shop to pick up a few items for friends. Next, Don dropped me and my luggage in downtown Anchorage to watch the start of the "Last Great Race on Earth." Actually, the real race would begin tomorrow in Willow (usually the restart is in Wasilla, but was moved due to lack of snow). The start in Anchorage is actually a ceremonial start, one dedicated more to the fans of the Iditarod rather than the mushers.
The powers that be had blocked off Fourth Avenue and one block of adjoining streets on both sides. Here is where the 88 mushers staged their dogs, trucks and equipment. Fencing kept fans from actually getting right up to each musher's station, but the mushers, dogs, family and staff came right up to the fence to socialize with you. I'm sure the mushers were a little tense considering in 24 hours they would put a year's worth of effort on the line. Even so, they mingled with the crowds in a very nonchalant manner, pausing for photos to be snapped or answer questions about their craft.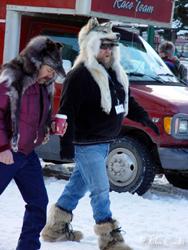 Almost as intriguing was taking note of some of the fan's attire. PETA would be aghast and appalled at all the fur being flaunted that day. Some of the apparel struck me as comical such as the man wearing an entire animal carcass, its head on top of his head, its legs hanging down the side of his head and its tail running long down his back.
Fourth and D is the designated starting line for the ceremonial race. Needless to say, the crowds were thick here and bodies pressed forward as everyone strained to get a better view. The air boomed with the voice of the announcer who kept you abreast of various information, basically killing time until the start of the race.
At precisely 10:00 am the announcer proclaimed it was for the great race to begin, the event that pits human beings and dogs against the merciless forces of nature. Just like clockwork, the first musher came to the starting line, waved to the crowds, patted each of his dogs and made last minute preparations. Sitting up in the musher's sled was the Idita-rider, the person who had the winning auction bid and thus the privilege of riding the 11 miles of the ceremonial trail. This year the bids totaled $138,659 for 88 sleds.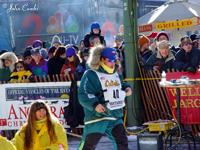 The mushers left in 2 minute intervals. I waited for about an hour and a half to see my favorite musher, Ramy Brooks, make his grand and glorious start. The reason I favor Ramy dates back to June 2000. My Boy Scout troop was here visiting Alaska and Ramy accepted our request to show us around his facilities at Kami Kennels. Ramy and his wife gave us a wonderful and unforgettable free tour unlike Jeff King who wanted $39 a person. I had high hopes for Ramy since he has come in second place for the past two years now.
After Ramy's start, I gratefully left the throngs of the pushing crowd and headed to the convention center. I was supposed to meet up with a friend here at 1:00 pm, but he called and canceled. I called always-at-the-ready Don and had him pick me up. After lunch, Don dropped me off at the airport to catch a flight to Fairbanks.
In this post 9/11 era, Frontier Flying Services is a rarity. They did not x-ray me or my bags and did not ask me to remove any of my clothing. After getting my boarding pass, no gate agent asked to see my tickets or ID. After sitting in the boarding area for a half hour, only nine people had showed up for the flight. The airline crew didn't start the flight check or fueling of the plane until 15 minutes before take-off. I was intrigued and delighted. [Note from TSA Weldon W. "Skip" Williams added 4/1/04: The government requirement for screening passengers and baggage on applies to airlines that serve interstate destinations. Intrastate flights (Frontier, Hageland, BP Shared Services, ERA, Peninsula Airways) are not required to do the TSA thing. There's been rumors that TSA will eventually be screening cruise ships and trains.]
Once onboard the Beechcraft BE-1900C aircraft, I discovered just how small it was. There was only one row of seats on either side of the isle giving everyone a window seat. The ceiling of the plane was so low I had to perform a duck walk to move down the isle. The flight left on time and was very smooth. The best part of the one-hour $139 flight was popping above the clouds and seeing Mount McKinley.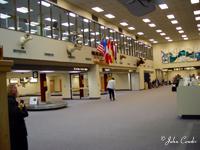 I found the Fairbanks airport to be very folksy with animal trophy heads mounted to the walls. I called the hotel for a ride from the airport and they said someone would be there in 15-20 minutes. Once outside the building, I waited 35 minutes in minus five-degree temperatures for my hotel shuttle.
I had picked the SpringHill Suites by Marriott since it was within walking distance to the train depot (and also because it had a continental breakfast). The $70 per night room turned out to be a better bargain than I had originally imagined. They had a pool, spa/sauna, mini gym, and a room with a computer and high speed Internet access. My suite came with a king sized bed, two TVs, sitting room, microwave oven, and refrigerator. I put in an order with Pizza Hut (who had an hour and a half wait for delivery) and went down to check my e-mail. Mark Cosson, Fairbanks resident and Alaska historian, had sent me a message to call him when I got into town. When I called Mark, I think he was a little disappointed to have discovered that I would be in town for less than 14 hours. He had wanted to show me a video he was working on which dealt with several different Alaska railroads (Cliff Creek, Tanana Mines, Tanana Valley, AEC, etc.). Unfortunately, I just didn't have the time. He told me the project was on a side track due to budget constraints. We talked for a while and made tentative plans to get together during my trip next year.
I ended my evening watching COPS on TV, eating my pizza and recharging all my batteries in anticipation for my rail trip tomorrow.