Monday, November 6, 2006
Do you know how you can tell when you are an Alaska Railroad addict? It's when you get up at 4:00 a.m. to chase trains and are thrilled to do it. Train chasing is what it is all about. Reading the track charts, listening to the scanner, trying to determine when to be where while only going the speed limit, braving the elements to get that one good shot, having the locomotive engineer give you that extra whistle blast to acknowledge you are indeed a nut......it just doesn't get any better than that!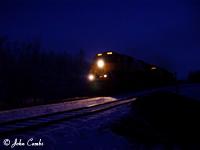 Terry and I drove to the Wasilla section house and met Dwight (with his company truck) and Jeff DeBroeck at 6:01 a.m. They poured over the daily train movement report and determined that nothing was going to be in the area any time soon. Dwight recommended grabbing a quick breakfast at Matsu Family Restaurant to give the tank train a chance to get into the Wasilla area. As we were paying for breakfast, we were startled to hear a train whistle blast. Time to run! Just like Jeff and I did in March of 2004, we followed the tank train along the back roads and byways trying to set up for a good shot. We finally were able to get ahead of it at the Glenn Highway crossing. I got some video that was pretty dark, but still awesome nonetheless. Unfortunately, the camcorder was still displaying a condensation warning and I cursed it vigorously as we got back into Dwight's truck.
We then headed to the Birchwood yard and took a slew of photos. The moon was still out and I was able to get a few lunar locomotive shots. The yard had been greatly expanded since 2004 and construction supplies were everywhere. Freight cars, however, were slim pickens. We got some shots of cabooses, hoppers and flatcars filled with concrete ties. One consist had GP40 numbers 3009 and 3008 heading up a string of 27 Difco dump cars filled with rip-rap. Dwight's paperwork showed the crew should be reporting for this shortly so we headed into town to get gas in preparation of a long run.
As we finished refueling, Dwight's scanner crackled to life with various chatter signaling the crew's preparation of the dump car train. The chase was on! Dwight drove to the old Glenn Highway overpass at milepost 145.5 and pulled off to the side of the road. Being a mechanically-minded individual he was trying to devise a way to conquer the camcorder condensation conundrum. It then dawned on him that if he could park his vehicle in such a way that I could record from the warm interior then cold air couldn't cause moisture buildup. Of course, Terry and I felt like royalty, being chauffeured to the perfect location to perform armchair photography/videography. Soon thereafter the locomotive came slowly into view and engineer Herf Keith gave us a friendly toot. My smile was as wide as Alaska as the camcorder completed its mission. Success! maybe I better tip the chauffeur? [click here for 4.1MB video]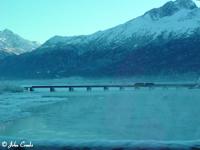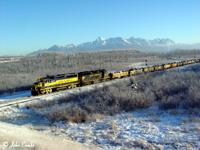 As we pulled away from the overpass Dwight and Jeff debated over our next photo shoot location finally agreeing on the Matanuska overpass. Along the way I was able to snap a very nice shot of the train crossing a bridge (at left). Once we arrived at our location, Dwight determined the berm was too narrow for parking the truck so he dropped Jeff and I off, vowing to return shortly. As the train rapidly approached, I turned on my camcorder and pressed "record" only to discover.....it was performing a tape cleaning function. I cursed it and swung my camera into action instead. I was able to get two good shots before the train roared out of sight. Two weeks later while reviewing the videotape footage at home, I got a good laugh when I discovered the camcorder does record while still cleaning the tape. I had gotten some good footage of the ground plus a few choice words!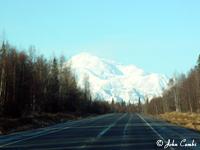 We then set our sights on Hurricane section house, but knew we would get multiple train crossing opportunities along the way. Our best stop was the crossing at milepost 206 (close to Montana). I stood at the crossing gate and fired up the camcorder, actually obtaining uninterrupted footage in the cold air! [Click here for the 1.9MB video] We stopped at a gas station for restrooms and snacks and then again hit the road. Dwight pointed out an awesome view of Mount McKinley on the road ahead and we made a very quick stop to get a few photos of it. I must admit our trip had been blessed with some very incredible weather. We had sunshine every day of our trip and were able to view Mount McKinley whenever we were in the vicinity of it. This was especially exciting for Terry since her two prior Alaska visits had not yielded good views of the elusive mountain.
As we pulled into Hurricane, Dwight mentioned that the section house would probably be removed in the next year or two. It is always sad to see a piece of history go. As I took photos of the various power equipment in the yard, a company truck pulled in. The driver was District 2.5 Roadmaster Hugh "Hughbilly" Evans who immediately informed me he has the "safest district on the Alaska Railroad." Alas, Hugh did not stay to watch the passing of the rip-rap train, but I am sure he would have been proud of it rolling smoothly through his district. [Click here for the 2.6MB video]
| | |
| --- | --- |
| | |
| I need one of these to plow the snow on my driveway! | District 2.5 Roadmaster Hugh "Hughbilly" Evans |
Our next stop was Colorado. Dwight did an awesome job of four-wheeling it along the snow covered service road and this added an extra tinge of excitement to our adventure. [Click here for the 2.5MB video] As we waited for the train in the sheltered warmth of the truck, a multitude of birds descended upon us. One was bold enough to land on the hood of the truck! Eventually, the rip-rap train came roaring past us, but this time was bathed in some very striking golden sunlight. [Click here for the 1.7MB video]
| | | | |
| --- | --- | --- | --- |
| | | | |
| I love the lighting on this photo of Jeff DeBroeck! | Dwight's truck taming the Alaska wilderness | This could have been a scene from an Hitchcock movie | To boldly go where no bird has gone before! |
My father-in-law always tries to think an idea all the way through before beginning work on it. Sometimes he builds elaborate miniature models to help him detect any unforseens. Some people find this irritating since it requires a lot of patience, time and focus. However, it is almost unheard of for one of his projects to end in disaster. As our crew approached Cantwell, we passed a gigantic igloo beside the road. My curiosity piqued, I inquired what in the heck this was. Dwight and Jeff said it was called Igloo City. It is a four-story igloo that was supposed to be a hotel. Although the exterior is done, the interior construction was halted when the building didn't meet fire code and the owners ran out of money. Today the half-built white hulk sits abandoned next to the rest of the "resort" -- two small cabins, a wash house, a gas station and a convenience store.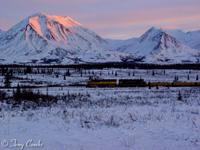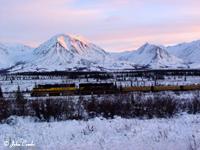 As the igloo faded out of sight, Dwight suggested we parallel the train from the road, matching their speed as close as possible. He felt this would provide for some very nice video footage. And we would not be disappointed. For as we followed the train between Summit and Broad Pass, the mountains became washed in hues of pink, purple and cyan, a startlingly beautiful backdrop for a majestic Alaska Railroad train. Terry snapped off photos and I videotaped until the train dropped out of sight below a ridge. It was pure magic! [Click here for the 4.1MB video] Dwight then headed toward the new Summit crossing in hopes of catching the train in front of a beautiful sunset. Unfortunately, we caught the train just a shade late and thus the locomotives do not appear in the video. [Click here for the 1.1MB video]
Dwight stopped by the brand spanking new Cantwell section house to give us a brief tour. Rails lead to the building and the interior is heated plus has a nice exhaust system. The restroom even includes a shower.
The drive back to Wasilla was uneventful. At the section house, Dwight and Jeff both advised us to let our car warm up for 10-15 minutes before driving it. This would allow the fluids in the transmission, power steering and engine block to begin to circulate plus lubricate the various mechanical parts of the car. I'm sure glad the rules are different in Wasilla than they are in Palmer Park, MD!
We returned to Don's condo by 8:00 p.m. With the 16 hour day taking its toll, we headed to bed shortly thereafter.