Tuesday, November 7, 2006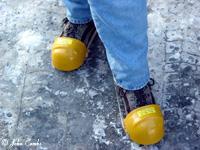 Out of six trips I have made to Alaska, this is the only one that has had seven straight days of Alaskan sunshine. How awesome is that! After a shower and an oatmeal breakfast, we drove to the headquarters building to meet Dwight at 9:00 a.m. Just as we arrived, we got our first view of distributed power pulling a coal train. I videotaped the train until my fingers nearly froze off. [Click here for the 9MB video] Dwight then drove us over to the Anchorage yard to take a quick tour through the various mechanical buildings. Before entering the locomotive shop, Dwight made sure we had on all of our prerequisite safety equipment, hard hat, safety glasses, high visibility vest and toe protectors. I turned to Dwight and said, "What? No bubble wrap?" He just smiled.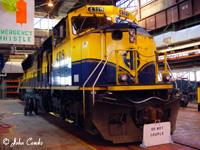 There was quite a lot going on in the shops. Lots of locomotives were in-house getting minor tweaks and maintenance. The Aurora has replaced the Denali in the "place of honor" bay. The first item we saw in the passenger car shop was coach 208 up on the lifts and having maintenance done on its trucks. While roaming around, we ran into wonder boy Jay Bogness who left EMD to work for a job with the Alaska Railroad. He is the key figure in getting their first 16 SD70MACs (which have older electronics) to talk with the 8 newer SD70MACs (which have much newer electronics). I was thrilled at having the opportunity to meet him in person. Over in the heavy equipment area, we stumbled upon an old International Harvester truck. This was exciting for both Terry and I as my father had worked faithfully for IH for 35 years. As we walked through the shops, our toe protectors would make a clippity-clop sound. Hearing this, one of the mechanics said he thought horses were roaming through the shop.
| | | |
| --- | --- | --- |
| | | |
| No. 3011 getting a little TLC | Shiny wheel sets ready to roll | Aurora staying warm and cozy |
| | | |
| No. 208 getting a lift | Passenger car infinity | International Harvester truck |

To finish off the morning, Dwight gave us a final tour in the yard itself. Favorite features included three MP-15s in a row, the engine turbine from the BR21 Jet Snow Blower and watching the piggy packer load a multitude of trailers. [Click here for the 4.7MB video] Terry and I said our final good-byes and thank-yous to Dwight and I must admit having a lump in my throat. Over our seven days together he has become a good friend.
| | | |
| --- | --- | --- |
| | | |
| Anchorage Operations Center | SD70MAC no. 4317 | Engine turbine from jet blower |
| | | |
| Big MAC and quarter pounder | Three MP-15s in a row! | |
Soon after departing, Terry began having some medical problems. We called home to her physician who advise checking into the local emergency room. Long story short - we spent three and a half hours at the Alaska Medical Building. They ran tests, determined it was not serious and gave her a prescription to fill. Whew!
We stopped by the Anchorage Operations Center and paid a brief visit to Curt Rudd, Anchorage Terminal Superintendent. It is always exciting to visit Mr. Charisma and hear about the latest and greatest regarding the railroad. As we left the building, we saw a bald eagle in flight. I took this as a symbolic, "have a safe flight home and return real soon."
Terry's top priority of the trip was to stop by Boy Scout Camp Gorsuch in Chugiak. Her cousin, Scott Powell, had served as ranger there for 30 years. Upon his retirement in 2004, the camp dedicated the main parade grounds in his honor, naming it "Scott's Field." Unfortunately, tragedy struck in 2005 when he and three other volunteers were accidentally electrocuted when a tent pole came in contact with overhead power lines at the National Jamboree. A bench and monument were placed at Scott's Field to commemorate Scott Powell, Michael Shibe, Mike LaCroix and Richard Bitzer. We made our stop at Camp Gorsuch, checked in with the ranger and took our photos.

Returning to Anchorage, we stopped to fill the rental car with gas. I was surprised to hear our gas pump talking to me, giving advise on various purchases that could be made inside. I am sorry to report that preliminary research indicates a sharp increase in sales in these pump promoted products. It may not be long before your ears are invaded at a pump near you. It may be time to buy a set of those noise canceling headphones for your car!
As we entered Don's condo our noses were greeted with the sumptuous smells of beer batter halibut and caribou roast. We told stories of our adventures to Don between eager fork fulls of food. Once the dishes were done, we did laundry, packed and socialized. We sadly bid Don farewell, but vowed to return for a future visit.
We arrived at the airport around 10:30 p.m. I must admit it is a nasty nuisance having to return the rental car at one terminal and then catching a ride to the other one. After a brief run through the security gauntlet, we walked to our gate. The seats in the waiting area were packed and the remodeling construction further squeezed the chaotic crowd closer together. I dream for the day we can just get "beamed" anywhere like they do on Star Trek.