Wednesday, August 24, 2005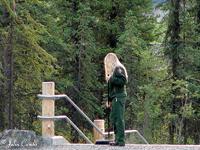 It must be hard to leave paradise, but that is just what Randy did. In the summer of 2000, he and his wife Theresa sold their property in Healy and headed for Washington State so they could be closer to relatives. Every time Randy and I do an Alaskan trip together, we always stop by his old stomping grounds and check them out. This time our stops include a piece of property they once owned, their old cabin on Stampede Drive, Denali depot where they worked, the Denali staff quarters where they lived and the new visitor's center. While at the visitor's center, we meet ranger Ashley Hudson who is busy sweeping off the steps. Through our conversation, we learn she lives in one of the twenty year-round homes found in the town of Ferry and is also a classmate of Cali King (the daughter of Jeff King, three time Iditarod winner). Probably one of the most startling changes in the area is along the main highway just north of the entrance to Denali National Park. "Glitter Gulch" is basically several dozen small businesses in cabins sitting side by side, a stark contrast to the spectacular mountains and forest-laden hills.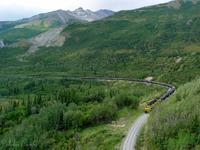 Randy and I park across the street from Glitter Gulch and go in search of breakfast. We settle for the Summit Café at the Princess Lodge. It is a little expensive, but good. Having beaten back our hunger pains, we go in search of trains. As if on cue, we hear a horn blast and look to see a northbound oil express (OX). My pulse quickens as we chase the OX through Healy Canyon towards Moody Tunnel. Randy brings the car to a stop on the north side of Windy Bridge and I gather up my camera equipment. Walking to the midway point on the bridge is easier said then done. Not only is an ice-cold wind blowing at a million miles an hour, but cars and huge trucks are whizzing by well over the 55 mph speed limit. I set up the tripod for the video camera and find it keeps blowing over! I finally shorten the windward leg considerably and also use my body as a wind break. Finally, the tripod holds. The northbound OX passes slowly through Million Dollar Curve, under Windy Bridge and then disappears into Moody Tunnel. After recording the moment, I race back so as to attach myself to the car's heat vents.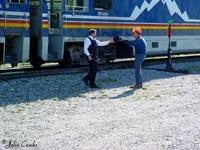 We race to Healy yard and catch the OX there too. Driving to the other end of the yard we bump into Steve Love, long time Healy Roadmaster. We spend some time with him discussing various current operational matters including day lighting Moody Tunnel. Through a previous agreement, I leave my micro cassette recorder and home address with Steve so he can record some of his favorite work stories for my web site. Our conversation ends when a southbound passenger train arrives. Apparently, the conductor lost his hat on his journey north the previous day. A work crew found it still between the rails in the exact same spot and then dropped it off to Steve. So as the southbound train slows to a crawl, the conductor leaps off, retrieves his hat from Steve and hops back on board.
At the speed of a photon, we drive back to Denali depot in hopes of photographing the southbound passenger train on our favorite curve. Moving as fast as our legs will carry us, we scamper up the embankment and get our cameras ready. Unfortunately, a band of clouds raises my stress level by blocking the sun. As minutes creep by, a hole finally opens up in the clouds. Just as the train rounds the curve, the sun comes streaking though the clouds and we get some awesome photos. We then return to the depot and photograph all the new passenger buildings.
| | | |
| --- | --- | --- |
| | | |
| Awesome! | Top view of new SD70MAC | Next ad photo for Princess? |
| | | |
| New buildings at Denali depot | New passenger pen | Seating area |
We go get sandwiches at Bub's Subs (the very center of sandwich culinary heights) and then return to Denali depot to eat them while we wait for the northbound Denali Star. Once it pulls in, we talk to locomotive engineer Herf Keith and Fireman Frank Sheppard. We tell them we want to photograph their train at the Ferry bridge and ask them to blow their horn repeatedly before getting there. Frank tells us they should arrive at the bridge around 5:05 pm. With not a moment to spare, Randy and I leap into the car and make a mad dash for Ferry.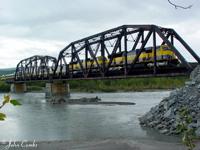 Have you read my 2000 and 2002 Alaska Railroad trip journals? If you have then you know we were at the Ferry bridge both years and missed the train both times. This year we were tying hard not to fail. We quickly park the car at the south end of the bridge, walk speedily across and get our cameras and camcorder ready. This time we had twenty minutes to spare. When you are waiting for something to happen, sometimes your mind wanders. Behind me is a small rundown home that is very similar to the one in which Jason lives in the movie Friday the 13th. Even though I know it is silly, I keep looking back at the house to make sure Jason doesn't sneak up on me and put a hammer's claw in the back of my head. At 5:00 pm, we hear the train blow it's whistling about a bunch of times. Even tough it is dark and sputtering rain, I am happy to know I can finally check this item off my "to do" list. At 5:05 pm sharp, the passenger train crosses the Ferry bridge. [click here to view the 2.6MB video]
We return to Denali depot for the last time and catch a southbound oil express train passing through. Now begins the long and boring drive to Fairbanks. To make matters worse, they are doing a major overhaul to parts of the roadway and we spend a lot of time idling in front of workers holding stop signs. We finally arrive at the home of Dan and Levonne Gullickson at 9:20 pm. Dan is a major player in the Tanana Valley Railroad at Pioneer Park (formerly Alaskaland). We spend about an hour talking and playing with their German Sheppard Casey before heading to bed.