Tuesday, August 23, 2005
Today is our work train day! You bet your hard hat I'm excited! The alarm clock nudges me out of bed at 5:00 am. Randy and I pack monster size lunches (after all we're working guys today!) and we are on the road by 6:00 am. The traffic is surprisingly light in downtown Anchorage. Eventually, we escape the bonds of the city and enter the beautiful Alaskan countryside. As we approach Trapper creek, we catch a glimpse of a mother bear and two cubs running across the road.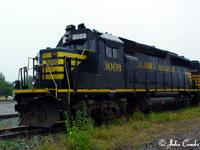 Mother Nature begins to bless us with liquid sunshine as we turn onto the road to Hurricane section house. We pull in at 9:05 am, don rain gear and photograph anything with an Alaska Railroad logo on it. At 9:45 am, the work crew arrives: locomotive engineer Frank Dewey, conductor Ricky Singsaas, brakeman Duane Frank, heavy equipment operator Derek Winchester and engineering supervisor Rich Holzapfel. Frank has on a black jacket partially covering his orange shirt and the crew jokes he is dressed up for Halloween. Frank fires up GP40 numbers 3006 and 3008 and then asks Randy and I to guess how much a tank of fuel costs for one of these locomotives. Next time you fill up your tank, rejoice in the fact that it didn't cost you $16,000.
Today, the work crew will be dropping concrete ties along the right-of-way in preparation laying continuous welded rail. Since the fourth of July, this crew has worked seven days a week and will continue to do so until winter puts a stop to their work. We hop aboard #3006 and pick up caboose 1087 at Chulitna and the excavator, flat cars with ties and other stuff at Sherman. It is now time to transfer to the caboose and Randy and I eagerly climb on board. The caboose has all the comforts of a home away from home such as fuel oil stove, generator, microwave oven, coffee pot, food and bottled water.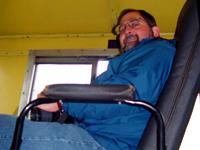 One of Randy's lifetime goals is to ride in the cupola of the caboose. Once we are underway, he scampers up the steps and into the seat. He later reports this is one of the happiest days of his life, only second to his wedding. [click here to view the 648KB video] By the time we get to MP 252 to start dropping ties, it begins to rain steadily. After going into a siding, Rich helps Derek connect the concrete tie lift to the end of the excavator. Soon the northbound Denali Star comes rolling past and I take some of the closest train video of my life.
Heading back onto the mainline, the crew swings into action. Rich helps to direct Derek in positioning the concrete tie lift over a row of concrete ties. Working in parallel, Duane removes the ratchet straps and cuts the metal strapping on the next load of concrete ties. Frank stops the locomotive and Derek's excavator slowly lowers a set of ties to the ground. [click here to view the 2.0MB video] Frank then powers up the locomotives to move us another 50 feet down the line. Ricky monitors their activity from the warm, dry caboose (a tough job, but sombody has to do it, right?). The group works in an efficient, natural rhythm that obviously speaks of their professionalism. Once a flatcar is unloaded, the excavator moves from the top of one flatcar to the next. There is very little room for error, but Derek does the job without a hitch.
| | | |
| --- | --- | --- |
| | | |
| Lots of concrete ties to deliver | Derek Winchester | Unstrapping the tie lifter |
| | | |
| Excavator | Connecting the tie lifter | Ready! |
| | | |
| Unloading the ties... | and putting them on the ground... | to be installed by another crew |
| | | |
| Rachet and metal straps | An artsy kind of photo | |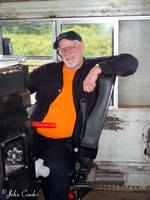 Soon everyone breaks for lunch. There is a lot of joking, laughter and poking fun at one another. This is truly a magical crew. Randy and I take a cup of hot coffee up to Frank in the locomotive. Over the next 45 minutes, Frank talks about the SD70MACs. In layman's terms, the new MACs (circa 2004) have received a lot of electronic enhancements and thus talk at a teenage level. The old MACs (circa 2000) talk on an eight-year-old level. Therefore, pairing older and newer MACs together results in communication problems. Fortunately, the railroad hired a former EMD MAC whiz and he has been great in dealing with all the idiosyncrasies of these complex pieces of equipment. Frank also thinks someone should design a single machine that pulls old rail and ties and then lays new concrete ties and continuous welded rail. This would replace about a dozen machines currently doing the various tasks now.
Just as our lunch break is over, the rain stops! Work resumes and we continue to unload more ties. Due to an approaching southbound Denali Star, we again take a siding and wait. I figure that due to increase train traffic, the work crews probably get less done and spend more time in a work stoppage mode. Soon the crew gives the passenger train a roll by inspection and then gets back out onto the main to resume work.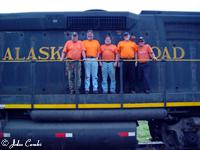 After unloading several more stacks of ties, the excavator quits without warning. Derek is unable to fix it so the crew packs it in for the day. We drop back into a siding to wait for a northbound oil train [click here to view the 1.6MB video] and then return the equipment to its appropriate siding. The caboose is in the lead and Duane must use a hand held air horn to blow when necessary. As we approach Hurricane, Mother Nature gives us a beautiful rainbow, a very appropriate ending to our day. It is amazing how fast the hours have passed. I love this kind of work! I could sit and watch it all day! We finish with a group photo at Hurricane. There are handshakes all around and I have a strong feeling of sadness as we depart.
Randy and I drive to Greg's (a friend of Randy's) home just outside of Denali National Park. Although Greg is not home, he has left Randy a key. After catching up in my journal I head for bed at 9:16 pm.