Denali National Park
P.O. Box 9
Denali Park, AK 99755
1-907-683-2294
Denali National Park & Preserve features North America's highest mountain, 20,320-foot tall Mount McKinley. The Alaska Range also includes countless other spectacular mountains and many large glaciers. Denali's more than 6 million acres also encompass a complete sub-arctic eco-system with large mammals such as grizzly bears, wolves, Dall sheep, and moose.

The park was established as Mt. McKinley National Park on Feb. 26, 1917. The original park was designated a wilderness area and incorporated into Denali National Park and Preserve in 1980. The Park was designated an international biosphere reserve in 1976. Denali Park Hotel is the only hotel located in the park.

Today the park accommodates a wide variety of visitor use including wildlife viewing, mountaineering, and backpacking. It continues to provide a laboratory for research in the natural sciences.

Denali offers something for everyone. Whether it is to see the mountain, wolves, bears, or to hike, Denali inspires dreams.




Southbound passenger train crossing Denali Park trestle. Note McKinley Explorer and Princess dome cars.

Photograph by Randy Thompson, August 1997
Denali Park Road
Beyond mile 15 of the park road, you need to be on a bus, a bicycle or your own two feet (most folks opt for a bus). Riding a bus enhances your chances of spotting wildlife. You are sitting higher than if you were in a car and there are many pairs of eyes keeping a watch for wildlife.
There are primarily two bus systems operating the bare bones National Park System service and the relatively more luxurious concessionaire service. The trips vary in length but can be up to 12 hours long depending on your start and end points. You won't find any facilities to buy food; so bring a lunch, snacks and beverages.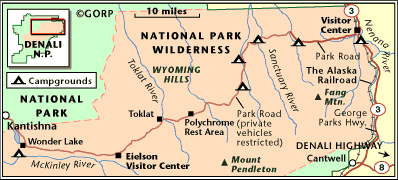 You really don't need a destination on a shuttle bus. You can get off whenever and wherever you choose for a short hike or a rest on a tundra knoll. But these are some good stops to keep in mind. . .
Polychrome Rest Stop (mile 46) is the perfect choice for those just arriving at Denali on the afternoon train and wishing for that first glimpse of taiga and tundra, braided glacial streams, mountain vistas and wildlife. The multi-colored volcanic bluffs seen across the valley give the place its name. The 6 p.m. bus leaves daily between June 1 and August 23; the low light that time of day is a photographer's delight.
Toklat (mile 53) turnaround is at a valley of merging glacial streams and towering cliffs where Dall sheep are often seen (best with binoculars). Grizzlies graze the streambed's soapberries in August. Buses run between May 24 and September 11.
Eielson (mile 66) has an indoor visitor center and bookstore to escape from the wind. The building is perched on the tundra slopes; on clear days (30% of the summer), Mt. McKinley is seen soaring into the sky. Buses run between June 1 and September 11.
Wonder Lake (mile 85) was created by the Muldrow Glacier Alder and willow carpet hills dotted with kettle ponds (look for beaver). Buses run between June 8 and September 11.
Kantishna (mile 89) is reachable by camper buses between June 8 and September 11 primarily for backpacker access.




Information provided by Great Outdoor Recreation Pages

The information on this page was last updated December 1, 1999