Monday, August 22, 2005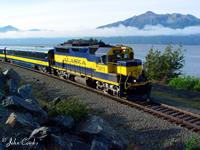 The day begins innocently enough. We intend to hang around Anchorage, which is now smoke and cloud free, and take lots of clear train photos. We leave the Prince Imperial Hotel at 7:15 am and drive down Turnagain Arm to catch the Seward bound passenger train. It is a b-e-a-u-t-i-f-u-l day and the low laying clouds make for some interesting photos. It is pretty darn chilly out, but I love the change from my 93 degree high humidty existence I left in Dayton, Ohio. Although I may be wrong, there seems to be a nip of fall in the air. Fate is on our side in that we not only catch the southbound passenger train, but also stumble upon a northbound one as well. It is very obvious the Alaska Railroad is running more trains.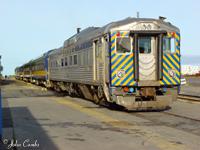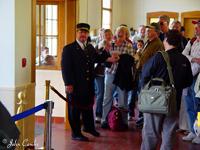 We return to the Anchorage depot to take photos of yet another southbound passenger train. As our camera shutters click away happily, Steve Culver, number two conductor on the railroad, convinces us to take the all-day southbound excursion with him. We quickly get our tickets, grab our gear and hop on board. The consist is fairly small with number 2002 on the lead, baggage 111, Montana Rockies Rail Tours (MRRT) dining car #353, coaches 210, 200 and 202 and RDC 711 on the rear. Locomotive engineer Billy Hightower gives a toot of the whistle and we're off on our adventure.
In all the Alaska Railroad trips I have taken, I have never ridden the Portage to Whittier leg. I've driven it, but never ridden its rails. I am pretty excited about doing this since I will now have ridden every passenger segment the railroad has to offer.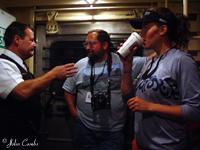 Randy and I haunt the vestibules and take photos along stunning Turnagain Arm. We also check out the Montana dining car which is loaded with photos and postcards depicting Yellowstone and Grand Teton National Parks as well as other western destinations. Randy strikes up a conversation with a young woman working for a rafting company. This is done in conjunction with the Alaska Railroad as part of a side excursion. On this trip she only has eight people, but has had as many as seventy. She considers the overall business venture to be very successful saying it only takes one raft for them to break even. However, they did have bears destroy several unattended rafts. Now the rafts are protected by an electric fence. (photo at left - conductor Steve Culver, Randy Thompson, rafting employee)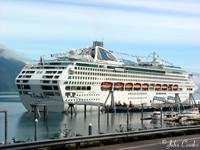 Once we arrive in Whittier, most of the passengers leave to catch their cruise ship. Randy and I use the stop to take photos of our train as well as the visiting cruise ship. At the appointed time, Billy Hightower moves to the RDC, fires it up and then heads to Portage.
Once we get to the Y at Portage, our brakeman aligns the switch and we head towards Seward. Soon we drop off the eight rafters plus their guide and continue on our way. Steve Culver then provides soon great commentary to the remaining passengers as we pass through the tunnels, the old Loop district and Grandview. Arriving at the Tunnel section house, the train stops for a wild flower walk. This ultra cool side excursion is lead by park ranger Kyle who gives us all flower guides as reference while he points out the various flower and fauna found in the region. Steve Culver then takes us to a storage shed which holds the 105mm avalanche gun. Wintertime avalanches pose a very dangerous threat to the Alaska Railroad. Large amounts of snow can slide across the tracks, causing the rails to bend or move. An oncoming train will hit the newly formed snow bank and a serious derailment can result. The destruction that avalanches cause can shut operations done for hours or even days. To help manage the heavy snow accumulation from the hills and mountains above, the Alaska Railroad uses a 105mm recoilless rifle. Before the snow accumulates into an unmanageable menace, workers fire a round at an overhang or drift and knock it down.
| | | |
| --- | --- | --- |
| | | |
| Haunting the vestibules | Engineer Billy Hightower in RDC | Going thru the old Loop district |
| | | |
| One word: Grandview! | Ranger Kyle | The gun storage building |
| | | |
| the 105mm recoilless gun | Ammunition storage bunker | Awesome Alaskan scenery! |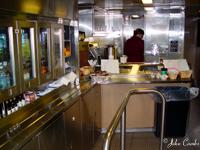 After we return to the train, Randy and I decide to get a bite to eat in the Montana Rockies Rail Tours dining car. I have bison chili while Randy has a sandwich. Although bison chili sounds very romantic, it really doesn't taste any different from its beef counterpart.
Eventually, we stop and pick up the rafters who appear to have had a lot of fun. I make a mental note to add this on to my future "to do" list. Returning to Portage, we detrain and catch an Anchorage depot bound bus with the rafters. Midway through the drive along Turnagain Arm we come upon a very bad accident. The car involved looks like a total loss yet the elderly driver walks away without a scratch!
| | | |
| --- | --- | --- |
| | | |
| Rafters finishing their excursion | How did this guy survive?!? | Not as much damage to the truck |
Once we return to the depot, Randy drops me at Don's while he runs errands to the post office to mail some boxes home and to purchase more film. I spend time calling home, sharing my adventures with Don and packing for our four day trip north. Once Randy returns, we head for bed in preparation of a busy day tomorrow.