Portage
M.P. 64
Portage got its name by being on the portage route from the Gulf of Alaska to Cook Inlet. The 1964 earthquake destroyed the town when the earth subside up to 12 feet. The ghost forests were created when the ground sunk and salt water flowed in. The Alaska Railroad suffered greatly from this catastrophe. The rails in the region were torn from their ties and buckled. In one area, water covered the rails during high tide. When the water receded, the tracks would be cleared, and the railroad would resume operations.

| | | |
| --- | --- | --- |
| | | |
| Do you want to go to Seward or Whittier? | I've always loved the looks of this sign! | Aerial view of the Portage wye |
At one time the site was a motor vehicle loading area for the Alaska Railroad that carried passengers and vehicles to Whittier for connections to the Alaska Marine Highway. No vehicles can drive directly to Whittier using the tunnel. There is a small visitor information center at the ticket office.
Portage Glacier is the major tourist attraction in the area. Portage Creek carries gray silt water from the glacier into Turnagain Arm, creating the mud flats near shore. Visitors should not venture onto the flats due to quicksand and bore tides.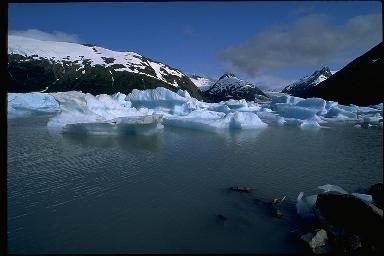 Nearby Portage Lake and Glacier are Alaska's number one tourist attraction






Page created 12/1/99 and last updated 1/13/03