Thursday, August 25, 2005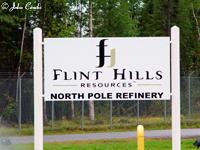 The previous day's rain has cleared the smoke from the skies! Although it is overcast, at least we will be able to take clear photos. We are on the road by 7:30 am, heading to North Pole for our Flint Hills Resources oil refinery tour. As we near the town of North Pole, a big bull moose runs across the highway, narrowing escaping a collision with a large tanker truck. We grab a quick breakfast at the North Pole McDonald's and wait for Art Chase. Tours are no longer given to the public, but my friend Art, through a stroke of magic, was able to wrangle us a tour. Art arrives at 8:45 am and we join him in his truck for a ride to the refinery. Before entering the gate at the Flint Hills refinery, we check in with the security guard. Once the guard confirms our appointment, she issues us badges and gives our truck an extremely thorough security inspection. Unfortunately, we must surrender our cameras!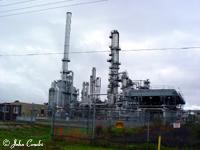 Jeff Cook, Director of External Affairs, greets us at the entrance of his building and takes us to a conference room for a quick briefing. Next, we climb aboard his truck and get an informative driving tour of the oil refinery and tank car loading areas. I ask Jeff if he has any stock photos of the tank car loading area that I could use on my web site. "You should have brought your cameras," he replies. We explain the security guard snatched our cameras upon check-in. Much to our delight, Jeff retrieves our cameras and returns us to the fuel loading areas. We snap photos to our hearts delight.
| | |
| --- | --- |
| | |
| Loading area | Filled and ready for delivery |
| | |
| One of two trackmobiles | John, Jeff and Randy |
We then ask Jeff a few questions about the loading process itself. He is unable to answer these and takes us into a nearby building to see if he can find someone who can. Eventually Ryan enters the building and as it turns out, is a wealth of information:
Flint Hills Resources is headquartered out of Wichita, Oklahoma
There is 720,000 barrels of onsite storage
Two trains arrive every day for a total of approximately 100 cars
They split the empties into two consists
The railroad backs the tank cars in and disconnects them at the fence perimeter. Flint Hills Refinery trackmobiles move them to the loading area and back
There is loading four tracks
They simultaneously load 6 tank cars every 35 minutes
Full cars are put on track four
60% of all tank car traffic is for the Anchorage International airport
Every two tank cars fuels a 747
The Anchorage airport is the fourth largest handler of freight in North America
Temperatures below minus 30 degrees can cause problems for both the product and the equipment that handles it. The cure for this is good preventative maintenance
The company has a lot of great employees and it is a great place to work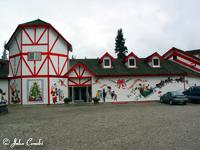 After leaving the refinery, Art then gives us a tour of the surrounding railroad right-of-way, the proposed North Pole depot (for commuter service) and the city of North Pole itself. He also shows us several locations where the heavy fuel trains are causing damage to the lighter gauge rail. Hopefully, the railroad will begin installing 141 pound rail in this area real soon. There are areas where the rail is peeling off as well as damage between the rail joints themselves. We thank Art for a fantastic morning and he then heads for home. We make a quick stop at the Santa Claus House for a few photographs and then make a B-line for Fairbanks yard.
| | |
| --- | --- |
| | |
| Rail peeling off | Damage between the joints |
We check in with the yard office to make them aware of who we are and what we are doing. Next, we drive over to the diesel shop. Before we park the car or even pick up a camera, a security guard stops us. After he checks our IDs, I ask him how he knew we weren't employees. He replies he knows every vehicle that drives through this yard. Wow!
Having a digital camera is fun. I can take as many photos as I want and it is free! I took 84 photos in the yard such as hoppers, a cement loading facility, troop sleepers, my babe #3015, a fire truck on a flatcar, Halliburton cars, intermodal facility and Fairbanks depot. With stomachs growling, we head to Pizza Hut.
| | | |
| --- | --- | --- |
| | | |
| ABI Cement plant | My lady #3015 looking grand | Someone's Christmas present |
| | | |
| Piggy packer loading a trailer | Intermodal facility | Halliburton car with graffiti |
| | | |
| Fairbanks depot, side | Fairbanks depot, back | Fairbanks depot, front and side |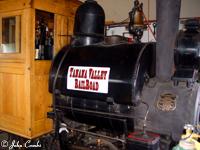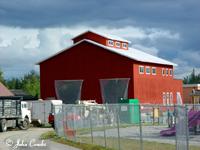 At 2:00 pm we meet Mark Cosson and Dan Gullickson at Pioneer Park (formerly Alaskaland) to see the Tanana Valley Railroad Porter locomotive. The restoration work was completed earlier this year, just in time to celebrate its 100th birthday. Needless to say, they did an awesome job in bringing it back to life! They also show us some Climax locomotive parts they have retrieved from the town of Council. These parts will be used as part of a flat car and gondola for the narrow gauge railroad. Mark and Dan then rattle off a few statistics about the TVRR. Engine #1 is the oldest rail relic in Alaska and the Yukon. It was built in 1899 and operated in the Dawson coal mine, The running gear is all original. The track loop on which it runs is .8 miles long. They are currently working on a $1.6 million two-stall locomotive shed, workshop and museum. This should be complete by November.
Randy and I return to the Fairbanks yards for more photos. I find that some of the living quarters of a few of the workers are quite amazing - a couple of trailers and even a few tents! We then spend an hour and a half in the Fairbanks depot sorting photos and CDs and waiting for the northbound passenger train. At 8:15 pm (right on time!) the northbound Denali Star pulls into the depot. We takes photos and then stop at Wendy's for a quick sandwich. We are back at Dan's by 9:22 pm and head for bed soon after.
| | | |
| --- | --- | --- |
| | | |
| Workers living in tents... | or in trailers! | Northbound Denali Star |