Friday, August 26, 2005
We are up and on the road by 7:30 am. Dan and Levonne are great hosts and we hope to see them again some day. A digital marquee from a passing bank reveals the outside temperature is 41 degrees. This is quite a contrast from my 93-degree Dayton days.
We stop by the Fairbanks depot to bid farewell to the southbound Denali Star. When we make a brief stop at the club layout, we receive a very warm greeting from member Jim Durst. As arrogant as it may sound, it is always flattering to me when Alaskans I have never meet, recognize me and call me out by name. Perhaps this is just my 15 minutes of fame! Anyway, Randy and I talk to him about the club for about half an hour. One of the points I emphasize to him is all the "traditional" hobbies need to spend a majority of their time recruiting and cultivating young new members. I am the Scoutmaster of a Boy Scout troop and I see all too well that kids today spend an inordinate amount of time in front of the television, computer and electronic games. Parents prefer the "electronic babysitter" to motivating their kids to spend time in the neighborhood making friends and also pursuing hobbies. However, even if young new members were to stumble through the club's door, members are too concerned the kids will break things. Furthermore, many model railroading clubs are full of elder members who believe there are three ways to do things: the right way, the wrong way and their way. New members need fertile ground to grow so in this caustic environment they quickly wither away. Eventually, club membership dwindles down to zero, their doors close and their legacy ends up in the dumpster. In my humble opinion, clubs need to wake up, take their hobby into schools, churches, festivals and teach kids the fun and excitement of making something with their own hands. Hold open houses with free hot dogs and sodas. Let people play with your models. Give them a free boxcar kit and help them assemble it on the spot. It is through your patience, kindness and selflessness that this hobby and your legacy will live forever.
In hopes of catching the Denali Star in Nenana, we make a hasty departure from the depot and Fairbanks. However, one of the things we forget to take into account is the construction zones. No amount of wringing of hands or angry scows from us would motivate the stop sign guy to cut short his mission. However, luck was with us and we are able to catch the passenger train crossing the Mears Memorial Bridge as well as the depot at Nenana. Randy drove like a bat out of hell and we are also able to catch the southbound Denali Star at the Healy Overpass. [click here to view the 2.1MB video]
| | | |
| --- | --- | --- |
| | | |
| Approaching Nenana | Mears Memorial Bridge | Healy overpass |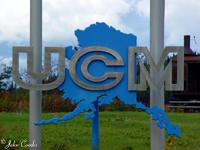 In my seventeen years of schooling, it was extremely rare for me to go on any kind of a field trip. So you can bet I am full of excitement in anticipation of our Usibelli Coal Mine tour. We meet Bill Brophy, Vice President of Customer Relations, at noon at the Black Diamond Golf and Grill in Healy. I really enjoy lunch...especially since Bill pays for it! The food is excellent as well as abundant and doesn't put a strain on your wallet. It's pretty awesome to get a great meal like this amid the seclusion of the mountains and taiga!
At Usibelli Coal Mine's administrative office, Bill starts our tour at a third floor conference room. He begins by presenting the history of Usibelli and then shifts to current operations and the world's vital need for coal. Here are a few of the more intriguing tidbits:
One half of all coal reserves in the United States reside in Alaska.
One half of energy produced in the US is by coal.
Only 4% of Alaska energy is produced by coal.
The coal in Alaska is 8-20 million years old.
UCM coal is among the lowest sulfur coal in the world and the EPA has stated it is the lowest in the nation.
Customers include Alaska Railroad Corporation, University of Alaska at Fairbanks, Fort Wainwright Army Post, Clear Air Force Station, Eielson Air Force Base, South Korea, Chile, Golden Valley Electric Association at Healy and Aurora Energy in Fairbanks.
A new project will soon begin at Emma Creek. Land leases have already been secured for this effort.
Our next stop is a visit to the lab where chemist Coleen tests coal for sulfur content, BTUs, moisture, ash, etc. This helps to verify the quality of the coal. The other half of Coleen's job is to ensure all water discharged from mining areas meets government standards. Although no one will ever drink from this runoff, the mine's water discharge permit is based on meeting standards for drinking water. Basically, UCM leaves the water better than they found it!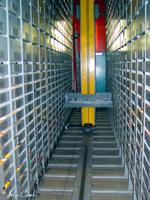 A wide variety of shops and warehouses are located on the first floor. One of the most interesting areas was an automated parts retrieval system. Workers use a computer to select needed items and a mechanical arm/tray retrieves it from a long series of floor to ceiling drawers. I could sure use one of these around my house! As we leave the building, we see a sign proclaiming 577 accident free days. Very impressive indeed!
Bill then takes us on a truly phenomenal driving tour. The roads through the mining areas are 60-80 feet wide to accommodate some the very large equipment in use. Everyone drives on the left side of the road since it makes it easy for the large equipment operators to know where his vehicle tires are. Our first stop is at the tipple and conveyor system. Coal is dumped at a tipple, travels by a conveyor belt across the river and into a massive railroad coal tipple. The railroad tipple itself holds 7,000 tons of coal which is a full train's worth. I find it interesting that the machinery here is fairly clean. I have always envisioned coal facilities as dirty and gritty. Not true here at UCM.
| | | |
| --- | --- | --- |
| | | |
| Tipple loads coal... | through a funneling mechanism... | thru a conveyor to train tipple |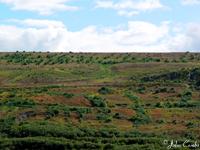 I was amazed as we drove by the old mine at Poker Flats. It doesn't look anything like an old coal mine. UCM's reclamation efforts are very successful and the area looks like any other Alaskan landscape. The company oversees a huge effort in planting of vegetation and trees in cooperation with the Department of Natural Resources.
The most exciting stop on our trip is Two Bull Mine. We drive to a high ridge to watch operations in progress. In a nutshell, the largest job in mining coal is the removal of overburden (the surface soil covering the coal). This is a tremendous job that can only be accomplished using equally tremendous equipment. UCM's trump card is the Bucyrus-Erie 1300W Walking Dragline, nicknamed "Ace-in-the-Hole" by Healy school children. This 2100 ton machine arrived in parts on 26 railcars and 40 trucks in December 1977. It took 11 months to assemble! The 325-foot beam has a reach of 270 feet. The bucket holds 33 cubic yards of material and 35,000 yards of dirt can be removed within 24 hours. I find it mesmerizing watching the "Ace-in-the-Hole" removing overburden and feel just like a kid in a giant sandbox. If I was a UCM worker, this is where I'd eat my lunch every day! [click here to view the 4.5MB video]
| | | |
| --- | --- | --- |
| | | |
| 150 ton dump truck | A very large bulldozer | Good view of a coal seam |
| | | |
| "Ace-in-the-Hole" dragline... | scooping up overburden... | and dumping it far from the seam |
| | | |
| Fun in the giant "sandbox" | What a scoop! | |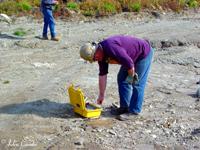 Bill Brophy decides to end our visit with a bang. We head to a safe hilltop to watch the workers perform some "cast blasting." UCM employee Alan Renshaw joins our group and explains the process to us. In cast blasting, holes are dilled and filled with explosives so that a portion of the overburden is cast literally by the force of the explosion into the adjacent mined out pit. On Monday of this week, workers began drilling 100 holes. On Tuesday, Wednesday and Thursday they loaded these holes with diesel oil and ammonium nitrate. It basically took 100 tons (two railcars) of blasting material for this set up. As a reference point, each hole held the same amount as used in the Oklahoma City Bombings. On Friday (today), they ran the detonation cord. Next, Bob Grose (aka "Bob the Blaster") shows up and makes the wire connections to the yellow box for detonation. A siren is then set off to warn everyone of the coming blast. Soon there was a huge explosion and we actually felt the ground shift beneath our feet! No vibrate, but shift! What a finish to a perfect day! [click here to view the 1.1MB video]
At 5:00 pm we return to our car and begin the long drive to Eagle River. We pull into Pat Durand's driveway at 9:05 pm and wearily drag our overnight bags into his house. We share adventures of our trip as he serves up his famous White Horse Stew and fruit salad. The 15-hour day complete, we turn in at 10:30 pm.