Healy
M.P. 358.1


Current Population: 1,021 (2010 census)
Incorporation Type: Unincorporated
Borough Located In: Denali Borough
Taxes: Sales: None; Property: None; 7% Accommodations Tax (Borough); Severance Tax $.05/Yard (Borough)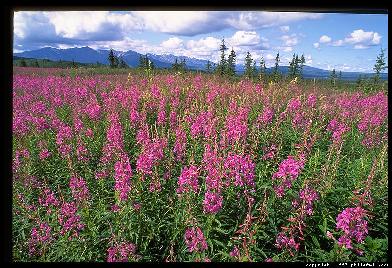 Backed by majestic Alaska Range peaks and boasting plenty of amenities, the small town of Healy provides an excellent base for exploring Denali National Park and Preserve. Healy is located 110 miles south of Fairbanks on the George Parks Highway, just a dozen miles from the entrance to the park.
Healy is rich in coal mining history. In 1920, Healy River Coal Company was established and began winter operations. Coal was hauled by horse and sled. Mines did not operate in the summer. In 1922 a railroad spur was built to Suntrana. Coal began to be shipped to Anchorage, Cordova, and Ketchikan. A construction camp and roadhouse (Healy River Roadhouse) ran by partners Lynden and Stepovich were established beside Booker's Cafe and the Singleton Roadhouse. In 1935 Emil Usibelli began work at the Suntrana Coal Camp as a timber contractor. A mine explosion at a Healy River mine killed two men in 1941 and closed off the entrance to the mine shaft. The bodies were never recovered.
In 1943 Emil Usibelli and two partners opened a new coal mine above Suntrana. Emil was a pioneer in the use of strip mining in Alaska. He bought out his partners and formed the Usibelli Coal Mines. In 1950 Captain Austin Eugene Lathrop then owner of the Healy River Coal Company and well known Fairbanks businessman, was killed by a railcar in Suntrana on July 26, 1950. His heirs sold out to the Suntrana Mining Company which later was purchased by Emil Usibelli. Today the mine supplies 800,000 tons of coal a year, to Golden Valley Electric, the University of Alaska Fairbanks, the military, and South Korea.
Healy is also home to the new "Clean Coal Project," which uses innovative coal burning technology that prevents most nitrous oxide and sulfur dioxide created in combustion, from being released into the atmosphere. The completed $242 million Healy plant is one of 40 such plants being built nationwide as a government industry partnership.
The area's mining history can be experienced with a visit to the area surrounding the old mining settlement of Suntrana, which features a few mining artifacts. Visitors can also check out the smoking hills of Suntrana--caused by the perpetual natural burning of underground coal deposits. This is a good place to hunt for fossils.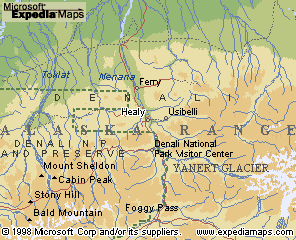 In 1994 Healy consisted of one year round grocery store, five churches, a 12 year school, a community center, Healy Volunteer Fire Department, a physician's assistant office, dental office, district court, a physical therapist' office, child day care center, Usibelli Coal Mines, a coal fired power plant, Department of Highways Office and maintenance garage, two public auto maintenance garages, two year round gas stations, the Historic Healy Hotel, Totem Bar and Cafe, a video store, a NAPA auto parts store, a cemetery, Denali Borough School District Office, a U.S. Post Office, a beauty/barber shop, an outdoor hockey rink and several small personally owned businesses. Several campgrounds, RV parks, bed and breakfasts, gift shops and other small businesses operated during the summer tourist season. A new power plant is scheduled to be built in the near future. Healy continues to grow due to the close proximity to Denali National Park, which experiences a growth in tourism each year.
So you might ask how did Healy get its name. Local expert Tom Walker says, "Healy Fork was the name of the river. It was named before 1906 for John J. Healy of the North American Trading and Transportation Company, not for the famous Coast Guard commander of The Bear, whose last name was also Healy." There was a mining camp on the east side of the Healy Fork River. It was called Camp Healy in 1918, and was the forerunner of the town. The Alaska Engineering Commission, which built the Alaska Railroad, officially changed the name to Healy in 1920, but twice — in the 1930s and 1940s — it was called Healy Fork.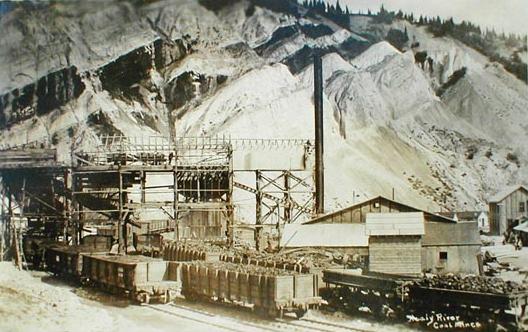 Healy River coal mines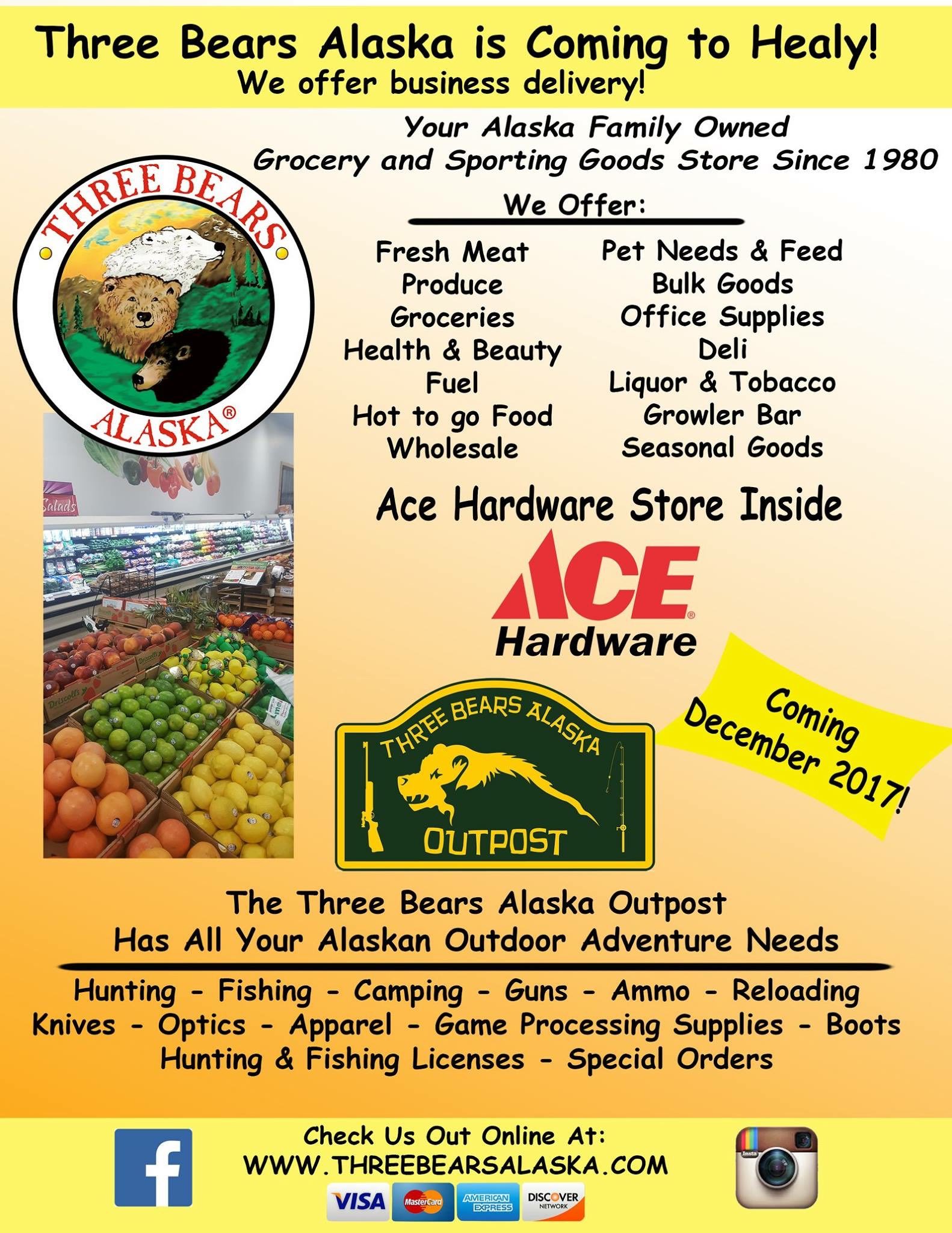 In December 2017 Healy got its first grocery store.
Page created 12/1/99 and last updated 12/10/17