Chapter XI: Back to Anchorage
Friday, June 30th, Anchorage.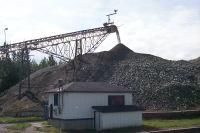 There I was packing my suitcase to leave the Talkeetna Alaska Lodge when I realized I didn't see my 35 mm or digital cameras. After turning the room upside down, I realized I had left them in Jack's truck last night. Panic! We couldn't head to Anchorage until I got those cameras back! I called Jack and left a message on his answering machine. Randy decided to head to his house and see if his truck was there. Within minutes, Randy returned from Jack's house with my cameras. Thankfully, no one in Talkeetna seems to lock their vehicles. I called Jack's house to leave a message that we had the cameras. Unfortunately, I woke both he and his wife up to tell them to ignore the recorded message.
We drove to Wasilla and took several photos of the depot. In Palmer we took pictures of the old depot plus a few shots of gravel operations at Alaska Sand and Gravel, a major customer of the Alaska Railroad. Gravel is the mainstay of the railroad's profits. Due to shifting Alaskan soils, an abundant supply of gravel is needed as a base for homes, buildings and roads. Gravel is loaded into 80 hoppers at the rate of 100 tons per 100 seconds. Total loading time is about 3 hours and the train weighs about 10500 tons. During summer months, the railroad will run several gravel trains per day and generate $32,000.00 of profit.

| | | |
| --- | --- | --- |
| | | |
| Wasilla Depot | Palmer Depot | Cabooses at Camp Carlquist |
Next, we stopped at a Scout camp at Mirror Lake to photograph caboose 1078 and 1079 which were donated by the Alaska Railroad. Having skipped breakfast, we were ready for a big lunch. Godfather's all-you-can-eat pizza buffet in Anchorage was a bargain at $3.99 and we gorged ourselves on pizzas, salads and desserts.
Feeling a resurge of energy, we headed to the Anchorage train yard. We made a stop at the Alaska Railroad general office building. Randy (the man of many connections) was able to line up a Saturday train ride from Anchorage to Seward on the Grandview (former Florida Fun Train passenger cars) with an immediate return to Anchorage on a regular passenger train. Amazing! We stopped by the offices of webmaster Willow Peyton and public affairs guru Scott Banks, but found neither were in. We decided to leave and check back for them later.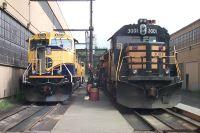 As we were getting out of the car at the Anchorage yard, we encountered engineer Charles Jones. Randy told him he was the one who created the yearly Alaska Railroad calendars. Charles felt employees should be included in the pictures so Randy took a few of Charles on SD70MAC 4009. Next, we watched as the hostlers performed an elegant ballet switching ten different locomotives at the fuel rack. Delving further into the yard, we photographed various cabooses, boxcars, hoppers, and SD70MACs. Additional reminder: Entering any Alaska Railroad without permission is considered trespassing.
We again stopped at the headquarters building and visited briefly with Scott Banks. He was in the middle of a big project (having that deer in the headlights look) so we kept our visit short. We stopped by Willow's desk, but unfortunately she still wasn't there.
Some of the best old Alaska Railroad photographs can be found at the Anchorage Museum of History and Art. We spent almost an hour viewing historic photos from as early as 1915. These photos provided incredible insight into the early days of railroad operation as well as the hardships workers endured. We departed with Randy spending a small fortunate in reprint fees. We then checked out the Alaska Railroad stock at both Charlie's Alaska Train Store and Hobbycraft.

| | |
| --- | --- |
| | |
| Rich and his ballast spreader | Rotary at Potter |
We headed down the Seward Highway to make a brief visit at Potter's Marsh and noticed a work train on the siding. At Potter we viewed and photographed the historic rotary snow plow, troop car and historic story boards. We then went over to the work train to see what was up. Lo and behold, I ran into MOW extra-gang foreman Rich Holzapfel and engineer Frank Armstrong, both of whom I had swapped emails with for several years. It was very exciting to finally put faces with the names and to hear some of their stories and opinions. As it turned out, it was "beer 30" for them (i.e. quitting time) and they headed for home. How cool it was to meet them both at last!
To finish off our exciting day, we stopped at the Anchorage depot to catch the 8:15 p.m. passenger train from Denali and then a few additional photos in the Anchorage train yard. With fatigue starting to set in, we drove to our night's lodging at Eagle River. Randy (the man of many connections) had arranged for us to stay at his friend's apartment (who rents the upper floor of a house) for the next three nights. His friend Troy would be gone so we would have free run of the place. The apartment was very nice with a beautiful lake overlook and a washer and dryer to clean our clothes. With another 16 hour day behind us, we crashed for the night.