Palmer
Six Mile Branchline from M.P. 150.7

Palmer, AK Time & Temp.

Current Population: 5,937 (as of 2010)
Incorporation Type: Home Rule City
Borough Located In: Matanuska-Susitna Borough
Taxes: Sales: 3%; Property: 3.00 mills (City); 11.73 mills (Borough); 5% Accommodations Tax (Borough)
City: City of Palmer, 231 W. Evergreen Ave., Palmer, AK 99645, Phone 907-745-3271 , Fax 907-745-0930
Set between two distinct ranges of towering, snowcapped mountains, Palmer began as a farming community and served as a gateway to the Alaska interior for fur traders, trappers, gold miners and those wanting to live life on the frontier. Palmer is located in the center of the lush farmlands of the Matanuska Valley, 42 miles northeast of Anchorage on the Glenn Highway. Palmer was established around 1916 as a railway station on the Matanuska Branch of the Alaska Railroad.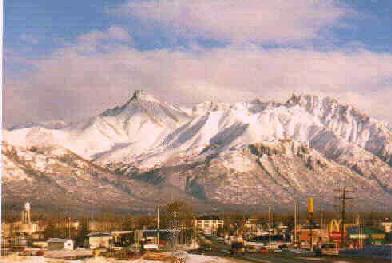 In 1914, farmer John Bugge started his farm where the intersection of the Palmer-Wasilla and Glenn Highways are now. In 1935, Palmer became the site of one of the most unusual experiments in American history: the Matanuska Valley Colony. The Federal Emergency Relief Administration, one of the many New Deal relief agencies created by President Roosevelt, planned an agricultural colony in Alaska. 203 families, mostly from Michigan, Wisconsin and Minnesota, were invited to join the colony. They arrived in Palmer in the early summer of 1935. Each family drew lots for their 40 acre tracts. Although the failure rate was high, many of their descendants still live in the Mat-Su Valley today. Many of the structures they built are now Historical Landmarks. To this day, farming plays an important role in the Mat-Su Valley.
Palmer also served as a homesteading area for miners who had returned from the Nelchina gold stampede in 1913 to lead an agricultural lifestyle. Development of the coal mines near North of Palmer at Sutton, Eska and Chickaloon, and the influx of gold miners heading to Independence Mine in Hatcher Pass contributed to the increase in population.
With the arrival of telephone and electric utilities, the town became even better established. Palmer became the center of economic activity by growing and processing agricultural products and by building a local hospital.
The Alaska Railroad's first streamline, the AuRoRa (#1050), made its first run to Palmer on October 16 with a train load of school children. On October 18, Alaska Day, formal inauguration ceremonies were held at the depot in Anchorage, prior to the inaugural run north. Bands played and the streamline was christened the "Aurora."
Fortunes declined during the late 1960s and early 1970s when the coal mines closed and the creamery was moved to Anchorage. Once serving as a direct connection between Anchorage and Fairbanks for the Alaska Railroad, Palmer was entirely bypassed with the rerouting of the Parks Highway.
The valley is renowned for the annual Alaska State Fair, where local farmers produce award winning vegetables. Best known are the incredibly large vegetables grown in the almost constant summer sunlight, including 75 pound cabbages, ten pound onions and 125 pound pumpkins.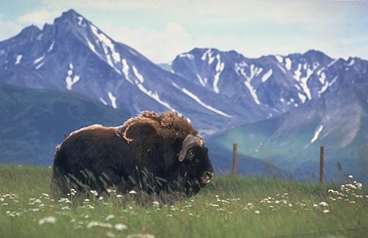 Water is provided by three deep wells, is treated and distributed throughout Palmer. Sewage is collected by pipe and treated in an aerated lagoon facility. The schools and Palmer Correctional Center operate individual well systems. All homes are completely plumbed.
Palmer's economy is based on a diversity of retail and other services, and city, borough, state and federal government. Some light manufacturing occurs. Many are employed in Anchorage. 73 area residents hold commercial fishing permits. Palmer is home to 200 musk ox whose underwool (qiviut) is knitted into garments by Alaska Native women from 12 rural villages. Between 2,500 and 3,500 garments are created each year by these women, and sold by an Anchorage cooperative. The 75 acre musk ox farm is also a tourist attraction. About 70 percent of all Alaskan grown agricultural products are grown in this area.
Palmer's rail spur leads six miles south where it joins the main rail line at Matanuska. The main commodity hauled by rail from Palmer is gravel which is critical to construction projects.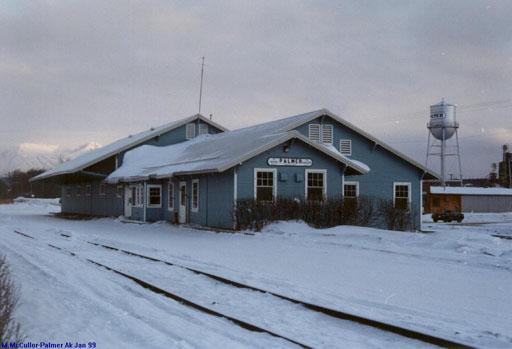 The train depot is no longer being used since newer tracks bypass Palmer.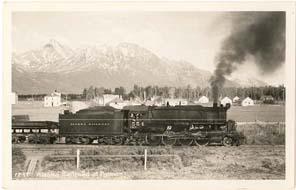 Early photograph of the Alaska Railroad in Palmer




Page created 12/1/99 and last updated 12/2/11