Chapter X: RDC to Hurricane Gulch
Thursday, June 29th, Talkeetna.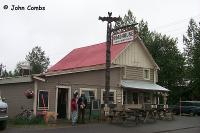 While it is mandatory to pack as many Alaska Railroad activities into each day as possible, every now and then a guy must rest or suffer the consequences. We chose to sleep in until 8:00 a.m. and eat a leisurely breakfast. The Roadhouse Cafe was a little pricey, but compenstates for it in quality and quantity. The pancake was twice the size of my head (no wise cracks from the audience please), the bacon was sliced thick, the syrup and butter were real, the cocoa contained real whipping cream and the orange juice tasted freshly squeezed. We also ordered their famous cinnamon rolls which were thrice the size of my fist and loaded with brown sugar. Needless to say, we waddled out of the cafe.
We stopped off at the Talkeetna section house and took some photos of various MOW equipment getting ready to earn their keep. Summer is short so the maintenance crews use the additional daylight hours to accomplish as much work as they can. Hurrying down to the depot, we were able to get a few rainy photos of a northbound passenger train headed up by SD70MAC 4005.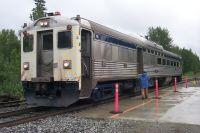 One of the best kept secrets in the world is the RDC Hurricane Turn excursion. An RDC (Rail Diesel Car) is a stainless steel locomotive, baggage and passenger car all rolled into one. It serves as a vital link for the locals in the Alaskan bush as well as providing transportation for the outdoorsman and railfans. Its laid back atmosphere and folksy appeal is truly a lifetime experience. Randy (the man of many connections) wrangled us an RDC ride and we caught number 701 at the Talkeetna section house. A real potpourri of equipment such as groceries, coolers, rifle, dog, backpacks and fishing poles were loaded into the baggage area. Engineer Mike Lindberg (a 15 year veteran) had us underway at 12:32 p.m. as conductor Chuck Chapman (a 12 year veteran) collected the tickets. Our RDC took a siding early on so SD70MAC 4014 could pull a heavy load of tank cars south. Mike was a gracious host to us and took the time to explain various tidbits of RDC operation as well as other railroad matters. Reaching into his grip, Mike brought out a track warrant and showed it to me. It was used for the first revenue run of the leased EMD SD70s on August 12, 1997. Mike served as engineer and the train was loaded with ARRC executives who were trying to determine if SD70s could handle a large coal drag and thus be purchased by the railroad. Much to my surprise, Mike gave me the track warrant to keep!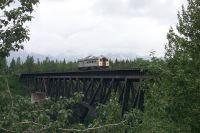 Every now and then the RDC would stop at various unmarked destinations and drop off local residents and their baggage. The engineer and conductor played paperboy several times throwing newspapers to MOW workers and locals. We dropped off a father and his two children at Gold Creek which coincidentally is the same area as the huge fuel spill in December 1999. Neither of his kids seemed to be growing an extra hand or foot.
At 3:00 p.m. we arrived at Hurricane, took a short break and photographed a southbound passenger. Since there was a little extra time and only tourists were aboard, engineer Mike took us out to the Hurricane Gulch Bridge. He obtained permission to drop Randy and I off before the bridge so we could get a few fantastic shots of the RDC sitting on it. Cool!
On the trip back, the sun began peeking through the clouds, making for better scenery pictures. A lady standing beside the track flagged the RDC down and handed the engineer several dozen homemade peanut butter cookies. Conductor Chuck even shared the cookies with all the passengers! The RDC stopped at Curry so we could see and photograph some new historic story boards that had been erected there.
It was sort of sad when the RDC rolled into Talkeetna at 6:15 p.m. The trip had ended all to soon. We snapped off a few final RDC and MOW pictures and drove into downtown Talkeetna.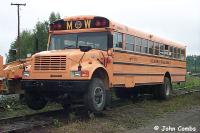 With the effects of our huge breakfast wearing off, Randy and I headed to the Main Street Cafe for a quick dinner. We returned to the Talkeetna Alaska Lodge for the night and soon got a call from Talkeetna depot manager Jack. We had asked him to go out earlier and he was now taking us up on our offer. Jack picked us up in his new truck and drove to the local watering hole. We bumped into Pilot Paul who told stories of climber and pilot deaths plus a few close calls of his own. After we got a few beers and a table, Jack shared a few of his moose verses the Alaska Railroad stories. As fatigue set in, we headed back to the hotel for some much needed sleep.