Wasilla
M.P. 159.6

Wasilla, AK Time & Temp.
Current Population: 7.831 (as of 2010)
Incorporation Type: 1st Class City
Borough Located In: Matanuska-Susitna Borough
Taxes: Sales: 2%; Property: 1.3 mills (City); 12.73 mills (Borough); 5% Accommodations Tax (Borough)
City: City of Wasilla, 290 East Herning Ave., Wasilla, AK 99654, Phone 907-373-9050 , Fax 907-373-9092
Wasilla is located midway between the Matanuska and Susitna Valleys, on the George Parks Highway. It lies between Wasilla and Lucille Lakes, 43 miles north of Anchorage, about one hour's drive. During the 2000 U.S. Census, there were 2,119 total housing units, and 140 of these were vacant. The median household income was $48,226.
Wasilla is a center of commercial and service activity in the borough. Retail and shopping concerns abound in several malls and along the shopping strip; several statewide banks have outlets and service branches there, and utility, real estate, insurance and medical service organizations make Wasilla their home base.
Commercial and industrial activities include steel fabrication, agriculture, concrete products, building materials distribution, millwork and building truss manufacture. Because of the location of several hundred small, private aircraft in the Wasilla-Palmer area, aircraft maintenance has also become a very important service. Of course, catering to the tourist trade is another huge enterprise in Wasilla. There will be found hotels, motels and bed and breakfast operations and in total, over 100 lodging rooms are available in the Greater Wasilla marketing area.
Wasilla was named after the respected local Dena'ina Indian, Chief Wasilla. In the Dena'ina Athabascan Indian dialect, "Wasilla" is said to mean "breath of air". Other sources claim the Chief derived his name from the Russian language and that "Vasili" is a variation of the Russian name "William". The town site was established in 1917 at the intersection of the Knik-Willow mining trail and the newly constructed Alaska Railroad. It was a supply base for gold and coal mining in the region through World War II. The Matanuska-Susitna valley was settled by many homesteaders as part of an experiment in the 1930s. Agricultural crops and natural resources sustained growth and development in the valley.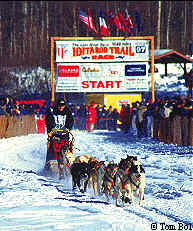 Wasilla is the headquarters for the Iditarod Trail Committee. The Iditarod Sled Dog Race is more than a race, it is a commemoration of the colorful past. The Iditarod Trail, now a national historical trail, had its beginnings as a mail and supply route from the coastal towns of Seward and Knik to the interior mining camps and beyond to the west coast communities. Mail and supplies went in. Gold came out. All via dog sled. Heroes were made, legends were born.
In 1925, part of the Iditarod Trail became a life-saving highway for epidemic stricken Nome. Diphtheria threatened the community and the serum had to be brought in: again by intrepid dog mushers and their faithful hard-driving huskies. Today's Iditarod race is a commemoration of those yesteryears, a not-so-distant past Alaskans honor and are proud of. The 1994 race faced new difficulties as two of the major corporate sponsors pulled out due to pressure from animal rights groups. Tesoro Alaska and other Alaskan Corporations stepped forward to insure this great tradition continues.

| | |
| --- | --- |
| | |
| Wasilla train depot (front) | Wasilla train depot (back) |
| | |
| Sign at Wasilla depot | Railcars displayed at Wasilla depot |
Wasilla City Economic Developer Ric Davidge recently unveiled plans for Iditarod Village, which would house the Iditarod, Iron Dog Classic and the Junior Iditarod headquarters, as well as several cabin-style shops in which local business would sell specialty items. This means the Alaska Railroad will have to relocate the Wasilla depot to an area off Church Road South. Davidge intends to increase tourism by getting Princess and Holland America trains to stop at the village. Also in the plans is to build a pond by the tracks, complete with ducks, caribou, musk oxen an other types of "Alaskan" wildlife.



Page created 12/1/99 and last updated 12/2/11