Chapter I: Jumping the Gun
Saturday, June 10th through Thursday June 15th, Anchorage and Denali National Park.
After spending almost 500 hours of planning, I got our group of 31 on the plane on June 10th. In attendance were Scouts and adult leaders of Boy Scout Troop 325, parents, my wife and my three children. Our troop arrived at the Anchorage International Airport at 11:30 p.m. Alaska! As I stood in the airport terminal, I wondered how long it would take before I could no longer resist the urge to take a quick peek at the Alaska Railroad.
On the afternoon of June 12th, my group of grocery shoppers returned to our hotel at Elmendorf Ar Force Base and excitedly told of seeing the Alaska Railroad yard in Anchorage plus encountering some SD70MACs at a train crossing. Knowing my love of the Alaska Railroad, they suggested we make a quick stop at the Anchorage yard on the way to hiking Flattop Mountain. Who was I to argue?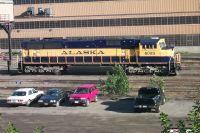 I have seen dozens of photos of the Anchorage rail yard, but a two dimensional image is in no way a comparison to actually being there. Seeing the "No Trespassing" signs, our group chose to view the yard from a nearby hill. Needless to say, my mouth was running a mile a minute. SD70MACs were everywhere and the yard was full of so many odds and ends that a railfan would need to wear a lobster bib. Old railroad spikes and other discarded widgets found their way into my Scout's pockets.
It was tough pulling myself away from the yard, but the Scouts were eager to head for the mountains. I quickly clicked off a few photos and then we headed for the vans. Just outside the yard, I saw four Scouts who had managed to get a flock of white birds to dive bomb their heads.
Our group headed to Denali National Park on June 14th. We had to arrive by 3:00 p.m. or lose our night's lodging. The rails followed our road and SD70MACs were everywhere. Alas, no time to stop for a photo!
Denali is a native word meaning "the great one". Rising to an altitude of 20,320 feet with its base nearly at sea level explains the labeling for this mountain. The National Park on which the mountain resides is also enormous, encompassing an area slightly larger than Massachusetts. The park contains one gravel road, no trails and an incredible wildlife habitat.
At 12:10 p.m. on June 15th, we caught the passenger train at Denali depot. With plenty of time and consensual enthusiasm, we stopped for a gawk. Locomotives 4004 and 3009 were pulling a beautiful string of Alaska Railroad passenger cars, Westours and Princess railcars. Just before we left, a passenger fell from a railcar and had to be taken away by ambulance.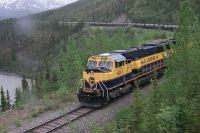 We began our backpacking trip into Denali under stormy skies. After hiking for several miles on the Triple Lakes Trail, we set up camp by an abandoned trapper's cabin. I know you are going to find this hard to believe, but we were coincidentally within 100 yards of the railroad tracks. Several trains passed through that afternoon, but none as exciting as 4013 pulling a long string of tank cars.
The prize find of the day was an old telegraph pole with glass insulators still intact. I must admit two of them found their way into my suitcase. Leaving the group to fend for themselves for the night, I returned to the van to buy ice for the coolers and finish double checking on our group's future arrangements. As I walked out the door of Lynx Creek pizza, I heard the now familiar sound of an SD70MAC. I caught up with this train around Denali and photographed it all the way to Cantwell. I then visited Cantwell and took some pictures for my web site. Not too shabby for my first real day of railfanning!