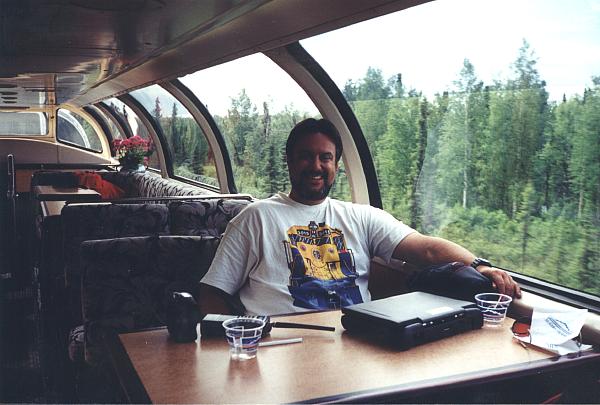 Introduction
I made my first journey on the Alaska Railroad in 1986. The aftermath of this experience reactivated my interest in model railroading and transformed me into an Alaska Railroad "groupie". Show me a GP40 in any non Alaska Railroad paint scheme and you won't see much enthusiasm from me. However, flash those Alaska Railroad colors anywhere within my peripheral vision and you'll see my head snap around like a rubber band (yes, my wife is considering making herself a blue and yellow nightie complete with Alaska Railroad logo).
So why does the Alaska Railroad create such a fire in my belly? Locomotives, couplers, freight cars, pistons and such are nothing more than cold, unemotional components. What really sucks me into the Alaska Railroad vortex is its employees and railfans. I have developed lifetime friendships with only the exchange of electrons and envelopes. My mail carrier has been both intrigued and beleaguered by the constant delivery of Alaskan parcels, letters and mailing tubes. My friends have shared our joys, hopes, dreams and our tragedies. The Alaska Railroad may not be the biggest in the United States, but it is definitely the friendliest and coolest.
In the summer of 1999, I was surfing the Internet for a suitable location for my Boy Scout Troop's annual high adventure trip. I wanted the place to be special since it would be our 25th anniversary. I saw one web site where a Texas troop was driving to Alaska and back. Why not take my troop to Alaska?!? I made this proposal to my Scouts and they loved the idea.
By coincidence, I was also going to fly to Alaska in November of 1999 for the delivery of the Alaska Railroad's first new SD70MAC. Alaska Railroad employees and hard core railfans recommended I delay this trip until the summer of 2000 since shipping schedules slip and Alaska winters provide minimal light for photography. Then it hit me. Why not combine the two trips and roam the countryside of Alaska for a solid month! Thus, a mega trip was born.
The following is a journal of my Alaska Railroad adventures. I have also included Alaska Railroad related entries from my first two weeks with my Scouts. I apologize for the initial draft of this journal since I created it "on the road" using an older laptop incapable of running high end photo rendering software. I would have posted it incrementally during the trip, but could not get my modem to work. :-( I took color slides plus downloaded a bizillion images from a digital camera to the laptop. Look for something even better in the future.
Please be advised that all Alaska Railroad yards, sidings, section houses, tunnels, access roads, etc. are posted no trespassing and that entering them without permission is a violation of law. It can also be very dangerous. Also, don't expect railroad employees to drop everything they are doing just to give you a tour or escort you. Being the Alaska Railroad's number one fan (plus hanging around with Randy "the calendar guy" Thompson) got me a lot of special privileges. Hey, why not just visit my web site instead?!? It is safer, faster and cheaper. Free is good!
I endured swarms of mosquitoes, twelve to sixteen hour days, smoke filled skies, starvation, blisters, reprimands, fast food, miles of trails, loneliness, hunger, rain, cold, heat and wind. I chewed up four weeks of vacation and thousands of dollars. Was it worth it? You betcha! Enjoy!
JPC