Chapter II: Riding the Rails
Friday, June 16th and Saturday June 17th, Anchorage and Seward.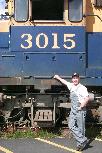 I woke my group of 31 Boy Scouts at a brain shattering 4:00 a.m. After going through the usual morning routine, we headed to the Anchorage train depot, arriving there at 5:15 a.m. We got our seating roster, checked our baggage and went wild in the gift shop. My brother-in-law Rick informed me that the train was being pulled by locomotive number 3015, the same one that took my wife Terry and I from Anchorage to Denali National Park in 1986!
Boarding began at 6:30 a.m. and the troop sat together in coach number 206. With a blast of its whistle, the locomotive began its journey to Seward and my Scouts began to roam the train. Most of my crew eventually made it to the dome car and were rewarded with an extraordinary view of the awesome Alaska scenery. The train route, touted as one of the most scenic in the world, did not disappoint our crowd. It began with majestic mountainous terrain dotted with snow and Dall sheep. Soon, Turnagain Arm came into view surrounded by beautiful snowcapped mountains. Words like "incredible", "awesome" and "unbelievable" were often heard among my crew. In my humble opinion, no words could relate the impact of the experience.
The conductor, Steve "Captain Railroad" Culver and brakeman Warren Redfearn exchanged friendly words with the passengers and passed out Alaska Railroad balloons and tattoos. Unfortunately, one of my daughters was asleep (too much Bonine) and Steve refused to give me the goodies to give to her later. Kristen, our tour guide, gave historical information about the route. Several moose as wells as glaciers were spotted on the way. It was awesome leaning far out of the passenger car door to take photos of the front of the train and feel the wind in my face.
The train arrived in Seward at 11:15 a.m., but for me it was much too soon. Locomotive engineer Chris Cederberg took group pictures for us at the side of locomotive 3015.
The lineup: GP40-2 3015, baggage 101, Kenai Fjords 502, diner 301, coach 206, coach 201 and dome 523.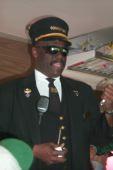 That afternoon we toured the Alaska Sealife Center as well as spending the night there. The next morning, under bright blue skies, we took the Kenai Fjords boat tour to view whales, sea otters, puffins, sea lions and bald eagles. Speed was the focus as my troop headed to the depot to take the train back to Anchorage. Conductor Harry Ross (pictured at right) and Brakeman Duane Frank saw to it that we left at 6:00 p.m. sharp. I spent almost the entire trip listening to Duane (whom I had spent almost three years swapping emails), Harry and tour guide Katie. Although this was the first time Duane and I had ever met, he told my wife that it seemed like he had known us for years. I felt somewhat differently. It is tough to convey emotions and personalities via email. I was surprised to find Duane very charismatic with a wild eyed sense of humor and energy to match. I am sure many a railroad patron has found a grand experience on the Alaska Railroad due to Duane Frank. Now Harry Ross is another matter. This man has a sense of humor that is displayed through his actions. I am sure our group will never stop laughing at him handcuffing Katie to the step stool and walking out of the railcar.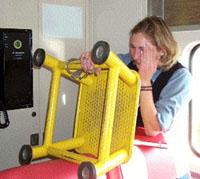 Tour guide Katie was very friendly and even shared her photo album of home life with us. By the time we reached Anchorage, my adrenaline level had dropped below zero and my brain was thoroughly fried. After a few departing words with Duane and Harry, I put the van on autopilot and headed for our hotel.
The lineup: GP 2008, baggage 101, Kenai Fjords 502, diner 301, coach 206, coach 201 and dome 523.