Chapter III: Seward to Moose Pass
Monday, June 19th, Seward and Moose Pass.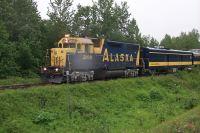 Today my group began a two day backpacking trip on the Johnson Pass trail. Since my daughter Annie and I weren't backpacking and were in the vicinity of the Moose Pass to Seward leg of the Alaska Railroad, we couldn't pass up the opportunity to chase trains. Our van ambled through the construction traffic as we headed down to Seward under stormy skies.
Arriving in Seward, we took a hopper full of photos in town: the rail remains from the 1964 earthquake, the old Seward depot, the Chamber of Commerce railcar, 1940s era boxcars now used as storage sheds, the coal tower which loads the Korean ships and the tank cars at a petroleum industry. We also caught the 1964 earthquake film in the basement of the Seward library.
When the passenger train departed at 6:00 p.m., we were on the Resurrection bridge waiting for it (see picture above). It was miserable standing in the cold rain, but was definitely worth the shot. Next, we raced to the triple span bridge at Snow River, hoping to reach it before the train did. Unfortunately, we were stopped by a stone faced construction flag man. The minutes we waited were pure agony. Finally, the flag man flipped his "Stop" sign to "Slow" and we raced to the bridge, making it with only seconds to spare. As I took the picture, Duane was hanging out of the train door yelling, "Hey John!" This made me wonder what he had been telling the train's passengers. Probably something like, "See that crazy nut out there in the freezing rain taking pictures of our train? Must be some kind of deranged railroad psychopath! Don't let your children grow up to be like him!"
We quickly hopped back into the van and flew down the road. We caught the train on an open stretch of track and I took another photo. As I watched the train speeding by, there was smirking Duane again hanging out of the train making hitchhiking motions.
We caught the train again at Moose Pass. This time I slid down an embankment and waited with the mosquitoes for the train. After an awesome photo, we headed back to the Johnson Pass trail head for the night. Not a bad start considering I wouldn't be officially railfanning for almost another week!