Cantwell
M.P. 319.5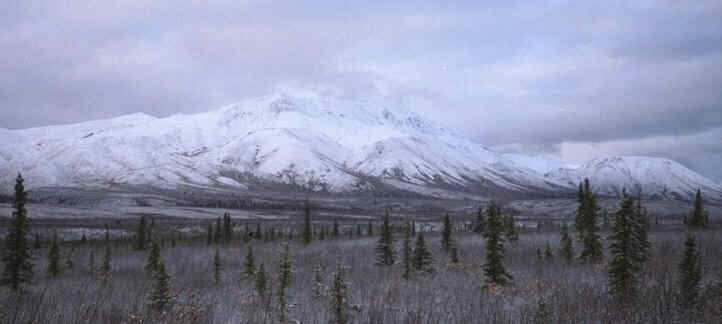 View of Mount McKinley from Cantwell

Cantwell, AK Time & Temp
.
Current Population: 219 (as of 2010, the United States Census Bureau)
Incorporation Type: Unincorporated
Borough Located In: Denali Borough
Taxes: Sales: None; Property: None; 7% Accommodations Tax (Borough); Severance Tax $.05/Yard (Borough)

Cantwell is located on the George Parks Highway (main route Anchorage and Fairbanks) at the west end of the Denali Highway, 211 miles north of Anchorage and 28 miles south of Denali (Mount McKinley) Park. Part of the community (old Cantwell) is located on the Alaska Railroad while the new section is two miles away. Cantwell has an airstrip, one hotel and some small stores.
The earliest inhabitants of the area were nomadic Indians who trapped, hunted and fished throughout Interior Alaska. Cantwell began as a flag stop on the Alaska Railroad for prospectors. Oley Nicklie was the first Indian to settle here. When fur prices dropped, he and his two brothers sought work with the railroad. Cantwell was named for Lt. John C. Cantwell, an early explorer.
Prior to World War II the section gang was composed almost entirely of Indian women. It is said that the Cantwell section was the best maintained area on the entire railroad at that time.

| | |
| --- | --- |
| | |
| Cantwell School | The local water hole |
The ARRC has a High/Wide detector at the south end of town that protects the tunnel and bridges in the canyon against clearance problems. At the north end of town there is a small bridge over the creek. There are also four small section buildings located there.


Cantwell Section House
(click on image for larger view)
| | | |
| --- | --- | --- |
| | | |
| This section house is on the left side of the track (if you are north bound) and is just north of the High-Wide detector. | Another view of the section house. | Yet another view of the section house. |
| | | |
| This shows the view looking directly RR south. You can see the bottom half of the wide sensors and the hotbox detectors. | Here is a close-up of the hotbox detector. Notice it also has a heater on it. | This is a close-up of the base sensor for the high-wide. Notice the heater coils under it! |
| | | |
| Here is a good over all view of the high wide. This is looking RR south. There are three lights on top of the cross beam. Two little infrared sensors on top aim at the sensors on the ground. This gives you the wide measure. On the side posts there are two more sensors. These give you the height. The main purpose of this detector is to protect the tunnel and bridges in the Nenana canyon. | Here is another view of the hotbox detector and heater. | This is the cabinet that runs the High-Wide at Cantwell. It contains a generator, radio, and all the electronics to operate the detector. Notice the yellow polls on the stringers. Those are so the snowplows don't run into the stringers. |
| | | |
| Another view of the High-Wide cabinet at Cantwell. | Just another over all view of the everything. | Just another over all view of the everything. |
Page created 4/19/00 and last updated 12/2/11