Sunday, July 11, 2010
Three hours of sleep was definitely not enough for me, but the shower helped to wake me up enough to take on the day. Before leaving I met Louise Delaney, Don Prince's niece. who came for the funeral and was staying in the condo as well.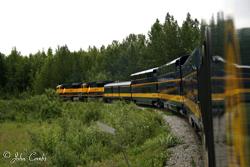 I arrived at the Anchorage train depot and for the first time in my life paid for parking there. At the ticket window, I saw Megan, my favorite Passenger/Reservation Agent, who greeted me with a friendly smile and some very kind words. When she went to check on my tickets, she returned with a few other employees who wanted to meet me as well. How fun! (I must add here, however, that even before my reputation proceeded me that this has always been the friendliest train ticket window I have encountered anywhere in the world.) The employees asked if there was anything else they could do for me. I asked them to make the clouds and rain go away so I could take better photos. They said they would see what they could do, but reminded me that more wildlife tended to be roaming about on days such as this.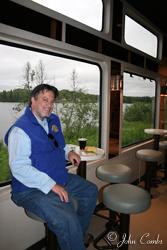 I boarded car #502 on the Denali Star and sat down in a very spacious seat (unlike the 17.2 inch one I had on the plane last night). The train left the station right on time (unlike the flight I took yesterday) and soon I was haunting the vestibules taking photos, video and enjoying the sensational Alaskan scenery. I pretty much had free roam of the passageways as I had brought a heavy winter jacket (the Boy Scout motto, "Be Prepared", came to mind). One tough individual who braved the chill was Carol Montoya, a local artist interested in lessening people's impact on wildlife. One of her dreams was to submit a painting for the annual Alaska Railroad poster competition of a conductor on a train reaching out as if to cup the chin of a moose. She said her work was featured at the Alaska Gallery in Palmer and so I put that on my "to do" list. Carol also had a sharp eye for wildlife and pointed out four moose during our short conversation.
I headed back inside and walked to the dining car to grab a bite to eat. The bistro had received a top to bottom refurbishment and looked great. Gone were the days of the Florida Fun Train tiki bar! I must admit it was fun sitting upstairs in the balcony watching the jaw dropping scenery go by. We arrived in Talkeetna all too soon. I hopped off the train, watched its departure [click here for 11.5MB video] and headed to the depot to get my Hurricane Turn boarding pass from Jack MacDonald, Talkeetna station agent. I first met Jack here in 2000. His dog Beukeboon (named after a New York Ranger defenseman) was a Talkeetna depot celebrity (see my 2000 and 2002 trip journals). Jack sadly informed me Beukeboon had turned 13 and now stayed at home. Having nursed a few loyal companions through their waning years myself, I understood Jack's heavy heart.
| | |
| --- | --- |
| | |
| Stream meanders off into the woods | The Denali Star in Talkeetna |
One of the best kept secrets in the world is the Hurricane Turn excursion. It serves as a vital link for the locals in the Alaskan bush as well as providing transportation for the outdoorsman and railfans. Its laid back atmosphere and folksy appeal is truly a lifetime experience. Although any day makes for a good trip, Sunday was my personal favorite since you'll see a real potpourri of people, animals and equipment along with the jaw dropping scenery.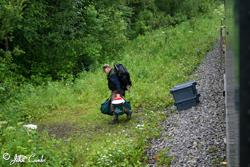 Conductor Ian Frazier got us underway on time and soon we were immersing ourselves into the rhythm of the rails. As we journeyed up the Susitna River, we saw four kayakers paddling passionately in the strong silty current. Our first flag stop was adjacent to a vague trail which led off into the dark green wilderness. With the help of Conductor Ian, a cabin dweller unloaded numerous plastic tubs from the open baggage car. As we departed, the man put on his backpack and disappeared into the bush with two of the tubs. Ian matter-of-factly stated the man's cabin was a 2.5 mile hike in. Doing a little math in my head and knowing this guy would need to make two trips meant he would walk ten miles total while carrying a heavy load. Pretty impressive!
Near Curry Station I saw the new historic static display. The equipment included Rotary #3 track snow blower, an engineering caboose (troop sleeper), a 10,000 gallon tank car and caboose 1086. This added to the existing interpretive trails in the area. As we approached milepost 249, I saw a newer looking railroad track curving off into the wilderness. I asked Ian about this and he said the tracks were a loop for the quarry. The quarry itself is accessed via a five mile long haul road up into the foothills. The product was for railroad use only and provided material for the road bed. He added it was a perfect location since it was approximately midway in the railroad. In 2008, the Curry Quarry produced 200,000 tons of ballast rock and 60,000 tons of rip rap material.
| | | |
| --- | --- | --- |
| | | |
| I wish my parents had brought me here! | Static display at Curry Station | Track leading to Curry Quarry |
If you want to be where the action is at on the Hurricane Turn then hang around the baggage car. They leave the doors open and place a safety chain across. This provides for some great open air viewing. It also serves as a loading area for larger items. All animals brought onboard are required to ride in the baggage car. It also serves as the social center as well.
As the miles rolled by Ian began imparting his fishing wisdom onto a seasoned fisherman from the lower 48. Mr. Fisherman had brought along a friend's canoe and planned on canoeing and catching his meals before floating back to Talkeetna the next day. He was in continuous smile mode as he surveyed the numerous salmon swimming through the clear cold streams. The train stopped at a favorite fishing spot and Ian and some nearby backpackers helped the man unload his canoe. The man gave an enthusiastic wave as we continued our way down the rails. Things grew quiet, but I knew it wouldn't last for long.
| | |
| --- | --- |
| | |
| Conductor Ian and Mr. Continuous Smile | A backpacker ready to help put the canoe into the water |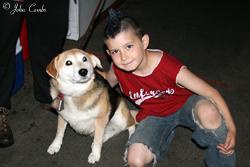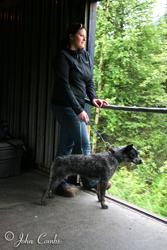 They came onboard one stop at a time. First, it was an older woman with a dog named Shoni. Next it was a huge white lab whose name I still can't pronounce. Then a husky. Then a beagle. And a large black lab. Before I knew it, the baggage car was a chaos of wagging tails! They barked, whined, panted, growled, sniffed, and howled. The black lab had a bark so loud you could feel it reverberate in your chest. I carefully wrote down all their names on a piece of paper, but lost it when swallowed up by some smiling gray wolf dog thing I was petting. There were so many dogs that I almost lost count. Ian commented, "the record was 12 dogs at one time. We even took 3 dogs and 4 cats to one cabin!" Most of the dogs came with kids who wanted to meet all the other dogs. Of course, most of the kids came with parents who all seemed to know each other. They swapped stories about snow machining and bears and crops and salmon. The energy in the baggage car was simply amazing. The thought that kept going through my mind was "there's not another railroad on the planet with the coolness of the Alaska Railroad."
Next, it was time for a stop on the famous Hurricane Gulch bridge. I don't care how many times I've been here, the experience always takes my breath away. The 918-foot bridge rises 296 feet above the Chulitna River and is one of the line's best photo vantage points. The first passenger train crossed this bridge on August 15, 1921 and now almost 90 years later it still fascinated every passenger on board. The train stopped on the bridge thus allowing everyone enough time to capture that perfect photo. Finally, we reversed our direction and headed back south, stopping briefly at the Hurricane section house. Passengers were given a few minutes to get off the train and stand on Alaska soil. Many of the families and their dogs got off the train and loaded their plastic tubs into awaiting vehicles. I spent my time listening to stories from engineer Chuck Tenney and photographing the train. Then it was time to get back on board for the return trip.
| | |
| --- | --- |
| | |
| Hurricane Gulch | GP40 #3010 at Hurricane |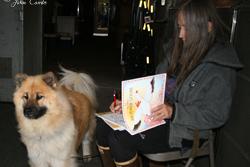 You might think the return trip would be a bit anticlimactic. No way! The train stopped to pick up a female passenger and her dog. The passenger ambled her way back through the train and slipped into a folding chair in the baggage car. It was Shannon Cartwright. Shannon illustrates children's books and has more than one million in print. For the past 25 years, she has been living in the bush. She travels between her three cabins depending upon the season. In addition to her work as an illustrator, she also works in painting, sculpture and jewelry. Of course my favorite of her books is Ol' 556, Alaska's Mighty Steam Engine of which I have a signed copy. For that book she served as both writer and illustrator.
I struck up a conversation with her as she signed her books for the children on the train. I noticed she was shaking and later learned she has "essential tremor" which is the same affliction that struck Katherine Hepburn. Fortunately, her focused mind has kept it from affecting her work. And her dog's name? Coda. Shannon got so busy signing books that she didn't even realize her stop was approaching. I must admit I got a lump in my throat when Ian walked up and gently asked her if she wanted to go home. Just another data point that this is more than just a job to these railroaders. They really care about their passengers.
On the return trip, Ian had the train stop to watch salmon at Twin Bridges (N 62 50.301, W 149 38.447). Future fisherman will want to put these coordinates into their GPS unit and have the train stop at that location. It looked to me like fishing in a barrel. Another ten or so miles down the track the engineer slowed down the train so we could view a nearby bear. Unfortunately, I was unable to to get a photo of him. A few miles later we stopped to pick up a group of backpackers who had spent their weekend in the wilderness.
| | | |
| --- | --- | --- |
| | | |
| Salmon at Twin Bridges | Backpackers flag down the train | Alaskan paradise |
Our next stop was the bustling city of Sherman (N 62 42.710, W 149 48.593), home to Clyde and Mary Lovel. This couple brought their family here in the 1960s and have lived in Sherman ever since. Mary has written two books about coming to and living in Alaska; "Journey to a Dream" and "Suddenly...It's Spring!" My luck was running incredibly good today as Mary would be riding the train into Talkeetna. This provided me with the opportunity to purchased autographed copies of both books!
| | |
| --- | --- |
| | |
| City of Sherman and train depot | GP40 #3010 at Hurricane |
As we approached Chase, Ian gave me a heads up that we would be meeting a coal train. Faced with a choice of either taking photos or video, I decided to capture the roll-by on video. In the first video (8MB) you'll see Ian's head a time or two as he closely inspects the coal train as we passed it in the siding. In the second video (3MB) you'll see a passenger in a tie dye T-shirt and cowboy hat. You just gotta love that! A little further down the line we picked up a few more weekend cabin dwellers who were returning to their homes in Talkeetna. The train slowed and then came to a halt so we could follow a pair of swans as they meandered their way through a marsh. This also gave me the opportunity to capture a few photos of flowers.

As the train got back underway, I spent a few minutes chatting with Ian regarding current and future business strategies on the Alaska Railroad. One tidbit I picked up was the Tunnel section house was now gone. Whoa! Now that had to be a significant change for railroad winter maintenance of way operations as there had always been a crew and bulldozer equipment stationed there.
We arrived in Talkeetna and everyone got off the train. However, I was lucky enough to get to dead head back to Anchorage. I used the time to begin reading Mary Lovel's Journey to a Dream. The book was created from a series of letters she had written to family and friends telling of her journey and eventual residence in Alaska. The perils they encountered and overcame, especially with four young children in tow, really boggled my mind. It definitely put my life in a totally different perspective.
Ian dropped me off at the Anchorage depot and I thanked him for a truly memorable experience. As I drove back to the condo, I thought about how Ian was cut from the same fabric as people like Steve Love, Rich Holzapfel, Duane Frank, Frank Dewey and Don Prince. People who loved their job and gave it their best. People who made the Alaska Railroad more than just metal and plastic, but something truly special, something that takes on a life all its own.
Once back at the condo I called Jim Somerville in hopes of arranging a flight for the following day and then gave Don's niece Louise the daily debrief. By 12:30 a.m. I felt like I was beginning to babble so I headed off to bed.