Saturday, July 10, 2010
One of the things about living in the Dayton, Ohio area is anywhere else you go is fun. Life is pretty mundane here so even a mini trip to the flea markets in nearby Monroe can be fairly fascinating. Therefore, knowing I was on my way to Alaska made me happier than a mosquito in a blood bank. It would also be a cool way to escape the 94 degree temperatures and 80% humidity of this suburban sauna.
For those of you who have read my journals before, you know how much I despise air travel. And this trip did not disappoint. Oh, it all started harmlessly enough. Check-in was a breeze and the TSA security process was lightning fast. Little did I know this was the calm before the storm.
With a sigh of relief, I sat down at the US Air gate and sent my wife a text message bragging how easy the check-in process had gone. As if on cue, an airline attendant announced our incoming plane would be arriving late and there would be a slight delay in our boarding. She assured us this would not cause anyone to miss their connecting flights. Gak! I only had an hour layover after this flight before catching the next one so I immediately approached the attendant and explained my situation. She assured me I would be fine, but I could swear I saw her nose growing a bit.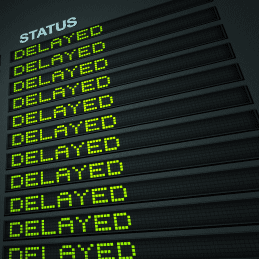 The plane eventually pulled in 40 minutes late which gave me a very queasy gizzard. They also took and tagged my carry on bag just before I entered the plane - the double whammy! I must admit I sat and fretted the entire flight. The pilot assured us he would make up for some of the lost time, but I knew his nose was growing longer as well. As we landed and arrived at the gate, I checked my watch and saw I had 20 minutes to make the connecting flight. Not good.
Although I was one of the first people off the plane, I had to wait for my carry on bag. And wait. And wait. Yes, mine was the last bag unloaded. Maybe this was airline karma? What goes around, comes around? All the bad things I've said about air travel were now coming back to roost! As I looked at the flight monitors, I discovered I was in terminal A and needed to be in F. As fast as a photon, I raced to the loading area for a bus to take me to the other side of the airport. My luck continued as this bus was being driven by the human reincarnate of a snail. We stopped three times to allow passing planes to proceed. Gak!
Although I ran like a rabid raccoon, I missed the connecting flight by five minutes. Five minutes! Yes, the jetway was still connected to the plane, but the attendant refused to let me board. She also refused the next six people behind me as well. So we all had to take the half mile death march to passenger services. In this case, the airline had been tardy, but we were the ones to suffer from it.
My passenger services associate was sympathetic, but the best she could do was two connecting flights with two different airlines, each with significant layovers, and a final arrival time of 12:30 AM. Knowing I had an 8:00 AM train ride the next day, I took it."What about my bags?" I asked. Her nose immediately began to grow as she replied, "I will reroute them to our airline and they will be at Anchorage baggage carousel when you arrive."
Karma continued to rule the day as my next flight found me seated next to a tall Texan. His long pipe-like legs invaded the leg room on both sides of his seat. Fortunately, I had my iPod with me to ease the suffering. I had enough time to squeeze in both "Runaway Train" and "Hang 'Em High." My second leg was much better as I had an aisle seat next to a wonderful young couple from Tennessee who were traveling to Alaska for the first time. The woman was very friendly and asked me a ton of questions about Alaska.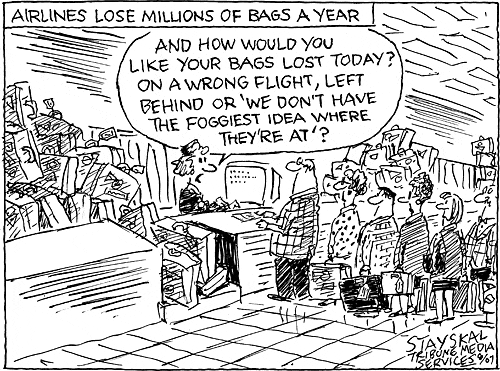 The plane landed at 12:38 AM (which was 4:38 AM in my home time zone) and I immediately went to check for my bags. Would it surprise you if I said they weren't there? I thought not. I dragged myself over to passenger services and filled out my lost luggage claim form. I asked the attendant if it was possible that my bags arrived on my original US Air connecting flight? "Probably not and there is no way to check since their office is closed for the night.
Does this chapter seem to be getting long to you? I am looking back over what I just wrote and I have dedicated eight paragraphs to the perils of air travel. Is it any wonder that Americans are in love with their cars? It's all about control, baby!
As I headed for the rental car counters the young gal from Tennessee came up to me and said the US Air passenger services office was indeed open and they had their bags! I was so excited that I almost gave her a kiss, but thought better of it since her husband was big enough to pound me into the ground like a tent stake. Sure enough my bags were there too! I picked up my rental car and then drove to Don's condo in Anchorage. I rolled down the car window and enjoyed the cool Alaska air. As I entered the condo, I was overcome by a tremendous wave of sadness knowing I would not see my friend sitting there in his favorite chair. On impulse I walked over to that old recliner and said, "Don, you were a very good friend indeed. We had a lot of good times together. I am going to miss you very much."
Sometimes people come into your life for a reason and you know right away they were meant to be there. Don was such a person. He came into my life for a season, to teach me about hospitality, to give me incredible joy. As I laid down in the bed I looked at the alarm clock. It was three o'clock.