Thursday, August 1, 2002
When I spoke with my wife on the telephone yesterday, she said it was 96 degrees and 100% humidity at home. Therefore, I was happy as a fly on a moose pie when I exited my bed and shivered with cool. It was 6:50 a.m. and colder than a witch's thorax. I had worn long pants every day of the trip and was loving it. After a nourishing breakfast of crackers and peanut butter, we stuffed our stuff into our rental car and headed for Talkeetna.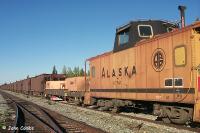 The day was crisp and clear which made the drive enjoyable. Randy spotted a work train stopped at Broad Pass so we stopped to investigate. As coincidence would have it, this was the same work train we saw in Healy. I wondered if it had been following us. We took a multitude of photographs and then continued our drive.
We arrived at Talkeetna at 9:30 a.m. Talkeetna is a staging area for Mount McKinley climbing expeditions. In July, the Moose Dropping Festival gives contestants a chance to see how far they can throw a moose "chip". Our first stop was the section house. The area was pretty dead except for a lonely RDC. We then headed to the depot and met Jack MacDonald, Talkeetna station agent. Also providing a friendly greeting was his depot dog, Beukeboon (named after a New York Ranger defenseman). Jack was a true Alaska Railroad employee, friendly and very laid back.

| | | |
| --- | --- | --- |
| | | |
| Beukeboon chilling out on a bench | Beautiful Talkeetna depot | No. 4005 leading the NB passenger train |
I took the opportunity to make a few telephone calls. The first call just about made me wet my pants. Yes, the fickle finger of fate was shaking with excitement! We would be dead heading Aurora on Friday! For those of you who just read the previous sentence and said "Huh?" (and even those who didn't), let me explain in further detail. The Grandview is a passenger train that runs between Anchorage and Seward and typically serves the cruise ship passengers. On Friday the Grandview would add the Aurora (the ARR's new business car) to the consist and travel without passengers down to Seward. Now the term "dead head" typically means a railroad employee traveling on a pass. However, in our case it meant Randy and I would be traveling on a pass on a passenger train with the Aurora in tow, totally devoid of passengers. This was a railfan's dream come true! As it turns out, the Aurora was being sent down to pick up Congressman Don Young on Saturday as part of a fund raising effort for the SeaLife Center.
My brain cells conducted an emergency meeting and decided I'd have to cancel out on the "retiree's story telling session" at Don Prince's condo. This was a tragedy since we would miss hearing stories from four retired rail heads who worked for the ARR a combine total of 120 years! I sadly made the call to Don and apologized profusely, but it didn't make me feel any better.
Right on time, the north bound passenger train pulled into the Talkeetna Depot. We snapped as many photographs as we could before it left the station. Bidding good-bye to Jack, we began our drive to Anchorage.
Based on Bob Barrett's tip, we stopped in the town of Willow to locate it's relocated and recycled depot. Although we didn't find the depot, we did find two locomotive cranes plus a troop sleeper car that now serves as a caboose.

| | |
| --- | --- |
| | |
| Two locomotive cranes resting in the sun | Ex-troop sleeper is now caboose 1043E |
After devouring lunch at Wendy's in Wasilla, we headed to the nearby Museum of Alaska Transportation and Industry (MATI). We didn't bother to pay the admission fee and see the museum, but instead went straight to the special area where MRS-1 1718 and 44 ton switcher 1804 sat. Number 1718 was surplused by the military in 1999 and the unit (plus the switcher) was purchased for $3,000 by private donors. A storage shed was also in the works so 1718 could be under roof. As we got ready to leave, we bumped into Marty Quaas who was showing the museum to a friend from California. If you recall from my 2000 trip, I visited Marty and his enormous Consolidated South Western Railroad HO scale layout (see Chapter XVI: Whittier and Marty).
Returning to Anchorage, Randy dropped off another 16 rolls of film at Costco and we visited several employees at the Anchorage Depot. We then went back to Wasilla to visit Alaska Railroad mechanic Jeff DeBroeck's to see his fantastic custom HO scale locomotives and browse through his photos.
As we left Wasilla, we saw a work train with the new ballast plow car Wayland had made. I took a bizllion photos of this unit (just in case any of you would like to model it someday) plus a few of the infinite string of Difco air dump cars.

| | |
| --- | --- |
| | |
| New ballast plow car | Air dump car infinity |
Nancy Durand made lemonade for us right after we walked in the door. Randy and I did laundry while Casey showed us their collection of old Alaska Railroad books. We all dozed off while watching the Tanana Valley Railroad video.