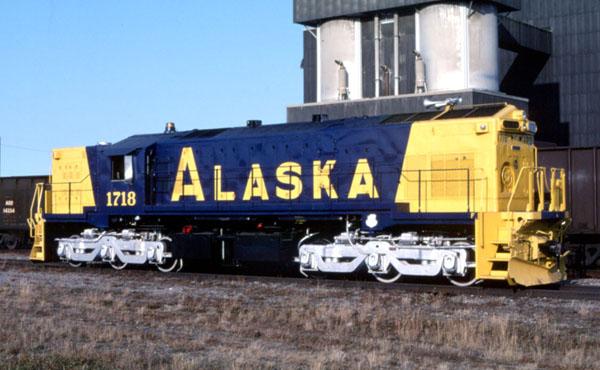 MRS-1 number 1718 at Clear Air Force Base, 10/1/98
Photo courtesy of Curt Fortenberry

Our girl has a long and colorful history:
Delivered by EMD in may 1952
Transfer to Europe after modification to European standards
Tests in Germany from January 14, 1953 to September 18, 1953
Tests in France from September 24, 1953 to March 17, 1954
Tests in Belgium from April 20 to April 28, 1954
Transfer back to the US
Transfer to US Navy (at Depot at Hawthorne) in September 1970
Transfer to Alaska RR in December 1977
Service for ALCOP train from early 80's to about 1992
In use at Clear Site Air Force base near Fairbanks
January 1999: The unit was retired!
June 2000: The unit was purchased for $3,000 by private donors for the Museum of Alaska Transportation and Industry in Wasilla, Alaska
For more information, visit Stefan Nicolai's page.
Click here to view a German forum on #1818
Here is a Belgium magazine entitled Rail et Traction that has an article on pages 21-23 about #1818. Caution: this is a 12MB download. If you can't read French then click here for the translated version.
You'll find a engineering drawing here.
And here are two photos from Bernard Aubert of #1818 during its stint in Germany: