Monday, July 7, 2008
As I parked the car in the visitor's slot at the Alaska Railroad headquarters building, I scanned the parking lot for railfan and friend Robert Krol. I finally spied him over in the direction of a passenger train that was parked at the depot. Hey, where else would you expect to find a railfan?
Every time I come to Alaska, Robert presents me with one of his custom made HO scale creations as a thank-you for all the work I do on my website. This year he had a pair of striking Rivorossi passenger cars that coincidentally were identical, both in appearance and number, to the ones parked on the passenger train in front of us. Robert also reported that a passenger train with GP40 number 3015 (my favorite locomotive) would be arriving at the depot between 9:00-9:30 AM.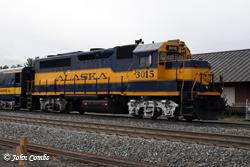 At 8:00 AM I met with Dwight West, my Alaska Railroad escort. Dwight served as my escort (he prefers the term "guide") during my last trip and it was great to see him again. After being issued a visitor's badge at the front desk, we headed to his office. We discussed the plans for my trip and then looked through his photos of a recent speeders (motorcars) tour on the railroad. The two of us then headed to the depot to catch #3015. While we waited, Dwight pointed out new rail bed work in process to accommodate the railroad's Intermodal Transportation Center (ITC) plan. At 9:40 AM the passenger train arrived and Dwight took photos for me while I ran the camcorder. Robert was true to his word as #3015 appeared on the end of the train. Beautiful! [click here for 9.9MB video]
The next stop was the tower at the Anchorage Operations Center. I had already done an in-depth tour on a previous visit, but wanted to stop by and say howdy to Dale Greth, ARR Customer Service Representative, and take some photos from up on high. Dale was in quite a jovial mood and even offered to host me at a friend's cabin some time, as long as it didn't interfere with his regular weekend fishing trips. Alaskans take their fishing seriously. As one Alaskan bumper sticker read, "My wife said get rid of my fishing gear or she'd leave me. I'm sure going to miss her."
| | |
| --- | --- |
| | |
| Yard view from the tower | Caboose 1074 looking lonely |
| | |
| Soon to be retired switcher | Bad yet beautiful |
Dwight and I roamed the rail yard in his company truck hunting for interesting or unusual sightings. At the north end of the yard, we found a very dejected caboose 1074 sitting alone. Apparently, its usefulness has come to an end and is headed for the scrap heap. I later inquired to the possibility of purchasing this caboose and was told the ARRC no longer sell surplus railcars to individuals. [Side note: I have heard a recent rumor that the railroad changed its mind. It will sell the cabooses instead of scraping them.] The rotary and caboose 1086 are still in the yard. Word has it they will be sent to Curry along with a tank car and #1039 to become part of a permanent display. Also interesting to note is the 10800 series boxcars are going to scrap and the Russell plow is going to the Museum of Alaska Transportation and Industry (MATI).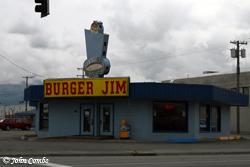 When our stomachs began to growl, Dwight suggested a trip to Burger Jim's on W. 6th Avenue for some hamburgers and steak fries. I'm a sucker for a large fresh hamburger. Burger Jim's has been around since 1985 so I was anxious to give it a try. Not only was the food great, but I got a good laugh when I discovered one of the employee's names was Patty.
The Anchorage shops are like a Kellogg's cereal variety pack, if you look long enough you're going to find something you really like. And I was not disappointed. SD70MAC #4012 was in to get a check up, RDC 702 for an engine repair and GP40 #3001 was being blessed with a total rebuild. Sadly, the passenger car shop was almost totally empty since its equipment was out earning its keep. As we reached the end of the car shop, I spied the Aurora and Denali railcars looking remarkably clean and majestic. We found the Aurora unlocked and I used the opportunity to capture a few dozen dignified photos. Unfortunately, the Denali was locked up tight and we were unable to connect with anyone who possessed one of the four sacred keys. Dwight issued me a rain check.
| | | |
| --- | --- | --- |
| | | |
| Locomotive shop tour | Rebuilding a GP40 | Wheel sets ready to roll |
| | | |
| The Denali | Aurora interior | |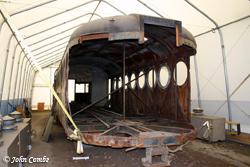 Okay, here's your Jeopardy challenge for the day. The answer is, "They were a builder of 152 internal combustion-engine railroad motor cars from 1905-1917. Do you know the question? Give up? Well, no prize money for you! The answer is, "What is the McKeen Motor Car Company?" So now you know. Anyway, the Alaska railroad owned one of those McKeen cars during the 1940s. Eventually, an individual bought and stored it just down the road from the Anchorage Operations Center. In 2004 Anchorage Historic Properties purchased it and I lost track of it. Using my phone-a-friend option, I was able to learn its hiding place and Dwight was only too happy to drive me there. As you can see from the photo, it's going to need a lot of work and TLC. We ended our day at my car at HQ. As an added bonus, I was able to grab a few frames of video of a passing gravel train.
Back at Don's condo, I discovered Derek, his nephew, had arrived. Derek would be staying with Don for the next thirty days to provide care during his recovery. As it turned out, he was also an excellent cook! As in previous trips, I fell back into the old daily ritual, grab a bite to eat and share the day's photos via my laptop. Don really enjoys these daily debriefs and always adds a smattering of delightful historic railroad tidbits.
Dinner that night was provided by the ever-faithful Curt Rudd who had dropped off homemade enchiladas earlier in the day. Don, Derek and I did our best to make them disappear so as to not add to the already overpopulated refrigerator. They were incredibly tasty and Don suspected they were filled with moose meat. Whatever the filling, it made for a satisfying end to another grand Alaskan day.