Sunday, July 6, 2008
Although there are only a few hours of dusky darkness at night in Anchorage this time of year, my exhausted state was able to produce 10.5 hours of blissful sleep. I hadn't slept that long since….well since the last time I slept that long. Feeling like a million dollars, I spent the morning with Don, eating breakfast and jabbering away like a monkey in a tree.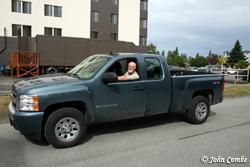 Around 11:00 AM Frank Dewey (retired ARR locomotive engineer) stopped by and picked me up in his brand new Chevy Silverado. Our first stop was Jackie's restaurant at Spenard Road and 26th Avenue. Frank always comes up with interesting places to eat that typically aren't very visually appealing, but ultimately serve up some pretty tasty grub. This was one to definitely add to my list. Although the restaurant itself was kind of a hole in the wall, the Working Man's Breakfast I ordered was awesome and the sausage gravy was the best I had ever eaten.
Alaskans are the most wing-worthy of the 50 states given that 1 in 60 have pilot's license and 1 in 70 own a plane. Unsurprisingly, the Lake Hood/Lake Spenard complex is the busiest floatplane base in the world, averaging almost 200 operations a day. To add to the excitement, a narrow canal connects the two lakes and many pilots will take off and land right before your eyes. As I got out of Frank's truck, I was enthralled by this little oasis and immediately occupied one of the nearby picnic tables. However, my time on the bench was brief since I would jog up to the fence to get a photograph every time a plane landed or took-off. As the thousands of others who preceded me, I took far more photos then I should have, but felt compelled to capture each magical moment. The roar of the engines, the miracle of flight and the feel of spray on my face could have captivated me for hours. However, Frank had a birdcage to pick up.
As I later discovered, Frank had purchased Kona, a talking Conure, and needed a cage when said parrot needed babysitting. So he enlisted me to accompany him to his friend's house to borrow their unused cage. Seeing an opportunity to kill two birds with one stone, the friend asked Frank to take his two pseudo-grand daughters (it's a long story) shopping with us for the afternoon. Now I am not a big shopper, but Frank's wisdom prevailed as he suggested instead that we all go on a treasure hunt (geocaching). The little girls were thrilled!
Let me back up a few steps. About a year ago I attended a Boy Scout training course to learn the art of geocaching. Wikipedia defines geocaching as, "an outdoor treasure-hunting game in which participants use a Global Positioning System (GPS) receiver to hide and seek containers (called 'geocaches' or 'caches') anywhere in the world. A typical cache is a small waterproof container containing a logbook and 'treasure,' usually toys or trinkets of little value." Current cache locations are listed at geocaching.com and there are over 700,000 in 222 countries around the world.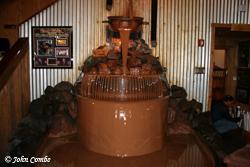 To sweeten the pot a little bit, I promised the girls I'd buy ice cream if we found even one geocache. So the stage was set. Act one finds us in a huge dog park, unsuccessfully searching for a small plastic container in the tall grasses while clouds of mosquitoes violently assaulted our bodies. We quickly retreated to Frank's truck. Act two finds us at an all too familiar "Welcome to Anchorage" sign where we eventually stumbled upon the container. The girls were thrilled with the find and eagerly inspected the trinkets inside. I signed the logbook, replaced the cache and then as promised, treated everyone to Dairy Queen. Our next cache was located at the Alaska Wild Berry, home of the "largest chocolate fountain in the world." Being a chocoholic myself, I felt slightly intoxicated while gazing upon 3,400 pounds of liquid chocolate coursing through the 20-foot tall copper kettle waterfall. The requirement for this "virtual" geocache was to get my photo taken while holding up an enormous 20-pound chocolate bar (and resisting the urge to take a bite from it). Paging Mr. Will Power, has anyone seen Mr. Will Power?
We continued on to other cache locations, some we found and some we didn't. While we drove from site to site, we listened to 96.3 "The Wolf" on the radio. This is perhaps the most diverse format I have heard in that it plays both rock and roll and country music. You might hear a song by Tim McGraw followed by one by Janis Joplin. I didn't know the two styles could peacefully coexist until today and am not totally sure that they should.
Frank and I dropped his pseudo-grand daughters off at their home and then headed out to do one more geocache. In retrospect, we should have quit while we were ahead. This one was located off Campbell Field Road in a very densely wooded area. The GPS took us down an extremely vague trail which eventually disappeared entirely. Bushwhacking in an Ohio forest is no big deal, but in Alaska it can get very nasty. Rocks and fallen timber can be hidden by a dense ground cover. I wound up falling once and Frank did twice. Hundreds of mosquitoes appeared out of nowhere and began their tormenting routines. I was still wearing shorts and I noticed that my legs were being cut to pieces. I have now become an expert at recognizing Devil's Club. After a little more searching, we gratefully located the cache which turned out to be the largest ammo can I had ever seen in my life. After signing the log, we made a B-line for Frank's truck. We arrived exhausted and sweating profusely. Frank turned the air-conditioner up full blast and I sat there reveling in the fact that even though we were just minutes from civilization, we had experienced the raw primal power of the Alaskan wilderness.