Tuesday, July 8, 2008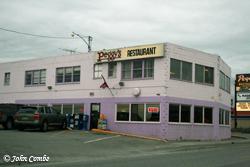 Jim Somerville is quite the experienced pilot. He owns several aircraft, has 4,000 hours of flying experience and served for many years as a top-flight instructor. As is our tradition, Jim provides an Alaska Railroad flight-seeing trip for the cost of breakfast at Peggy's Restaurant on 5th Avenue. As is my tradition, I always look for the blandest breakfast on the menu. Flying in a small aircraft always leaves me incredibly queasy so I want to give myself the best chance of retaining my meal. Over breakfast Jim reported that the heavy cloud cover would not prevent our flight, but would probably produce some somber looking photos. As is my motto, "You gotta play the cards you've been dealt."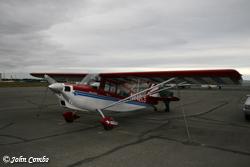 We arrived at Merrill Field and Jim started preparing his Super Decathlon "Missy" for flight. Feeling like a poster child for claustrophobia, I wedged myself into the back seat and made sure my long lens and "discomfort" bag were easily accessible. After all the Boy Scout Motto is Be Prepared. As the plane took off, Jim asked for and received special permission to fly over Anchorage. This enabled us to get some good photos of downtown Anchorage and the Flint Hills balloon track where refined tank car products got unloaded and stored for reuse.
Vectoring north we whisked by the flight line at Elmendorf Air Force Base where a slew of F-22 Raptors sat watchfully on the tarmac. As I reached for my telephoto lens to capture a close up of one of the Raptors, the northbound Denali Star passenger train came into view. I immediately lost interest in military aircraft and set my sights back to my original goal.
"How low do you want me to fly?" Jim inquired.
Predictably I replied, "How low can you go?"
As I sit here typing this journal, I don't recall what his answer was. What I do recall is that queasy sinking feeling you get when your roller coaster plummets down the other side of the steep incline. Stephen Stills' song, "Treetop Flyer" quickly came to mind. After picking my stomach up off the airplane's floor, I grabbed several shots as the train snaked in and out of the trees bordering the green hued flats. Although overcast skies kept me from capturing some truly spectacular photos, at least the weather was holding – rain on the plane's canopy would have put a miserable end to my picture taking. I was very impressed how effortlessly Jim commanded the plane, setting me up for the best possible shot. The birds-eye view enabled me to capture a few unique shots as the train traversed bridges spanning silt-grey rivers.
| | | |
| --- | --- | --- |
| | | |
| Flint Hills balloon track | Flint Hills and beyond | Trees bordering green hued flats |
| | | |
| Crossing the main channel Knik River at extreme high tide | Crossing the backwater channel of the Knik River drainage at extreme high tide | Crossing the Matanuska River Bridge. |
And then we hit upon a truly remarkable event – a three-train meet at the Matanuska Junction realignment at milepost 151.0. (For clarification see Jim Somerville's 2003 photo. Note the new alignment is the mainline and the old alignment became the 4549 ft siding. Because the new alignment has much less of a degree of curvature the distance between switches on the main is only 3850 ft.). Heading south was a lengthy tank/freight train. It swiftly slipped into the old alignment/siding. Since the freight was too long for this siding, the end remained on the mainline. I quickly snapped off a few frames. Next came the Denali Star passenger that fit conveniently into the new alignment/mainline. Again, I took a few more photos. To add to this excitement, a loaded gravel train appeared from the north. [click here for 4.4MB video] It stopped a good distance from the junction and waited patiently for this logistical ballet to progress. The tank/freight train then pulled out thus clearing the main. Once it was a safe distance south the gravel train approached and took the old alignment around the passenger train. Up to this point, Jim had been making a series of tight spirals around this action so as to give me the best possible shot. Unfortunately, as the G-forces increased, so did my level of discomfort. I only got off one lame photo of the three-train meet before I abandon my camera and made a grab for the airsick bag "just in case." Jim complimented me on how well I had handled all this and said some veteran flyers would have lost it by now. I decided not to claim bragging rights for holding on to my French Toast until I was on the ground.
Continuing north we caught the Denali Star just as it approached the depot in Wasilla. Although I would have loved to travel further, it was time for my stomach to return to Merrill Field. We hit several rain drops as we passed over Eklutna and I realized just how "weather lucky" we had been. I breathed a sigh of relief as we touched down on the runway knowing that victory was mine and that I would not have to help clean out the interior of Jim's aircraft. After securing the plane, we stopped by and visited with one of Jim's friends for about an hour or so.
| | | |
| --- | --- | --- |
| | | |
| Passenger train at the Wasilla depot | Spirit houses at Eklutna | Anchorage Operations Center |
| | | |
| Anchorage shops | Flint Hills tank farm balloon track | Coming in for a landing |
As I headed back into town, I made a quick stop at Wendy's to get a hamburger. To kill a little time while waiting in line, I began eavesdropping on two guys at a nearby table. At one point one of them asked the other if they had ever seen a baby glacier. When his companion replied that he hadn't, he threw an ice cube at him and said, "You have now!"
The National Archives and Records Administration (NARA) holds the records of the United States Federal government. Although I am definitely not a devotee of historical stuff, I do love leafing through old Alaska Railroad drawings and documents. Last time I was here, Randy Thompson and I spent several hundred dollars getting copies of all kinds of cool Alaska Railroad stuff. This time I spent not one red cent since I took digital photos of everything. I spent three hours gobbling up as much as I could before the archives closed for the day.
Having a little extra time on my hands, I decided to indulge my geocaching addiction. Before leaving my home in Dayton, I had downloaded all the geocaches in the state of Alaska into my GPS unit and the corresponding description pages into my PDA. Using these devices, I chose the closest caches to my current location and began my treasure hunt. It never ceases to amaze me on how clever some of these hides are in urban areas. Hundreds of people walk right past these cache containers every day and don't have the slightest clue. The experienced geocacher finds them quickly as well as discreetly so as to not give their location away to muggles (non-geocachers). As if the hunt itself is not enough fun already, the geocaches can sometimes take you to places you might not have ordinarily visited. An example of this is the cache near the monument recognizing 13-year-old Benny Benson for designing Alaska's state flag. I have driven by it a dozen times, but never knew it was there. This is also true of Northwood Park and the movie art on A Street.
Returning to the condo, I grabbed a late supper and gave my daily debriefing to Don. I then turned in early in anticipation of an early start tomorrow.